Global brokerage house Citi expects double digit growth for current financial year (FY19) but with some downgrade risks.
Indices corrected over 10 percent from record highs hit in January this year. However, they quickly recovered 4 percent from the lows ahead of March quarter earnings that will start later in the week.
Majority of analysts believe markets recovered due to expectation of better earnings and economic growth in FY19, and unlikely rate hike this year as hinted by RBI monetary policy. However, the year ahead may be volatile due to elections and global cues.
Global brokerage house Citi expects double digit growth for current financial year (FY19) but with some downgrade risks.
To factor in the downward earnings revisions, Sensex target has been lowered to 35,700 (Dec-18) with 2018 expected to be a volatile year for Indian markets, said Surendra Goyal,and Vijit Jain in their research note.
"With FY18E likely to be another year of tepid earnings growth (single digit expected), we would watch out for downgrade risks to FY19 estimates, given elevated expectations," the Citi note said.
Given the various headwinds to earnings growth in FY19– (a) credit costs for financials likely to remain elevated in 1HFY19, (b) continuing competitive pressures on pricing/profitability in Healthcare/Telecom sectors, earnings downgrades are a key risk for the markets over the rest of 2018, according to the research house.
Citi/consensus estimates now factor in around 20/24 percent earnings growth for Nifty in FY19. "With credit costs for financials likely to remain elevated in the near future & continuing pressure in sectors like healthcare/telecom, we see downside risks to expectations. Having said that, our investor interactions suggest that buy-side expectations are already reset lower – with most investors talking about mid-to-high-teen growth," it explained.
In the March quarter, Citi expects around 10 percent YoY growth in earnings of Citi coverage Universe, largely driven by strength in commodities sectors (oil & gas and steel) and domestic autos (excluding JLR).
Key drivers could be energy (seen up 33 percent YoY), domestic autos (48 percent YoY excluding JLR) and metals (steel, mainly) while laggards could be financials (seen down 3 percent YoY), pharma (8 percent YoY) and telecom.
It feels financials quarterly earnings could see some volatility. "We expect higher credit costs this quarter since RBI's revised stressed asset framework may result in upfronted recognition of slippages. RBI's dispensation to allow banks to spread MTM losses over up to four quarters may result in some amount of provision write-back."
According to the global brokerage house, potential surprises could be seen from (a) Maruti Suzuki – better mix could aid margins; (b) JSPL - volume ramp up & positive operating leverage; (c) L&T – upside risk on numbers as well as order flows; (d) Cadila Healthcare – higher than expected Tamiflu sales; (e) M&M Financial – higher-than-expected disbursements growth and higher NPA recoveries as a result of seasonality.
Negative surprises could be seen from – "(a) UltraTech Cement – weak realisations as the push for market share continues, on ramp-up of Jaiprakash Associates assets – we would buy any weakness; (b) Zee Entertainment – risk to margins given higher investments in content/OTT; (c) TVS Motor – margins could surprise; (d) Idea Cellular – higher ARPU drop given competitive intensity; (e) Dr Reddy's Labs – higher-than-expected price erosion in certain high-value products," Citi said.
The research house made three changes to its top picks list:
> It replaced ACC with Ambuja Cement in the large-caps.
> It replaced Gujarat Gas with GSPL after the former became a 54 percent subsidiary of the latter. GSPL is now an integrated midstream & downstream company offering exposure to both these parts of the gas value chain at reasonable valuations, relatively lower risks, and under a robust capital structure.
> It replaced Indraprastha Gas (IGL) with Petronet LNG post IGL's significant outperformance and lower valuations. Also, it expects good growth in Petronet in FY20E, which should start getting priced in some point over the next few months.
Here is the list of Citi India's 10 largecap and 10 midcap stock picks which can give up to 60 percent return: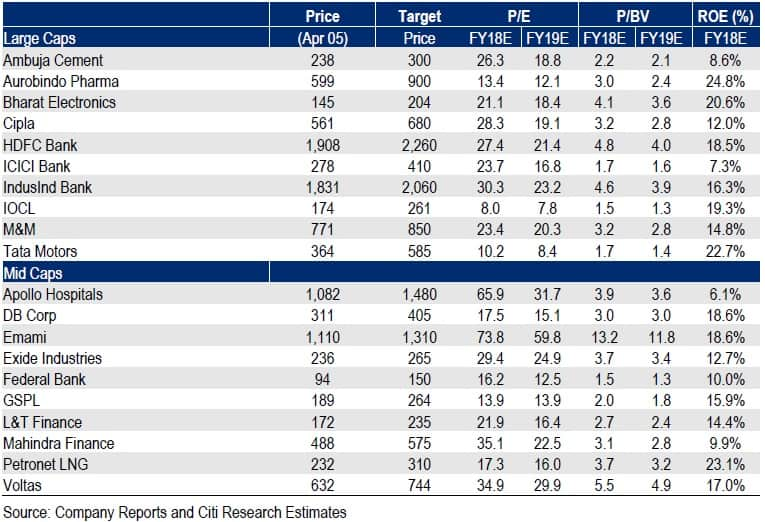 First Published on Apr 10, 2018 02:56 pm