The consolidation is likely to continue for next 3-4 months. In fact, the entire calendar year is expected to be tough.
The market since the start of the year 2017 had been very strong with the Nifty registering a 35 percent growth but some of those gains wiped out of in last 2 months. The index shed more than 10 percent in 2 months amid continued volatility.
Technically the market has broken crucial 10,000 levels last week, but it managed to regain that levels in the start of the truncated week, which indicates that it is trying hard at any cost to hold that crucial mark.
The consolidation is likely to continue for next 3-4 months, in fact the entire calendar year is expected to be tough as many state elections lined up and investors want to see the actual earnings growth in Q4FY18 and FY19 which they have been hoping and that seems to have already priced in a bit, experts suggest.
"It is a good consolidation which the market needed. It is a reminder to people that it is not a one-way street and many investors which joined equity markets in the last three year haven't seen at all," Sridhar Sivaram, Investment Director, Enam Holdings said in an interview to CNBC-TV18.
He further said that in general, 2018 will be a tough year and investors should have muted return expectations. "Protecting capital will be my paramount objective right now."
Jayant Manglik, President, Religare Broking said keep a close eye on global cues as they're largely dictating Indian market trend at present.
Here is the list of stocks that can give up to 69% return in the next 12-15 months: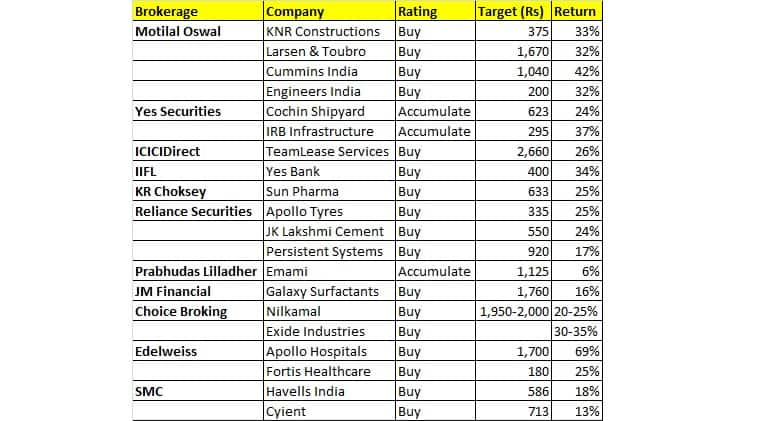 Brokerage: Motilal Oswal
KNR Constructions | Rating - Buy | Target - Rs 375 | Return - 33%
KNR has emerged as L1 in two HAM projects worth Rs 2,960 crore. Both the projects are in South India (Andhra Pradesh and Telangana) where it is a dominant player.
Its order inflow for EPC business for YTD FY18 stands at around Rs 3,500 crore as against guidance of Rs 2,500 crore and order backlog stands at around Rs 6,500 crore.
We maintain positive view on KNR with Buy rating and SoTP target price of Rs 375, implying 33 percent upside.
Larsen & Toubro | Rating - Buy | Target - Rs 1,670 | Return - 32%
L&T is exposed to several levers across business/geographical segments, and has emerged as the E&C partner of choice in India, which provides a robust foundation to capitalize on the next leg of the investment cycle.
The management's intent is to improve consolidated return on equity (RoE) to 18 percent (12 percent in FY16) by FY21 by capping investment in concession business and asset monetisation is an important part of this strategy.
It has already sold its general insurance business (Rs 100 crore loss in FY16), listed its IT businesses, and entered into an agreement with Adani Ports for sale of Kattupalli Port (Rs 250 crore loss in FY16/17). It is looking to divest its portfolio of operational road assets (Rs 600 crore loss in FY16/17). The divestment of loss-making businesses would add around 2 percent to RoE.
Over FY17-20, we expect 10 percent CAGR in order inflow, led by finalisation of large ticket orders in the defense (LPD/Corvette) and infrastructure segments (Roads, Airport, Metro). A pickup in domestic E&C execution should drive revenue CAGR of 10 percent over FY17-20.
We maintain Buy rating with an SOTP-based price target of Rs 1,670.
Cummins India | Rating - Buy | Target - Rs 1,040 | Return - 42%
Cummins has, over the years, developed (a) a strong product portfolio with superior technology to meet domestic demand, (b) a wide distribution network to provide superior after sales service to customers, and (c) cost-effective products to maintain leadership in a fiercely competitive market.
Pick-up in infrastructure spending has led to healthy growth in Cummins' industrial business segment. Over the medium term, the company expects double-digit growth in domestic sales, supported by strong infrastructure spending and pickup in demand for backup power.
The distribution & spares business should perform well, given higher sales contribution from the industrial segment, where machine usage is intense (consequent wear and tear of machines augments the need for spares).
Exports have been weak, given bleak demand from end-markets like Africa, Latin America and the Middle East. However, we expect demand to revive from FY19, given stable crude prices and firming up of industrial commodity prices.
Given strong infrastructure push, initial signs of pick-up in the power genset segment, and expected revival in the export segment from FY19, we maintain Buy rating, with a target price of Rs 1,040 (28x FY20E EPS, below its 5-year average one-year forward P/E of 30x).
Key risks to rating are: (a) weaker-than-expected revival in the domestic power generation market, and (b) persisting weakness in commodity prices, leading to a delay in pick-up of LHP exports.
Engineers India | Rating - Buy | Target - Rs 200 | Return - 32%
Engineers India is a market leader in the hydrocarbon segment, where it provides consultancy and turnkey solutions. Oil marketing companies' (OMCs) strong cash flow position post diesel price deregulation, the necessity to upgrade to BS-VI complaint facilities, and the need to put up additional capacities, given 100% utilization of existing facilities augur well for ENGR
OMCs are stepping up capex, with potential capacity addition of 74mmtpa (134mmtpa including the West Coast Refinery) over the next 5-7 years, implying a capex of Rs 4.2 lakh crore.
As a preferred vendor for the OMCs, Engineers India will be a key beneficiary of the upcoming capex by the OMCs.
We anticipate an opportunity worth Rs 16,000 crore for Engineers India for project management consultancy projects.
We expect revenue CAGR of 25 percent and earnings CAGR of 22 percent over FY17-20. Given its debt-free balance sheet, robust business outlook, market leadership, and strong execution capability, we initiate coverage on Engineers India with a Buy rating and target price of Rs 200.
Brokerage: Yes Securities
Cochin Shipyard | Rating - Accumulate | Target - Rs 623 | Return - 24%
Cochin Shipyard (CSL) is one of the largest PSU shipyard companies in India. Currently, it has two docks located adjacent to Cochin Port in West Coast of India: (1) Ship Repair Dock (1.25 lakh DWT) and (2) Shipbuilding Dock (1.10 lakh DWT).
Further, it is in the process of setting up a new Dry Dock and an International Ship Repair Facility (ISRF), which will enable CSL to secure prestigious projects like second indigenous aircraft carrier (IAC-2).
Notably, CSL's current order book stands at Rs 18,740 crore (9x FY17 sales including L1 orders), which we believe will expand further in future owing to government's strong endeavour to increase its defence production under "Make in India" initiative; new business partnerships (JVs with Hooghly and Mumbai Port) and healthy balance sheet.
Unlike other shipyard companies, CSL has been profitable, as it has delivered a consistent performance with over 15 percent CAGR in PAT over FY12-17, which is commendable, in our view as the shipping industry witnessed multiple headwinds during same period.
We initiate with Accumulate and a target price of Rs 623, valuing CSL at 12x FY20 EBITDA (Rs 523/share) and 1x FY19E cash balance (Rs 100/share).
IRB Infrastructure | Rating - Accumulate | Target - Rs 295 | Return - 37%
IRB Infrastructure has a portfolio of 14 BOT assets with a market share of 11.64 percent in the golden quadrilateral and road portfolio of 7,767 lane kms as of 31st December 2017.
Large part of IRB's portfolio is along the high traffic-density corridors in Western India making it one of the best plays on anticipated traffic-growth.
In March 2018 alone the group has so far received letter of award for 3 HAM projects and emerged as preferred bidder for another project on DBFOT basis aggregating Rs 8,910 crore augmenting its construction orderbook to Rs 15,300 crore as of 22th March 2018 from Rs 7,400 crore as of 31st December 2017 providing revenue visibility over the next three years.
We believe IRB's foray into HAM with more assured cash flows and the upcoming TOT opportunity should provide the next leg of growth and drive re-rating.
We initiate coverage with Accumulate rating with a target price of Rs 295 (+37 percent upside) with BOT business valued at Rs 103 per share and EPC at Rs 173.
Bull-bear analysis suggests a favorable risk reward ratio with bull case valuation of Rs 402 (86 percent upside) and bear case valuation of Rs 188 (13 percent downside).
Brokerage: ICICIDirect
TeamLease Services | Rating - Buy | Target - Rs 2,660 | Return - 26%
Incorporated in 2002, TeamLease Services (TLS) is a focused player in temporary staffing and enjoys around 6 percent market share in the fragmented general staffing business.
We like TLS given its leadership position in general staffing and favourable industry dynamics for expanding the organised pie through structural changes such as GST and other regulatory reforms.
We believe that with scalability and expertise in staffing, the company is set to reap the benefits of an under-penetrated flexi staffing industry in India and grow at a healthy rate of 22.1 percent CAGR to Rs 5,381.9 crore in FY18-20E.
Beside this, the company has expanded its addressable market in specialised staffing through the inorganic route prudently. This would expand its EBITDA margin profile by 70 bps to 2.5 percent.
Hence, we initiate coverage on TLS with a Buy recommendation and a DCF based target price of Rs 2,660/share (implied PE multiple of 29.9x and PEG multiple of 0.8x).
Brokerage: IIFL
Yes Bank | Rating - Buy | Target - Rs 400 | Return 34%
The recent underperformance in Yes Bank's stock has been triggered by concerns of worsening asset quality amid tightening regulations. We believe Yes has robust resolution processes and will be able to recover the bulk of its stressed assets.
The strong corporate loan growth, while opportunistic, is driven with a specific strategy in mind. In time, focus on growing granular assets would regain importance as the current opportunity subsides.
In the medium term, Yes will likely report contained slippages, sharply reduced divergence in the next RBI supervision and improved risk adjusted returns. These would drive stock returns.
Management insists that the RBI circular will not accelerate its delinquencies. It proactively identifies stress and has adequate safeguards in contracts.
Management remains confident of higher resolutions from stressed assets (3.2 percent of loans as of Q3FY18). Yes has aligned identification of NPA with the RBI and expects minimal divergence going ahead.
Despite short term challenges to margins and asset quality, long term trends would remain intact. Yes would continue to build its retail assets and liabilities, increase engagement with SME and improve profitability, thereby reducing capital burn.
At 1.9x FY20ii BVPS, valuations are attractive. Key stock catalysts would be: i) contained slippages, ii) minimal divergence versus RBI supervision and iii) improving NIMs.
Brokerage: KR Choksey
Sun Pharma | Rating - Buy | Target - Rs 633 | Return - 25%
Sun Pharma has received USFDA approval for Tildrakizumab which was originally developed by US-based company Merck and later in 2014, Sun Pharma acquired the worldwide rights from Merck for USD 80 million.
Psoriasis is an autoimmune disorder which has a market size of USD 6 billion in the US and is growing in single digit. There are various treatment options available in the market and but none of them offers a cure. Sun Pharma's molecule will be ninth biologic to be approved on US markets.
We believe that Sun Pharma will start commercialising the drug post Q4 FY18 in the US markets. Due to competitive market and challenges the drug will take 2-3 years of time to reach its peak sales.
We project sales of USD 95 million in FY19 with a market share of 3 percent. Although the drug has lower efficacy but due to huge market size and growing patients population in psoriasis market Tildrakizumab will be able to achieve a peak sales of USD 300-350 million in 2023.
This development is priced in the near term valuations. However, over the long term we believe this to be one of the key triggers in our investment thesis. We have an Buy rating on the stock with a target price of Rs 633.
Brokerage: Reliance Securities
Apollo Tyres | Rating - Buy | Target - Rs 335 | Return - 25%
There are expectations of improvement in profitability in ensuing quarters led by steady rubber prices and favourable volume growth.
Apollo Tyres currently enjoys around 28 percent market share in the TBR segment. As radialisation forms only 45 percent of domestic TB tyre market, we see a significant scope for radialisation in the domestic CV segment, which would benefit manufacturers like ATL, going forward.
Further, steady stabilisation in Hungarian operations and gradual increase in contribution from OEM segment are likely to aid profitability further.
At CMP, the stock trades at 13.0x and 9.8x FY19E and FY20E earnings, respectively, which appear to be attractive, in our view.
We reiterate our fundamental Buy rating on the stock with target price of Rs 335.
JK Lakshmi Cement | Rating - Buy | Target - Rs 550 | Return - 24%
There are expectations of likely improvement in its profitability led by firm demand and favourable realisation in Eastern markets.
Demand growth in Northern and Eastern regions has been strong (in double digit) for last couple of months led by pickup in construction activities.
Recovery in realisation of Eastern markets in last two months along with resumption of petcoke usage in Northern plants is likely to aid its profitability in current quarters.
Further, considering the initiatives undertaken to improve Eastern operations profitability by means of WHRS, CPPs, conveyor belt, railway siding and SGU in Orissa are likely to aid JK Lakshmi Cement to improve its operational performance further in ensuing quarters.
We maintain fundamental Buy rating on the stock with a target price of Rs 550.
Persistent Systems | Rating - Buy | Target - Rs 920 | Return - 17%
Persistent in Q3FY18 posted a healthy revenue increase of 3.8 percent QoQ in USD terms, with the quarter typically seasonally strong owing to its largest client IBM, as it is the CY-end quarter for the latter, with budgets typically getting spent. Enterprise maintained its healthy growth, with revenue up 5.6 percent QoQ, while IP-led revenue rose 6.9 percent QoQ led by the IBM account.
We continue to believe Persistent's long-term business direction remains on track, with increasing revenue from Digital Business and Enterprise Services, led by key services including IoT.
Increasing focus on IP and non-linear revenue through IBM along with allied deal wins, and reducing focus on linear revenue drive our underlying confidence on revenue quality, long-term margin sustainability and improvement.
We believe from a structural perspective, higher IP revenue is the biggest margin lever for Persistent. We expect Persistent to clock 13.4 percent USD revenue CAGR over FY18E-FY20E, which will drive a healthy 20.9 percent EPS CAGR over the period.
We have a Buy rating on Persistent Systems, with a target price of Rs 920.
Brokerage: Prabhudas Lilladher
Emami | Rating - Accumulate | Target - Rs 1,125 | Return - 6%
We are upgrading Emami from Reduce to Accumulate post 20-50 percent underperformance versus Dabur and Marico in the past 3 years.
Emami has given sales and PAT CAGR of just 2.8 percent and 3.2 percent over FY15-18 due to multiple issues like 1) under delivery from Kesh king acquisition 2) severe hit to wholesale and CSD channel post demonetization and GST and 3) seasonal variations.
However, we expect recovery to set in from Q1FY19 led by 1) bounce back in kesh king due to higher trade incentives 2) benefits of increase in direct reach to 8.3 lakh outlets and 3) gains from new launches and brand extensions during downturn.
Although rising input costs like Mentha, LLP and Packing are a near term concern, 3-3.5 percent price increase and expected softening in Mentha prices (down 35 percent from peak) should curtail margin compression to 100bps in FY19.
We estimate 12.1 percent sales CAGR and 16.8 percent PAT CAGR over FY18-20. The stock trades at 32.2xFY20 EPS of Rs32.1. We value the stock at 35xFY20 and arrive at a price target of Rs 1,125.
Brokerage: JM Financial
Galaxy Surfactants | Rating - Buy | Target - Rs 1,760 | Return - 16%
Galaxy Surfactants, established in 1986, is currently India's largest manufacturer of vegetable oil (oleochemical)-based surfactants and specialty care products for the home care and personal care industries.
The company primarily operates in two segments: (i) performance surfactants, which primarily comprises sodium lauryl ether sulphate (SLES) and fatty alcohol sulphate (FAS) and (ii) specialty care products, which includes cationic & amphoteric surfactants, UV filters, preservatives and other specialty ingredients.
Galaxy's products are used in consumer-centric formulations for skin care, oral care, hair care, cosmetics and detergents. The company has evolved from being a local supplier to FMCG companies in India to becoming a global supplier to multi-national FMCG companies, which highlights its focus on technology and quality.
Therefore, we believe Galaxy can grow faster than the FMCG sector in India. We initiate coverage on Galaxy with a Buy rating and target price of Rs 1,760, valuing the company at 25x FY20 EPS (premium to the Chemical sector average multiple of 17x and at 25% discount to FMCG multiples) and DCF.
Brokerage: Choice Broking
Nilkamal | Rating - Buy | Target - Rs 1,950-2,000 | Return - 20-25%
Nilkamal is a holding company engaged in the manufacturing of plastic products and retail sales.
We are positive on the company backed by the implementation of GST that will boost the revenue of the organised sector and on account of investment made by the company to diversify its product portfolio which will boost its revenue.
At CMP of Rs 1,593.1, it is trading at a P/E multiple of 19.8x and 17.1x to its FY18 and FY19 earnings, respectively. On the basis of estimates, we arrive at a target price in range of Rs 1,950-2,000 per share. Thus, we assign Buy rating.
Exide Industries | Rating - Buy | Return - 30-35%
Exide Industries is India's most reliable brand and largest manufacturer of all types of batteries. It has become front runner with its lead acid batteries and power storage solutions.
Exide is looking forward to increase market share by taking share from unorganised sector. This would lead to barriers to entry for new entrants entering the segment. The company has launched low price brands with scaled down warranty coverage to compete with unorganised market.
India battery market is expected to reach USD 8.6 Billion with CAGR of 16 percent by 2022 driven by growth in power sector, surging transportation needs & increasing battery integration in consumer electronics along with government initiatives like Saubhagya scheme providing household electrification and investments by Power Grid in local transmission infrastructure of states.
We expect that the company will have an impetus leading to strong growth in domestic production and exports of automobiles, coupled with expanding vehicle fleet is projected to drive demand for batteries from OEMs as well as replacement segments.
In context to Exide Life Insurance, the company is ranked 14th among the private insurers in terms of new business premium growth in FY17.
On valuation front, at CMP of Rs 215.6, the company is trading at a P/E multiple of 22.9x which is at a discount as compared to the average P/E multiple of 25x and EV/EBIDTA multiple of 13.5x which is at premium as compared to average EV/EBIDTA multiple of 12.4x.
After considering all these factors and high probability of strong growth in the future we recommend a 'Buy, Add on Dips' rating for this stock.
Brokerage: Edelweiss
Apollo Hospitals | Rating - Buy | Target - Rs 1,700 | Return - 69%
The domestic healthcare market is divided into – a) top-end segment (Apollo, Fortis, Max), which cater to top 10 percent of the population focusing on specialisation, comfort & brand; and b) affordable segment (NH, HCG and Shalby), which caters to customers with low insurance penetration & high out-of-pocket expenses.
In the top-end segment, Apollo has a superior business model primarily entailing payroll doctors, aiding it establish strong brand equity in the long run. We believe Apollo has the best metrics in the hospitals space and it remains our top pick.
As on March 31, 2017, there were a total 6,997 operational beds - 4,550 beds are in standalone and rest are in subsidiaries/JVs. Total bed capacity is around 5,700, for which the capex has been done. There are 32 hospitals, 70 percent which are owned, while the balance is on
rent/lease.
Apollo's standalone business also includes the standalone pharmacies (SAP), which we have adjusted in the financials below, to give a more transparent snapshot of the healthcare business only. Adjusted for clinician costs, top-line grew at 12.6 percent CAGR over the last five years. Though gross margin has increased from 70 percent to 75 percent, clinician/personnel costs and other expenses increased commensurately, leading to flat EBITDA margin.
On average doctor retainer fees, rent, repairs & maintenance cost, marketing & advertisement cost, launch cost of new hospitals, as percentage of sales increased by 50-100bps each. Company has made a total capex of around Rs 2,900 crore for their hospital business, over the last 5 years, leading to addition of around 1,000 beds.
Fortis Healthcare | Rating - Buy | Target - Rs 180 | Return 25%
Fortis has twenty-eight hospitals and 3,633 beds as of 31st March 2017. Twelve of these, comprising around 2,550 beds, are with the trust. Of the balance sixteen hospitals, two are owned by the company, four on lease, four under the O&M arrangement, and six are centres.
Company recently bought back three hospitals from the trust and is in the process of buying remaining trust hospitals for around Rs 4,650 crore. Gross margin has declined from 89 percent in FY13 to 80 percent in FY17, as the therapy mix skewed towards cardiovascular, where consumables are higher.
Fortis also reported a 1000bps improvement in EBITDA margin, to 15 percent, a level comparable to Apollo, NH and HCG.
Excluding investments in the convertible preference shares and in the Fortis transaction, capex has gone down significantly over the last three years and free cash flow generation has started.
Brokerage: SMC
Havells India | Rating - Buy | Target - Rs 586 | Return - 18%
Havells India is one of India's largest & fastest growing electrical and power distribution equipment manufacturers with products ranging from industrial & domestic usage. It owns some of the prestigious global brands like Crabtree, Reo & Standard Electrical. It now operates a network of 90+ branches and representative offices in over 50 countries with a network of 20,000 distributors.
The company has been continuously growing in each business parameter and it is expected that it would be direct benefitted by the Government initiatives such as "Housing and power for all". It is best placed to attain scale across businesses with its new SBU (Strategic Business Unit) structure and focused product-wise branding strategy.
Thus, it is expected that the stock will see a price target of Rs 586 in 8 to 10 months time frame on an expected P/E of 43x and FY19 EPS of Rs 13.62.
Cyient | Rating - Buy | Target - Rs 713 | 13%
Cyient, formerly Infotech Enterprises Limited, is engaged in providing software-enabled engineering and geographic information system (GIS) services. The company's segments include Data & Network Operations (DNO); Engineering, Manufacturing, Industrial Products (EMI), and Product Realisation (PR).
The company is optimistic about the future and would continue to invest in digitalisation, including IoT, digital manufacturing, engineering analytics, and mobility.
As per the management, key industry drivers for growth to be communications, transportation, semiconductor, and manufacturing. With a healthy pipeline and order backlog, it expects to deliver a strong financial performance throughout the year, thus, it is expected that the stock will see a price target of Rs 743 in 8 to 10 months time frame.
Disclaimer: The views and investment tips expressed by investment expert on Moneycontrol.com are his own and not that of the website or its management. Moneycontrol.com advises users to check with certified experts before taking any investment decisions.
First Published on Mar 27, 2018 01:25 pm