India will have a surplus, while others have a deficit

Salaries for highly skilled workers could boom as talent shortages take hold across Asia Pacific, according to a new study by human resources firm Korn Ferry. However, India is the only economy that can expect to avoid upward spiralling wages, as unlike any other country in the study, it will have a highly skilled talent surplus at each milestone.
It said the movement of Indian workers is likely to make only a small difference to the talent shortages in other countries.
The study said the salary surge could add more than $1 trillion to annual payrolls in the region by 2030, jeopardizing companies' profitability and threatening business models.
"The new era of work is one of scarcity in abundance: there are plenty of people, but not enough with the skills their organizations will need to survive," said Dhritiman Chakrabarti, Korn Ferry Head of Rewards and Benefits for the APAC region.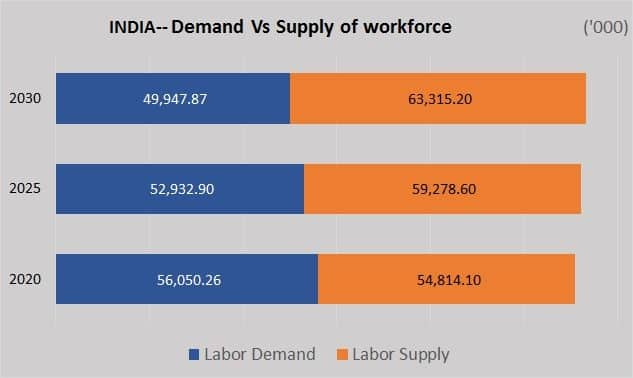 Korn Ferry's Salary Surge study estimates the impact of the global talent on payrolls in 20 major global economies at three milestones: 2020, 2025 and 2030, and across three sectors: financial and business services; technology, media and telecommunications (TMT); and manufacturing.
It also measures how much more organizations could be forced to pay workers, above normal inflation increases.
The study reveals the huge impact the salary surge could have on countries across the region. It said Japanese companies can be expected to pay most: Japan is predicted to pay approximately an additional $468 billion by 2030.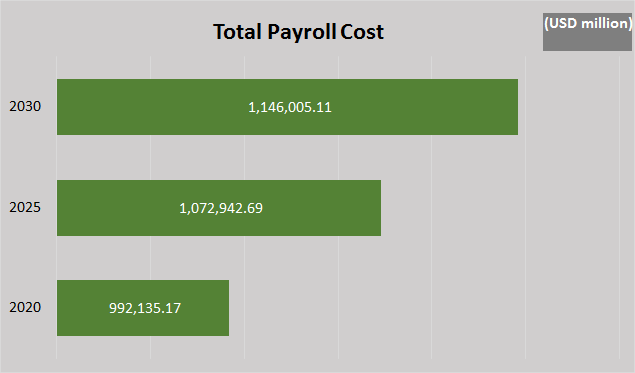 Source: Korn Ferry
Data infographics by Ritesh Presswala
However, smaller markets with limited workforce are likely to feel the most pressure. By 2030, Singapore and Hong Kong could expect salary premiums equivalent to more than 10 percent of their 2017 GDP. Also, by 2030, China could see an additional wage bill of more than $342 billion.
At a sector level, the survey said manufacturing may be stalled by the huge impact of the salary surge. In China, the highly skilled worker shortage is expected to exceed one million workers by 2030, meaning that the wage premium could reach nearly $51 billion by the same date — higher than any other country analysed.
Globally, the talent crunch could add $2.5 trillion to company payrolls annually, revealing the huge impact the salary surge could have at a country level.
Chakrabarti said buying in talent from the market is unsustainable, and instead, companies across Asia Pacific must focus on engaging and reskilling their current workers.
The average pay premium per worker across the 20 economies surveyed including India, is $11,164 per year.
First Published on Jun 21, 2018 03:10 pm