While Garware-Wall Ropes appears to be well-positioned to innovate its product offerings, Sarla Performance Fibers is yet to make a mark given its growth potential. Nonetheless, both stocks appear to be reasonably valued for now.
The word 'textile' is commonly associated with fabrics, garments, and household bed/floor linen etc. As India's textile industry continues to grow from strength to strength, technical textiles, a relatively less known domain, is fast emerging as one worth watching out for.
What are technical textiles (TTs)?
Technical or engineered textiles are products that are used for functional purposes. TTs consist of textile materials and output that is exclusively used for high-end performance and technical functionalities because of their durability, as opposed to conventional textiles, which focus more on aesthetic and decorative characteristics. TTs have applications in multiple areas of economic activity and can be segregated into 12 segments, as seen below:-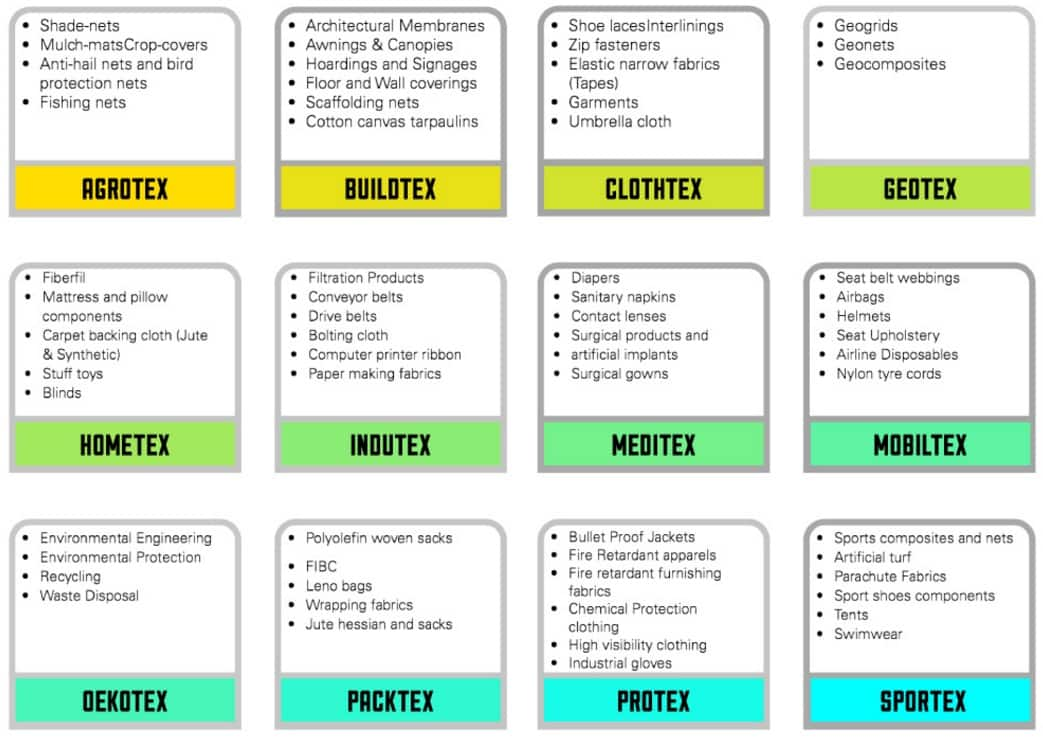 India's TT industry is heavily dependent on imports, that have grown at a compounded annual growth rate (CAGR) of 8 percent since FY07-08. The degree of reliance can be eventually reduced through investments in technology-heavy products. Therefore, the scope for import substitution is immense.
Among all TT categories, Packtech forms the largest segment. However, Geotech is predicted to grow faster than the others at a CAGR of 30 percent. Defence, infrastructure, construction, shade nets, crop covers, baby diapers, sanitary napkins, and surgical disposables are anticipated to be the high-growth potential TTs in times to come.
The global market value for TTs, which stood at nearly USD 144 billion in 2014, is projected to reach the USD 200 billion mark by 2020 (at a CAGR of 5.8 percent).
TTs involve significant scientific know-how, higher capital deployment, and sufficiently large manufacturing capacitites to meet specialised orders (that are typically placed by institutional clients). More often than not, the size of such requisitions is much greater in volume and/or value terms than regular textiles. A combination of these factors suggest that India's TT space is primarily dominated by the organised units.
Here are a couple of stocks that might be worth looking into:-
Garware Wall Ropes (GWR) – (CMP: Rs 880, Market Cap: Rs 1925.62 crore)
GWR is one of India's leading players in the technical textiles sector, providing specialised solutions to the cordage and infrastructure industry worldwide. The company manufactures high-performance polymer ropes, fishing nets, sports nets, safety nets, aquaculture cages, coated fabrics, agricultural netting, and geosynthetics.
Stable prices of aquaculture products may lead to a demand uptick on this front. Expansion into new markets and growth in value-added products is likely to boost GWR's exports (that currently constitute around 47.5 percent of the top-line).
Additionally, increased emphasis on infrastructure and defence expenditure by the government, coupled with a good monsoon season in most areas of India, is expected to augur well for the company's domestic business across segments.
Should GWR succeed in introducing more innovative products in the aquaculture, agriculture, geo-synthetics, and coated fabrics space, the company's margins could witness an upswing going forward.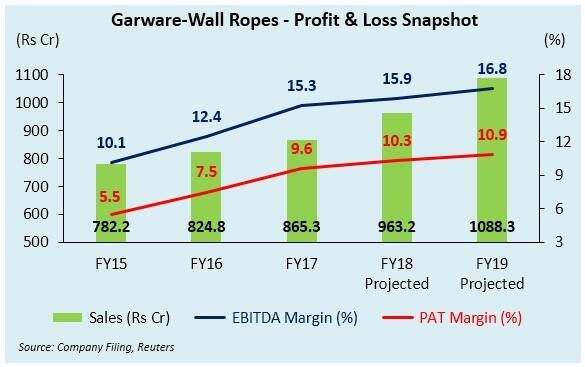 At 16.2x FY19 estimated earnings, GWR's valuations seem inexpensive given its strong TT capabilities, minimal debt in the capital structure, and consistent returns on equity as well as capital employed.
Sarla Performance Fibers (SPF) (CMP: Rs 46.3, Market Cap: Rs 386.62 crore)
SPF is engaged in the business of manufacturing and export of yarns spanning variants such as polyester, nylon textured, twisted, dyed, covered, high tenacity, and sewing thread.
A shift in the product mix towards industrial and performance yarn is likely to strengthen SPF's turnover by virtue of better realisations per unit. Growth prospects of the company will be mainly driven by the domestic business (due to de-bonding of SPF's Vapi-based factory) and higher exports through Sarla Overseas Holdings, a wholly-owned international subsidiary that supplies the company's output to markets predominantly in North America. Nonetheless, the company's raw material procurement through imports, constituting approximately 49 percent of the total cost, remains an important monitorable.
The incremental performance for SPF largely hinges on how its US operations pan out. Paring losses at Sarla Overseas Holdings and improving the capacity utilization at the manufacturing facility there (from the current level of merely 15 percent) remain critical areas of concern.
FY18 is likely to be a lacklustre year for SPF since most of the company's funds invested in expanding and upgrading its US facilities are unlikely to yield any major results.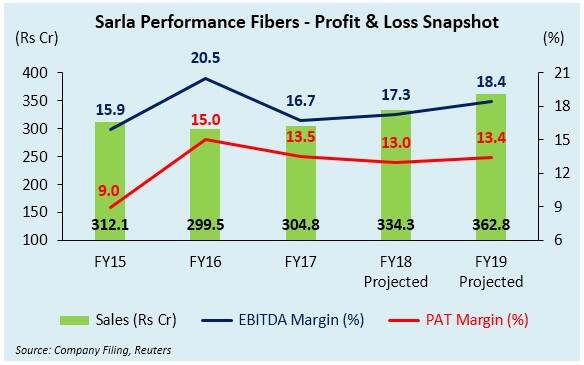 Nevertheless, at 7.95x FY19 projected earnings, the undemanding valuation beckons attention. While the asset turnover rate is low at the moment, any improvement in the same would have a positive rub off on earnings.
For more research articles, visit our Moneycontrol Research Page.
First Published on Oct 4, 2017 02:12 pm