P/E is a volatile indicator because it frequently changes with the slight change in either earnings or stock price.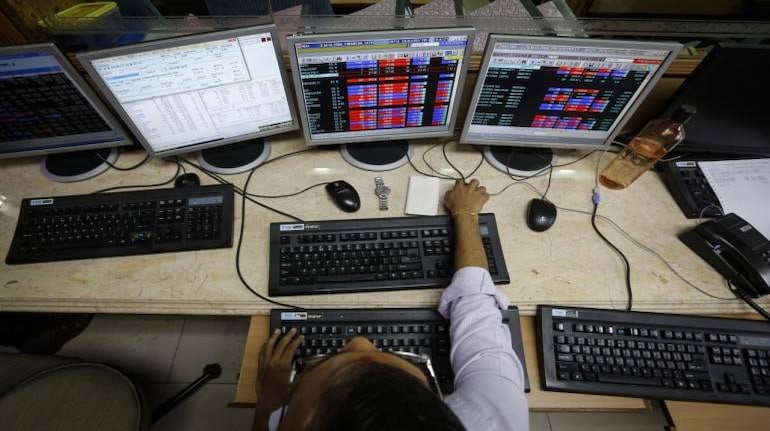 Big gains come in small sizes, which is especially true for smallcap stocks which have outperformed benchmark indices by a wide margin in the last one year.
The S&P BSE Sensex rose 17 percent while the S&P BSE Smallcap Index rallied by about 30 percent in the same period.
Smallcap stocks which are always labelled as 'high risk' but give big returns when compared with largecaps. Choosing the right stocks matters when it comes to small companies and it they have earnings visibility then the rally is most likely to sustain.
We collated a list of companies which are trading at a high price to earnings ratio (P/E), which in some case is 10x its book value, has more than doubled its net profit in last one year and have given returns up to 710 percent in the same period.
High PE ratio is not an alarming sign in all the case because when high PE is accompanied by a rise in profits it means that Street is factoring a higher future growth, which makes these stocks somewhat safe.
Some of the companies which meet the above criteria include names like Indiabulls Ventures, Venky's, Philips Carbon, Jindal Stainless, Atlanta, Prakash Industries, Indian Hume Pipe, Swan Energy, Bhansali Engineering, PNB Glitz, Dewan Housing etc. among others.
"Small cap stocks, in general, have been most sought after as the present phase of the market rally has been driven by domestic investors. Some of the companies mentioned in the table below have been driven by business specific revival," Shashank Khade, Director and Chief Equity Advisor at Entrust Family Office Investment Advisors told Moneycontrol.
"Commodity price revival, gross margin positive changes, step-up in volumes have driven by earning and attracted investor interest. It is clear that the market is hungry for earnings growth which has been scarce," he said.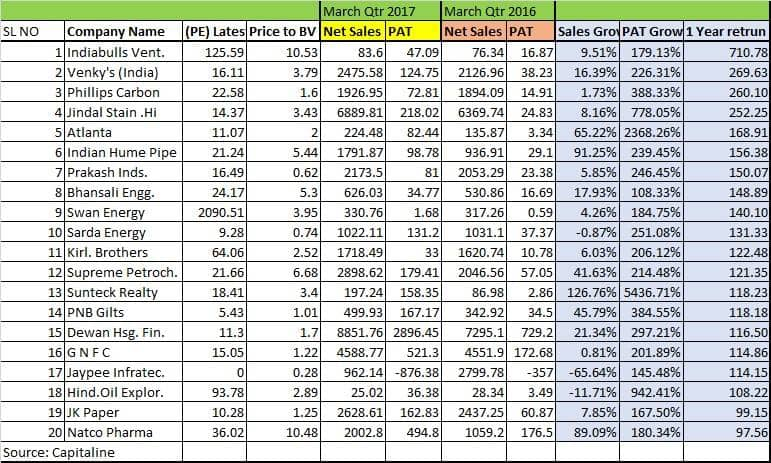 The P/E ratio of most of the companies mentioned in the list are above trading more than their book value which some analysts could see as a sign of caution, but in most cases, high P/E is attributed to high growth.
The first step for an investor is to examine ratio which defines the standard parameter of evaluation and then identifying standard quotient of the industry followed by equating them within peer groups, suggest experts.
"Each sector has their own standard valuation parameter, like for Banks P/B ratio is taken into consideration while P/E and EPS is evaluated for Manufacturing and Consumer Durable sectors respectively," Dinesh Rohira, Founder & CEO, 5nance.com told Moneycontrol.
"A high P/E ratio usually indicates a growth stock if supported by fundamental, however comparing within the industry will give a proper outlook on valuation. An investor should examine P/B ratio for banking companies as their asset & liabilities are valued on market value," he said.
A high P/B ratio indicates stock being priced higher than actual book value, but this interpretation should be on the basis of comparison between industry and within peers.
P/E is a volatile indicator because it frequently changes with the slight change in either earnings or stock price while P/B is comparatively more stable due to its size, suggest experts.
"While calculating P/E, we take only trailing 12 months earnings, which increases the volatility; however, Book Value is the Net Worth of the business and the part of the balance sheet, and thus P/B shows lower fluctuations," Tushar Pendharkar, Head of Research, Right Horizons Investment Advisory Services told Moneycontrol.
"In other words, two variables – Price & EPS – impacts P/E, while in the case of P/B only one variable – Price – impacts the ratio, because Book Value remains stable. Therefore, it is better to choose P/B over P/E," he said.
In some companies, we saw that there is small growth in top line while the bottom line more than doubled which could be dues to various factors such as other income etc. Hence, investors need to be cautious of those stocks which are displaying varied trends.
"The key to participate in such stocks is based on the assessment of sustenance of growth in earnings which can be continued to be demonstrated going forward. Such ratios needs to be understood based on growth in next 2-3 years," said Khade.
Other indicators used for valuation purpose
It is true that for each industry there should be slightly different evaluation parameter and investors should not base their investment decision based on a just couple of indicators.
While PE and PB provide material information about the company, but investors should also use other parameters to see the complete picture such as EV/EBDITA, PEG ratio, Return on Net Worth etc. among others.
Deepak Jasani, Head - Retail Research, HDFC Securities is of the view that return on net worth (RONW) is another important ratio which gives an indication of capital allocation and efficiency of a company.
"Further CAGR in sales and PAT over past 3 or 5 years also gives an indicator of the growth potential of the company," he said.
EV/EBITDA is the other better metric to check valuation. It avoids fluctuation in income statement which influences EPS, and most of them are one-time, such as Exceptional Gain, a sudden rise in 'Other Non-Operating Income', tax concession, etc.
"It is better to look EBITDA or EBIT level performance and judge companies at EV/EBITDA level as well. It is a good metric for those companies which are making losses at net level; however, profitable at operating level," said Pendharkar.
Disclaimer: The views and investment tips expressed by investment experts on Moneycontrol.com are their own and not that of the website or its management. Moneycontrol.com advises users to check with certified experts before taking any investment decisions.
First Published on Jun 12, 2017 08:03 am