Sector-wise, FPIs bought into financials (non-banking financial companies and private bank), IT and metals and sold autos, utilities, state-run banks, energy and consumer staples.

Foreign institutional investors (FIIs) have turned cautious on Indian equities in 2018 due to increasing commodity prices, rise in US treasury yields, strengthening dollar-rupee, deteriorating macro-economic parameters and fluid political environment.
So far, FIIs have withdrawn over Rs 7,000 crore and nearly Rs 17,000 crore from equity and debt markets in May, respectively, according to data from Securities and Exchange Board of India. FIIs have turned net sellers in February, April and May.
Rising borrowing costs in the US, amid appreciation of the dollar-rupee, has put emerging market assets under pressure and will cap foreign portfolio investor flows into emerging markets, including India, Elara Securities said in a report. "Given the high valuation, weak corporate earnings and macro headwinds, we expect FPI equity flows to remain weak in Q1 FY19."
In the quarter-ended March, FPIs remained net buyers of Indian equities to the tune of $2 billion as compared to $2.5 billion quarter-on-quarter. The net buying was largely due to participation in the primary issuance (qualified institutional placement, rights, preferential issuance) of Housing Development Finance Corporation (HDFC), Tata Steel and Idea Cellular.
The quarter also saw a reversal in FPI buying momentum (two consecutive quarters of buying followed by a quarter of selling) in M&M Financial Services, Idea Cellular, RBL Bank, Hindalco, Crompton Consumer, Torrent Pharma, among others, the report stated.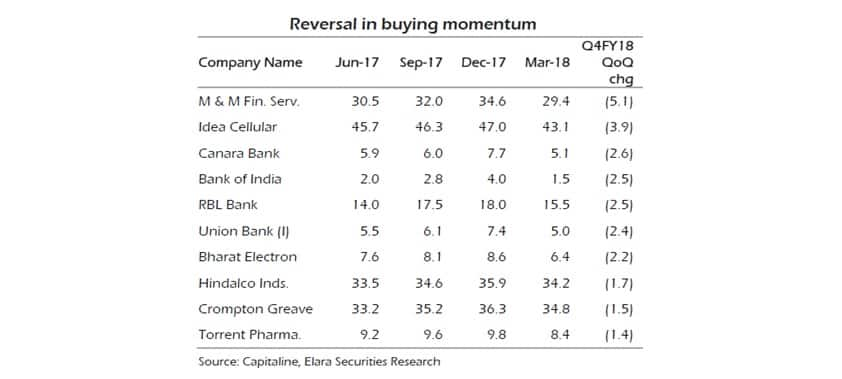 Sector-wise, FPIs bought into financials (non-banking financial companies and private bank), IT and metals and sold autos, utilities, state-run banks, energy and consumer staples.
Rakesh Tarway, Head of Research, Reliance Securities, said FPIs have reduced positions in interest rate sensitives and metals owing to increasing interest rates and high metal prices. "Fundamentally, too increasing interest rates will not augur well for interest rate sensitive stocks." He expects stocks of companies in the export business to do well in the wake of a falling rupee.
According to Elara Securities report, FPIs held a concentrated portfolio, with top 10 stocks accounting for 45 percent of their total portfolio. At a sector level, financials and IT account for 50 percent of total holding.
Momentum was seen in stocks like (two consecutive quarters of selling followed by a quarter of buying) Max Financial, Amara Raja Batteries, Larsen & Toubro (L&T), HDFC, Tata Consultancy Services (TCS), NMDC, PI Industries and Castrol India.
Dinesh Rohira, Founder and CEO, 5nance.com, said FPIs have largely focused on value-driven companies with a strong growth prospects. "The upsurge in valuation, especially in the midcap space, coupled with weak growth outlook, has forced foreign investors to buy grown up and stable companies."
He added that with positive quarterly results for most largecaps, and projections of faster growth, FPIs drew exposure to this space and adopt a 'buy on dip' strategy in a stretched valuation regime.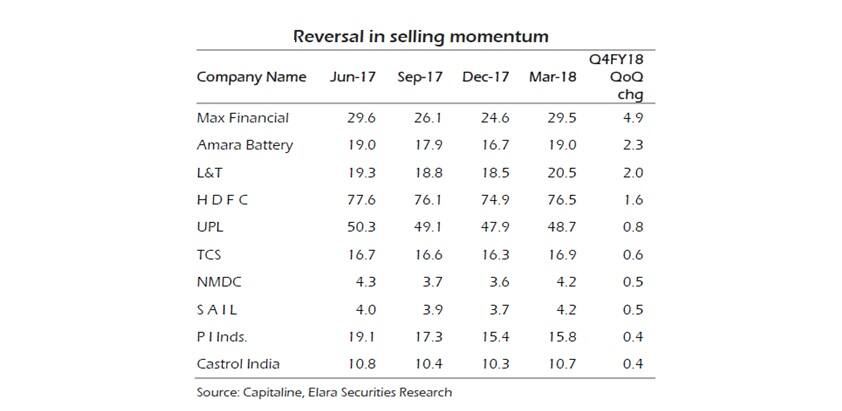 FPI overweight/underweight position
FPIs are significantly overweight on NBFC and underweight energy stocks. On a sequential basis, they have incrementally turned positive on private banks, NBFC and metals and negative on industrials, utilities, state-run banks and consumer discretionary.
At the stock level, FPIs are overweight on HDFC, Axis Bank and Bharti Infratel and underweight ITC, L&T, Reliance Industries, State Bank of India, and Hindustan Uniilever. On a sequential basis, FPIs have turned positive on HDFC and corporate lenders like Axis Bank, SBI and ICICI Bank.
An analysis of FPI overweight and underweight stance over the past eight years by Elara Securities suggests that these investors have been consistently overweight on consumer discretionary, NBFC, pharmaceuticals, materials, and telecom. They remain underweight on state-run banks, consumer staples, energy, industrials, and utilities.
In the period under review, they have had the highest overweight stance on sectors such as NBFC and cement while being underweight on energy.
First Published on May 30, 2018 08:04 am