Shares of Maruti Suzuki rallied over 1,000 percent, followed by HDFC Bank (766 percent), TCS (713 percent), and M&M (540 percent) in the last 10 years.
The Sensex has seen many reshuffles in the past but do you know that of the 31 stocks in the index, 18 have been part of the index since FY08. Of these 18 stocks, three each are from the technology and automobile space. Private banks, consumer and oil & gas have two stocks each, while state-run banks, non-banking financial companies (NBFC), capital goods, metals, telecom and utilities have one stock each in the index.
Stocks which have been part of the Sensex for the past 10 years include: Mahindra & Mahindra (M&M), Maruti Suzuki, Tata Motors, HDFC Bank, State Bank of India (SBI), Housing Development Finance Corporation (HDFC), Larsen & Toubro (L&T), ITC, ICICI Bank, Hindustan Unilever (HUL), Infosys, Tata Consultancy Services (TCS), Wipro, Bharti Airtel and NTPC.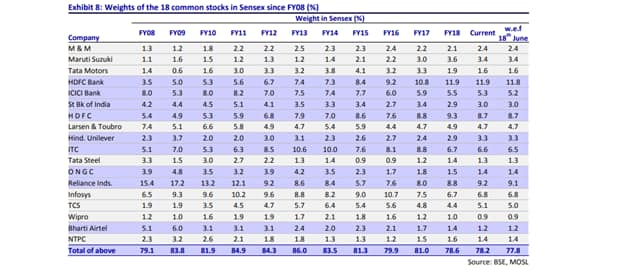 The reason why we call them 'Bahubalis' is because they stood the test of time and maintained their index position for the past 10 years, which saw both a bull as well as a bear cycle.
Shares of Maruti Suzuki rallied over 1,000 percent, followed by HDFC Bank (766 percent), TCS (713 percent), and M&M (540 percent) in the last 10 years.
Other stocks which delivered multibagger returns include: HDFC, ITC, Tata Motors, Infosys, SBI, ICICI Bank, Wipro, and Reliance Industries.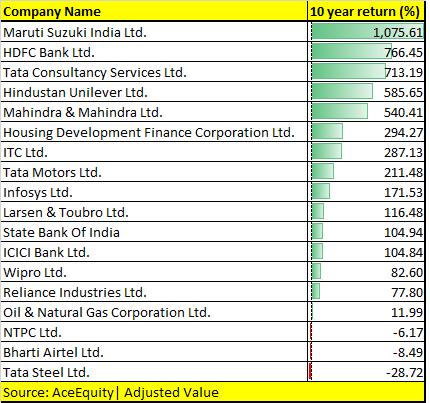 Most companies on the list are market leaders or have a dominant position in their area of operation. It seems hard that they will be displaced unless the company does something drastically wrong. "Stocks being termed as 'Bahubalis' suggests they will continue to dominate performance. We feel it is better to make a negative list of stocks which should be avoided. Oil and Natural Gas Corporation, Wipro and NTPC should be avoided," Jimeet Modi, Founder & CEO, SAMCO Securities, said.
Top stocks that are still a strong buy after being a part of the Sensex for the last 10 years:
Analyst: Ashish Sharma, Research analyst, Guiness Securities
Maruti Suzuki has been the leader in PV segment over a considerable period of time. While the growth story remains intact, increase in production and improvement in realizations is likely to drive company's earnings and which is going to get reflected in the company's growth.
Further, going forward - Lowering of Royalty Rates should lift margins. With increasing spending threshold of the consumers, we expect a higher growth and revenues.
It is the largest private sector bank in India in terms of the loan book. HDFC Bank has 4.5 percent market share in the loan book. The net interest margins (NIMs) are also expected to remain stable at 4-4.5 percent over FY18-20E due to higher credit/deposit ratio and high yield retail segment.
Considering the superior growth in advances and better loan mix, the stock should give greater returns to the investors. Viewing the current ramification in PSU banking space, HDFC Bank should largely be benefitted since it will engulf a large customer base and result into phenomenal consistent growth.
L&T:
Larsen & Toubro Ltd (L&T) is India's largest and diversified engineering & construction company. The company's business mix spans a large spectrum—from complex engineering, procurement and construction (EPC) contracts in the hydrocarbon, process, metals and cement sectors to development of infrastructure projects in sectors like ports, roads, metro rail, and airports.
Moreover, the government is inclined to making developments in infra space, thereby resulting in a prominent future for it. The order book is extremely strong, favoring the growth factor.
TCS:
TCS is the current IT leader; it has shown stupendous growth and has also reflected promoter's confidence by doing two consecutive buybacks thereby making history in the Indian stock market.
It also has had a history of issuing bonus shares to strengthen shareholder's confidence. TCS also became the first Indian company to cross Rs. 7 Trillion Market Capitalization thereby reflecting the inherent strength in the TATA parentage.
HUL:
Hindustan Unilever Limited (HUL) is India's largest Fast Moving Consumer Goods Company with a heritage of over 80 years in India.
On any given day, nine out of ten Indian households use its products, thus showing its reach and market penetration across the length and breadth of the country.
Over the period of time, HUL has always maintained premium valuation due to a higher margin of safety it offers to its shareholders backed by strong consumption story.
Reliance Industries Limited is an Indian conglomerate, which owns businesses across India engaged in energy, petrochemicals, textiles, natural resources, retail, and telecommunications.
Reliance is one of the most profitable companies in India and it is also the second largest publicly traded company in India by market capitalisation.
RIL is responsible for almost 5 percent of the government of India's total revenues from customs and excise duty. It is also the highest income tax payer in the private sector in India.
(Disclaimer: Reliance Industries Ltd. is the sole beneficiary of Independent Media Trust which controls Network18 Media & Investments Ltd.)
Stocks to Avoid:
Analyst: Jimeet Modi, Founder & CEO, SAMCO Securities & StockNote
ONGC:
ONGC will be burdened with subsidies going ahead till the time govt gives up control, which is not going to happen anytime soon and therefore it is better to avoid the stock because it will not be able to charge market rates. We believe oil demand will peak by 2021.
Wipro has underperformed the entire IT sector since last so many years and that underperformance is likely to continue. NTPC operates in a regulated returns environment and hence there is a limit to the upside.
Disclaimer:
The views and investment tips expressed by investment experts on moneycontrol.com are their own and not that of the website or its management. Moneycontrol.com advises users to check with certified experts before taking any investment decisions.
First Published on Jun 20, 2018 08:23 am