Every credit card may have a different due date and credit limit, so one can leverage it to the maximum. These are choices customers need to make based on their lifestyle and usage.

Axis bank is growing faster than the industry in terms of both spends and number of credit cards issued. Over last three years, the bank's credit card numbers have been increasing at a compounded annual growth rate (CAGR) of 34 per cent, as against 25 per cent for the industry, according to data from the RBI. In terms of spends, the growth rate is 42 per cent, against 35 per cent for the overall industry. The growth story has not been limited to just credit; in the debit card segment too the bank has clocked a robust CAGR of 50 per cent.
In a conversation with Moneycontrol, Sanjeev Moghe, EVP and Head of Cards & Payment of Axis Bank, talks about the bank's recently launched co-branded credit card with e-commerce firm Flipkart. He also explains customers' preference for co-branded cards, demand for virtual credit cards, rolling-over of credit card debt and its impact, and the usage of multiple credit cards.
Axis Bank has recently launched a co-branded credit card with e-commerce firm Flipkart. What are the key benefits for customers?
There are two ways to look at co-branded credit cards. First, a bank is able to add value to customers in a powerful way because two entities are coming together to enhance customer benefits and experience, catering to their specific requirements. For instance, with this co-branded credit card, Axis bank customers will get five per cent cashback on purchases from co-branded merchants Flipkart, Myntra and 2GUD (to purchase refurbished products). Also, there is four per cent cashback on purchases from preferred partners, which include MakeMyTrip, Goibibo, Uber, PVR, etc. and 1.5 per cent cashback from other merchants. This cashback will be credited into the customer's account every month, while generating their monthly credit card statements. Unlike reward points, credit card customers don't need to apply for redemption.
Second, we see a huge shift in customer spending in the online space and also in the tier II and tier III cities. With this partnership, we hope to leverage on the distribution network, which is large on the platform. This will be a unique opportunity to reach out to the customers digitally in a non-intrusive manner. We will also ride on the new online opportunity and leverage the shift in customer spends in the online space.
What kind of co-branding in cards do customers prefer and have worked in India?
Generally, the customers prefer co-branded cards in popular categories such as airline, fuel and retail. Customers who are frequent fliers would prefer a co-branded card with an airline. Similarly, customers who shop on e-commerce or retail chains prefer a co-branded card with a retail network of the bank to avail discounts and cashback offers.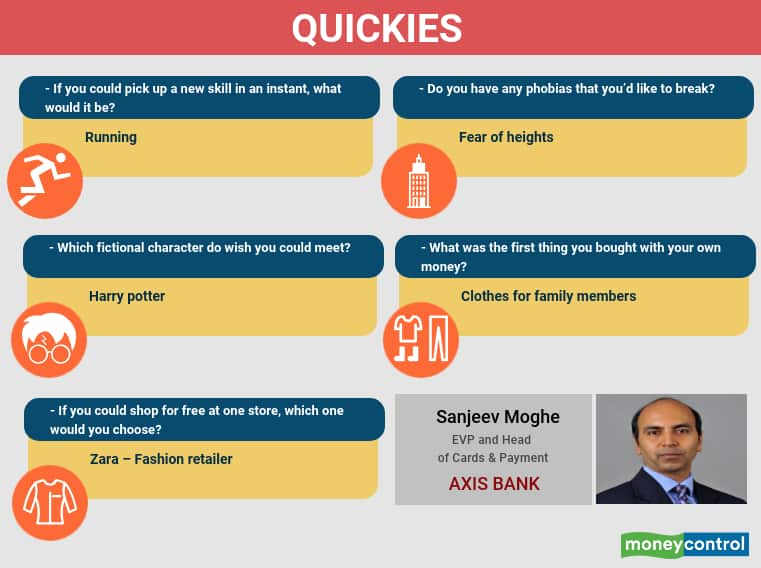 Do too many people roll-over their credit card debt? Do you see trends in any particular age-group of customers?
In India, at an industry level, approximately 40-50 percent of the outstanding amount rolls over. The cardholders in the age group of 25-30 years are more open to taking risk as compared to those in the age group of 31-35 years. So, intuitively, customers with a credit limit of Rs 50,000 will have a very different approach as compared to customers with credit limit of Rs 3 lakh. Looking at credit bureau data, we are largely stable in rolling-over credit card debt. However, when one defaults on the credit card debt payments, then in future there may be challenges while applying for a home or business loan.  One should not develop a habit of paying minimum amount due on the credit cards. Using this option once or twice is fine, but doing it regularly will impact the credit score. Paying the minimum amount due and continuing to spend through the card can build up balances that may get difficult to repay.
Many customers tend to use multiple credit cards. What are the benefits and drawbacks of holding several cards?
In India, an individual holds approximately 2 - 3 credit cards. Every credit card may have a different due date and credit limit, so one can leverage it to the maximum. These are choices customers need to make based on their lifestyle and usage.
If you are a frequent traveller, then opt for a co-branded travel credit card and the second could be a co-branded fuel credit card. This will help you maximise your value proposition. However, credit cardholders should not miss out on the payment date of their credit card bills, as it may impact their credit history. Also, one may end up paying higher interest rates on the amount due.
How has the demand for virtual credit cards been? How many virtual credit cards has Axis bank issued since its launch?
The bank had first issued a virtual credit card in June 2018 and, since then, approximately 15-20 per cent of total cards being issued by Axis bank are virtual. We are looking at adding new customers adapting to the use of the virtual card by spreading awareness about it. During the first stage, we built our capability to launch virtual credit cards and now we are plugging virtual credit cards on various channels to attract more customers. Today, one fifth of our sourcing channels are enabled with virtual credit cards. The customer gets a card in two minutes and it's virtually enabled, which means customers can immediately start using it on any ecommerce website for transactions.
Follow @thanawala_hiral
First Published on Jul 30, 2019 09:34 am