Delay in getting the environmental clearance adds to uncertainty. Further, once they get the clearance then it would take about one year or so for the new plant to get operational.
Dynemic Products, one of the two major food colour companies, reported sequentially weak numbers in the June quarter due to a plant shutdown. While the plant resumed operations, visibility for capacity expansion remains the key concern.
 Table: Dynemic Products Q1 FY19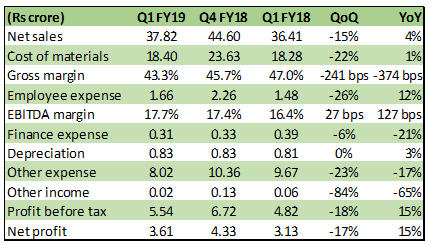 Source: Moneycontrol research
According to a notification to the exchanges by the company in April, a manufacturing plant in Ankleshwar was closed for water effluent-related remedial action after a notice by GPCB (Gujarat Pollution Control Board). This led to a 15 percent sequential contraction in topline for the June quarter.
Gross margins also contracted but the earnings before interest, tax, depreciation, and amortisation (EBITDA) margins marginally improved due to reduced other expenses and lower employee expenses.
Net profit grew 15 percent YoY but declined sequentially, broadly in line with sales at 17 percent.
Awaiting environmental clearance for capacity expansion
The company's plan for setting up its third plant (1,242 tonne) in Dahej remains intact. However, environmental clearance for it remains a roadblock. The company's current combined capacity of about 7,320 tonne at its two plants in Ankleshwar is optimally utilised with utilisation of about 80-85 percent in the normal course of operations.
As both the key listed food colour companies (the other one being Vidhi Specialty) are at optimum capacity utilisation levels, capacity expansion assumes importance. Delay in getting environmental clearances adds to uncertainty. Also, it takes about a year or so after all clearances for the new plant to get operational.
It will remain important to keep a close eye on the price trajectory for inputs mainly basic chemicals which have surged in recent times. The company though has the pricing power given the stickiness of clients due to the long approval process and regulatory nature of the business.
The promoters purchased their stock in the current month leading to a marginal increase in shareholding to 40.26 (from 40.19) percent but that's not a very significant amount.
One dampener could be that the earnings forecast doesn't look encouraging. Though it is not possible to put a timeline to environmental clearances, a probable scenario of this happening in FY19 and capacity coming on stream in FY21 with a 20 percent capacity utilisation in the first year could mean about 10 percent earnings CAGR (FY18-21) mainly due to higher pricing.
So although the stock currently trades at an attractive trading multiple of 9.8x FY18 earnings, it would be prudent to wait for an improved visibility on new capacity.
For more research articles, visit our Moneycontrol Research page
First Published on Jul 31, 2018 02:58 pm