Here is the list of 12 top stocks that can give upto 47% return over 12-15 months period.
The market has been rangebound after the recent sharp correction of around 10 percent from record highs. Though the markets look in oversold territory it does not mean a sharp recovery is on the cards.
It is expected to be volatile going ahead and further correction could not be ruled out due to political developments as many state elections are lined up in the year ahead followed by general elections 2019, experts suggest. Apart from Indian politics, global cues like expectations of further Fed rate hikes and easing of monetary policies by several central banks will also be closely watched.
Saurabh Mukherjea, CEO of Ambit Capital believes that while valuations are better than January 2017, the market is still 10-15 percent overvalued.
"Sensex at 30,000 could be fair value for the market," Mukherjea, CEO of Ambit Capital told CNBC-TV18 in an interview. Having said that, he expects this moderation in the momentum to bring in some degree of FII buying, he added.
Does that mean better time or a sense of recovery for the market in the short term? "A trigger for the market to be weak, could be liquidity issues which will be much tighter than what it is now. So, pressure could continue despite a pick-up in the earnings," he told the channel.
But, on an overall basis, he believes that the Street is in the final phases of a healthy bull market, which could probably last another year.
"Recovery in the economy could drive the market through this phase," Mukherjea said, adding that any lower moves due to 'political risk' could be seen as a buying opportunity. As such, he believes that there is no profound link between politics and the markets, atleast not a fundamental one.
Hemang Jani, Head - Advisory, Sharekhan said though the sentiment is down he is not looking at sharp correction/ fall in the market from current levels as earnings previews for Q4 will start flowing in from next week onwards, projecting good quarterly numbers expectations.
US market also is going to be driven more by the earnings expectations and not so much by Fed meet or its stance on interest rates, he added.
Here is the list of 12 top stocks that can give upto 47% return: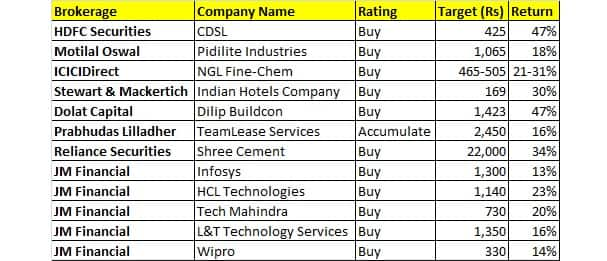 Brokerage: HDFC Securities
Central Depository Services | Rating - Buy | Target - Rs 425 | Return - 47%
Central Depository Services (CDSL) is one of two depositories in India and the only one to be listed. Given the high risk of data pilferage, we believe there is limited scope for any other depository to be set up.
CDSL is a gem of a business that any investor constructive on India in the long term must own. It has a robust business model, with (1) One-third of revenues being annuity (issuer charges), (2) Embedded non-linearity playing out (1,502 bps margin expansion over FY13-17), (3) Low capex requirement (around 3 percent of revenue), (4) Excellent cash generation (OCF around 63 percent of EBITDA) and (5) Huge option value from new areas like digitisation of academic records and insurance policies, e-warehouse receipts and GST Suvidha centres.
We believe the business should command higher multiple because of its less cyclical nature versus exchanges and brokerages. We assign a P/E multiple of 33x to core earnings and add net cash to arrive at a target price of Rs 425 (47 percent upside from CMP). At 24/21x FY19/20E earnings, value is imminent and merits a Buy.
Brokerage: Motilal Oswal
Pidilite Industries | Rating - Buy | Target - Rs 1,065 | Return - 18%
In the domestic business, the existing well-penetrated categories are expected to grow at around 1.5x of GDP growth, led by repeated usage. Newer and smaller businesses, too, have the potential to grow at 2-4x of GDP growth, driven by rising penetration.
Internationally, Pidilite will now focus more on emerging markets like South-East Asia, the Middle East, Bangladesh and Thailand. Investments in the US and Brazil businesses will be put on the back burner.
With the Goods & Services Tax (GST) now getting streamlined, management expects conversion from unorganized to organized trade to be faster in adhesives than in staples. Strict tax compliance norms are expected to test the survival of unorganized (around 30 percent of the market) and even smaller players.
Margins might come under pressure in the near term owing to commodity cost inflation. We maintain Buy on Pidilite with a target price of Rs 1,065, based on 45x March FY20E EPS – at a 15% premium to the three-year average P/E.
Brokerage: ICICIDirect
NGL Fine-Chem | Rating - Buy | Target - Rs 465-505 | Return - 21-31%
NGL Fine-Chem (NGL) is into the business of APIs (around 80 percent of 9MFY18 sales), intermediates (around 15 percent) and formulations (around 5 percent). Further, animal APIs account for around 90 percent of overall API sales while the rest is contributed by human APIs. The company derives around 75 percent of revenues from exports (9MFY18) mainly to European customers that formulate them for sales in tropical countries. The top five customers together account for around 50 percent of 9MFY18 revenues. The company currently has 22 API products in its portfolio (18 animal APIs and four human APIs).
Revenues, EBITDA & PAT registered CAGR of 25 percent, 42 percent, 65 percent, respectively, in FY08-17. With the completion of a major capex exercise, we expect the growth trajectory to improve significantly from FY19 onwards.
We expect net cash position to improve from thereon. EBITDA margins have steadily improved from 10-13 percent few years ago to around 25 percent in FY17 partly due to crude related benefits and active cost rationalisation measures undertaken over the years. Even after hardening of crude prices, the company could maintain a high margin trajectory that demonstrates its pricing power.
We expect revenues, EBITDA and PAT to grow at 15 percent, 14 percent and 19 percent CAGR, respectively, in FY17-20E. We value NGL at 12-13x PE of FY20E EPS of Rs 39, resulting in a fair value of Rs 465-505, with Buy rating on the stock. We believe the stock offers a compelling value proposition based on micro and macro parameters.
Brokerage: Stewart & Mackertich
Indian Hotels Company | Rating - Buy | Target - Rs 169 | Return - 30%
Stewart & Mackertich Research initiates coverage on The Indian Hotels Company (IHCL) with a Strong BUY rating. The Indian Hotels Company Ltd is one of the Asia's largest hotel chain groups.
Over the years, with the changing dynamics of the industry, the company has geared itself to broad-base its business model in order to take advantage of the growth prospects within various class of travel and tourism industry. It operates under the brand of 'Taj' & 'Vivanta' - catering to the luxury segment and 'Ginger' (budget category).
Several macro and micro factors compel us to believe a good visibility of growth in the hospitality sector. On this backdrop, Indian Hotels is likely to reward investors. We value The Indian Hotels Company Ltd on the basis of Sum of the Parts (SOTP) - using DCF for the Parent and relative valuation for the subsidiaries to arrive at a target price of Rs 169.
Brokerage: Dolat Capital
Dilip Buildcon | Rating - Buy | Target - Rs 1,423 | Return - 47%
Dilip Buildcon with its differentiated business model that lays on project selection and execution with operational efficiency continues to remain one of the prime beneficiaries of government's Bharatmala project (Rs 6.95 lakh crore). With its presence across 13 states of India (as on Mar'18) and signing of an agreement with Shrem Group (Aug'17) to exit 100 percent from its 24 BoT projects for Rs 1,600 crore, DBL is in much better placed to benefit from an upcoming pick up in the road awarding activity.
We upgraded revenue estimates by 3.9/ 14.8/ 15.8 percent for FY18/ FY19/ FY20 due to higher order inflow of Rs 11,580 crore in YTDFY18 versus earlier estimate of Rs 9,000 crore and better execution on HAM projects.
We expect DBL's revenue/ adjusted PAT to grow at a healthy CAGR of 33.3/ 54.5 percent over FY17-20E. We expect DBL to witness traction in revenue, best EBITDA margin among peers, superior net profit margin, comfortable working capital, robust order inflow and order book, robust FCFF, declining leverage, and improving healthy return ratios (RoE/ RoCE of 26.5/ 29.4 percent by FY20E) over FY17-20E. Thus, we reiterate Buy on the stock with an upward revised SOTP of Rs 1,423.
Brokerage: Prabhudas Lilladher
TeamLease Services | Rating - Accumulate | Target - Rs 2,450 | Return - 16%
Flexi staffing business in India appears to be in a sweet spot led by multiple dynamics playing in favour of the sector. Scope for increase in formal employment in the country (currently at 14 percent of overall employee base) as well as increased share of outsourced employee base within the formal employee base are the key macro drivers.
While increased hiring of contract employees in select industries (BFSI, Retail, eCommerce, Logistics, Telecom) has been the key growth driver for flexi staffing companies over FY13-FY17, we believe FY18-FY20E could see a pick-up in Manufacturing vertical as well.
Implementation of GST would be the key driver for traction of organized flexi staffing companies in the Manufacturing vertical (owing to ability to take input tax credit). GST implementation would also reduce the pricing advantage of unorganized players and hence result in market share gains for organised staffing companies.
TeamLease is the leader in flexi staffing business in India and competes neck-to-neck with Quess Corp. TeamLease's associate count in general staffing stands at 171,000 as on Q3FY18 (versus Quess' general staffing headcount at around 150,000). Led by market share gains in favour of organised players, we expect TeamLease to deliver 16/36/22 percent Revenues/EBITDA/PAT CAGR over FY17-FY20E.
We estimate EBITDA margins at 1.8/2.1/2.3 percent for FY18/FY19/FY20E. Productivity improvement (Associate/Core employee ratio) and improving mix of business would drive margins. Margin improvement over FY18-FY20E would be the key driver for earnings trajectory.
Owing to higher share of business from general staffing, TeamLease's business remains asset-light. Debtors (including unbilled revenue) for TeamLease stand at 28 days for FY17 (versus 73 days for Quess Corp and 68 days for SIS India). Hence, despite lower margins (versus Quess and SIS), TeamLease has a similar return on equity profile as its peers owing to lower working capital cycle. Target price has been increased by 30 percent to Rs 2450 per share led by P/E upgrade. Retain 'Accumulate'.
Brokerage: Reliance Securities
Shree Cement | Rating - Buy | Target - Rs 22,000 | Return - 34%
There are expectations of healthy traction ahead due to better utilisation and favourable market mix.
While Northern realisation continues to remain dismal so far in Q4FY18, Eastern realisation has been resilient and firm.
We believe firm realisations in Eastern region and resumption of petcoke usage are likely to provide support to margins in current quarter. Further, we expect Northern realization to recover in Q1FY19.
New expansion in Karnataka is moving as per schedule and is expected to be commissioned by Dec-18, which along with acquisition of 4mnT operational cement capacity in UEA are likely to aid sustainable growth to SCL.
We maintain fundamental Buy rating on the stock with a target price of Rs 22,000 per share.
Brokerage: JM Financial
Infosys | Rating - Buy | Target - Rs 1,300 | Return - 13%
We believe Infosys is on track to achieve FY18 USD revenue growth with-in the guided 6.5-7.5 percent guidance band and expect similar growth in FY19/FY20. Further, Q3FY18 results showcase strong focus on cost management that gives confidence in the EBIT margin sustaining in the 23-25 percent guided band despite the INR appreciation.
We see minimal risks of incremental downside to the current consensus estimates.
We believe a pause in the earnings downgrades + modest valuations (15.7x FY19E; 15 percent discount to the broader market) makes a case to play Infosys' healthy cash-flow generation (5 percent free cash flow-FCF yield) + build-up of digital/automation assets.
TCS' relative PER premium (+26 percent) could also trigger a minor shift to Infosys. Maintain Buy; with revised target price of Rs 1,300 per share.
HCL Technologies | Rating - Buy | Target - Rs 1,140 | Return - 23%
We believe the IP partnerships that HCL is has been forming over the last 7 quarters have built out a revenue stream that may have only modest organic growth but will have margins that could be at least twice the current company average. Thus, their growing contribution could be a strong margin driver for HCL, not billed in the current consensus estimates.
While HCL has recovered from its three-month lows, with a 2 percent move over the last one month, in-line with the BSE IT Index, it still trades at 6-32 percent PER discount to the Top5 peers. At 7 percent FY19 FCF yield, we find the risk-reward still attractive. We maintain Buy; revised price target of Rs 1,140 is at 15x target PER.
Tech Mahindra | Rating - Buy | Target - Rs 730 | Return - 20%
Tech Mahindra expects the recovery in the portfolio companies to sustain – VAS business (Comvica) should have a seasonally strong Q4; revenue growth is recovering in LCC; and there is a strong demand traction in HCI, acquired in Q1FY18.
We expect the IPP could give an incremental 1ppt growth in FY19.
Management reiterated its focus on sequential margin expansion over the next few quarters. The headcount management is likely to remain tight and while the wage revision cycle is likely to come back in 1HFY19, we expect the hikes to be selective and moderate.
Tech Mahindra's 17 percent outperformance to BSE IT Index over the last six months has bridged the valuation gap – it now trades at 14.7x 12-month forward EPS, broadly inline with peers. Thus, we expect the incremental stock move to track the EPS upgrade cycle; rerating could wait for a visibility on the 5G-capex spend.
L&T Technology Services | Rating - Buy | Target - Rs 1,350 | Return - 16%
We believe a pure-play such as L&T Technology Services (LTTS) is better placed versus generic IT services companies to address the ER&D services opportunity, given the domain-centricity of sales to a different set of buyers (product development or R&D heads versus CIOs/CTOs).
Recent management interactions suggest a shift to 'profitable growth' strategy FY19 onwards. This implies revenue growth could sustain above industry levels even as margin recovers after the decline in FY18.
We have valued LTTS at 21x target PER which is at 24/45 percent premium to global peers Alten and Altran that trade at 17x/15x 12-month forward EPS respectively. We believe this is justified given the higher earnings growth expectations for LTTS; we expect 20 percent EPS CAGR for LTTS over FY18-20 versus 14/6 percent expected for Altran/Alten over CY17-19 as per Bloomberg consensus estimates.
Wipro | Rating - Buy | Target - Rs 330 | Return - 14%
Wipro got 25.1 percent of its revenues from the digital services, the highest among peers. Qualitatively too, Wipro's portfolio of digital services, built primarily inorganically through the acquisitions of Designit and Appirio, appears to be more broad-based than peers who have taken a more organic approach.
We believe the transaction (divested data centre services business to Ensono) allows Wipro to optimise its business portfolio and the ensuing cash should fuel more digital-centric acquisitions.
Wipro's cash-flow hedge accounting policy + an active treasury management could help keep the reported margins in a narrow band around FY18 levels.
Wipro has been more efficient on bench and pyramid management. We expect reported FY19/FY20 EBIT margin at 17.6/17.7 percent (versus 16.5 percent for FY18). The impact of INR reset on estimates is relatively lower; revised EPS estimates for FY19/FY20 are on realised INR/USD rates of 66.25/67.25.
Disclaimer: The views and investment tips expressed by investment experts on moneycontrol.com are his own, and not that of the website or its management. Moneycontrol.com advises users to check with certified experts before taking any investment decisions.
First Published on Mar 22, 2018 10:18 am