It is true that there is an increase in carbon emission by India and China due to homegrown consumption and lack of infrastructure. But let's keep in mind that India's carbon emissions per capita are still 10 times lower and China's is half of that compared to the US.

A majority of right-wing American politicians are climate change deniers, consider global warming to be a hoax and blame emerging countries like India and China on the rising level of CO2 emission in the world.
During the Obama regime, many reforms were introduced to restrict rising levels of CO2 emission. Restrictions were put on the use of fossil fuel and many subsidies and incentives were introduced to boost the adoption of renewable sources of energy.
But in one fell swoop last month, US President Donald Trump signed an executive order which began the demolition of a wide range of Barack Obama's policies on global warming and climate change.



The concept of global warming was created by and for the Chinese in order to make U.S. manufacturing non-competitive.


— Donald J. Trump (@realDonaldTrump) November 6, 2012
While the world is planning to reduce dependency on fossil fuels, US has rolled-back incentives that were powering the country's emerging renewable industry and now has lifted restrictions on the coal industry to create more mining jobs.
Despite numerous benefits, such hostility towards renewables is understandable as there is a profit motive attached to it.
"Led by the oil and gas industry, the energy and natural resources sector regularly pumps the vast majority of its campaign contributions into Republican coffers," says opensecrets.org, an American website that keeps a track of federal campaign contributions and lobbying data.
"Since the 1990 election cycle, interests from this sector have contributed more than two-thirds of its campaign contributions to Republican candidates. Another big contributor in this sector - and another big GOP supporter - is the electric utilities industry. Less generous, but even more partisan, is the mining industry," it adds.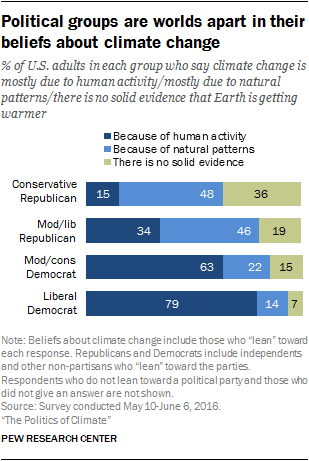 For the 2015-2016 US election cycle, the energy/natural resources space donated around USD 87 million to Republicans and President Trump received a donation of USD 1,576,360 from this sector.
When such big money is brought in to the equation, it is understandable why Republicans turn a blind eye towards climate change and pass the buck on to the developing nations.
A few days ago, Republican politician Rick Santorum again passed the blame on to India and China for the increasing level of CO2 emission.
On Real Time with Bill Maher, when Santorum was asked to defend Trump's decision on the roll-back of subsidies to renewable industries, he said, "The vast majority of the new CO2 emissions is not coming from the United states, it's coming from China, from India."
When Bill Maher, host of the show, said that 'these countries get it' and acknowledge the threat of climate change, Santorum disagreed and said, "No, they don't. They are building coal power plants right now in China, they are building them in India."
Fact check
It is true that there is an increase in carbon emission by India and China due to homegrown consumption and lack of infrastructure. But let's keep in mind that India's carbon emissions per capita are still 10 times lower and China's is half of that compared to the US.
According to the Climate Change Performance Index released this year, India's per capita emissions are still relatively low, but emis­sions are rapidly increasing.
"25 percent of the growing energy supply is covered by renewables, but there still is room for improvements. National experts value that the Indian gov­ernment runs one of the largest renewable capacity expan­sion programmes in the world, which leads to a good policy performance for the country," it said.
The report acknowledges China's efforts towards the adoption of renewable energy despite it being the largest CO2 emitter.
"China's posi­tive trend in the development of renewable energy —which according to national energy experts is in line with the goal of a 20 percent share of its primary energy supply from re­newable sources — is reflected by an improvement of four places in this category. National experts are positive about the possibility of CO2 emissions peaking before 2030, that is, earlier as planned," the report said.
The United States lost some ground in almost every index category, landing on rank 43.
"National experts have a differing opinion on their country's performance in international policy contexts. While most of them stress that under the Obama admin­istration, the US played a key leadership role in reaching global climate agreements, coming forward with bilateral announcements with decisive partners such as China, India, Mexico and Brazil, some experts criticised their country for hindering ambition on loss and damage within the Paris Agreement," the report said.
"With the results of the presidential elections of November 8, the future of recent progress in US climate policy is in real danger of regression," it added.
Accordingly to India's Ministry of New and Renewable Energy (MNRE), the total renewable capacity including solar, wind, bio-mass and small hydro grew by around 11.2 GW in FY17, at par with thermal capacity addition, which registered a decline of 50 percent in the year.
Figure - Renewable and thermal power capacity addition, MW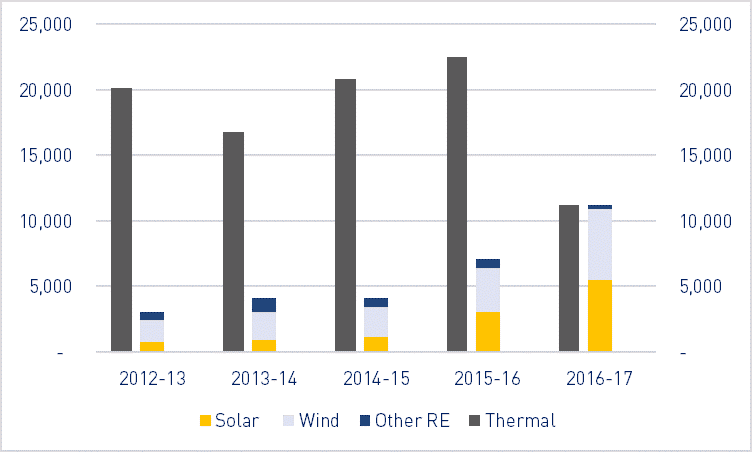 "The country added 5,526 MW of new solar capacity (up 83 percent over FY 2015-16) and 5,400 MW of new wind capacity (up 63 percent) in the year. While these numbers are impressive, it is worth noting that the solar capacity addition including rooftop solar is almost 50 percent below the annual target of 12,000 MW. In contrast, wind capacity addition was +35 percent over the 4,000 MW target," Bridge to India reports.
In 2015, China had the biggest financial commitment to renewable energy, investing over USD 100 billion, an increase from USD 3 billion just over 10 years ago.
Key data for top 5 CO2 emitters. Source: CCPI 2017

"Since 2015, India has emerged as the leading country for renewable deals outside the US, accounting for nearly 8 percent of global deal share. India received 21 deals to solar and wind companies, and 2 deals in bio-energy," CB Insights reports.
The renewable sector was emerging as a major job creator in the US but that trend might reverse now. Coal industry leaders have said that this move will not create jobs for miners as most of the process is now automated.
Using India and China as a scapegoat might help Uncle Sam in dodging tough questions but in the process they are hurting the climate and their economy.
Follow @shukla_05sid
First Published on Apr 14, 2017 10:05 am