Six of Samsung's leading smartphone models have made it to the list of top 15 least radiation emitting smartphones while three of rival Apple iPhones have figured on the highest radiation emitting list.

Samsung smartphones emit the least amount of radiations while rival Apple's iPhones are among the highest radiation emitting smartphones, German Federal Office for Radiation Protection (Bundesamt für Strahlenschutz)'s database has revealed.
As many as six Samsung smartphones figure in the list of top 15 least radiation emitting phones while and three Apple iPhone models feature in the most radiation emitting smartphones list, the survey has revealed.
However, the first place was bagged by Sony Xperia M5, with just 0.14 watts per kilogram, emitting the least levels of radiations.
Samsung's flagship smartphone, Galaxy Note8, comes close at number two, emitting only 0.17 watts per kg. The Samsung Galaxy S6 edge+ emits 0.22 watts per kg followed by Google's Pixel XL with 0.25 watts per kg.
Motorola's Moto G5 plus and Moto Z also figure on the list, emitting radiation of 0.30 watts per kg each.
Two smartphones, BLADE A910 and BLADE A610, manufactured by Chinese technology giant ZTE, have also been ranked in the top 15 by the survey.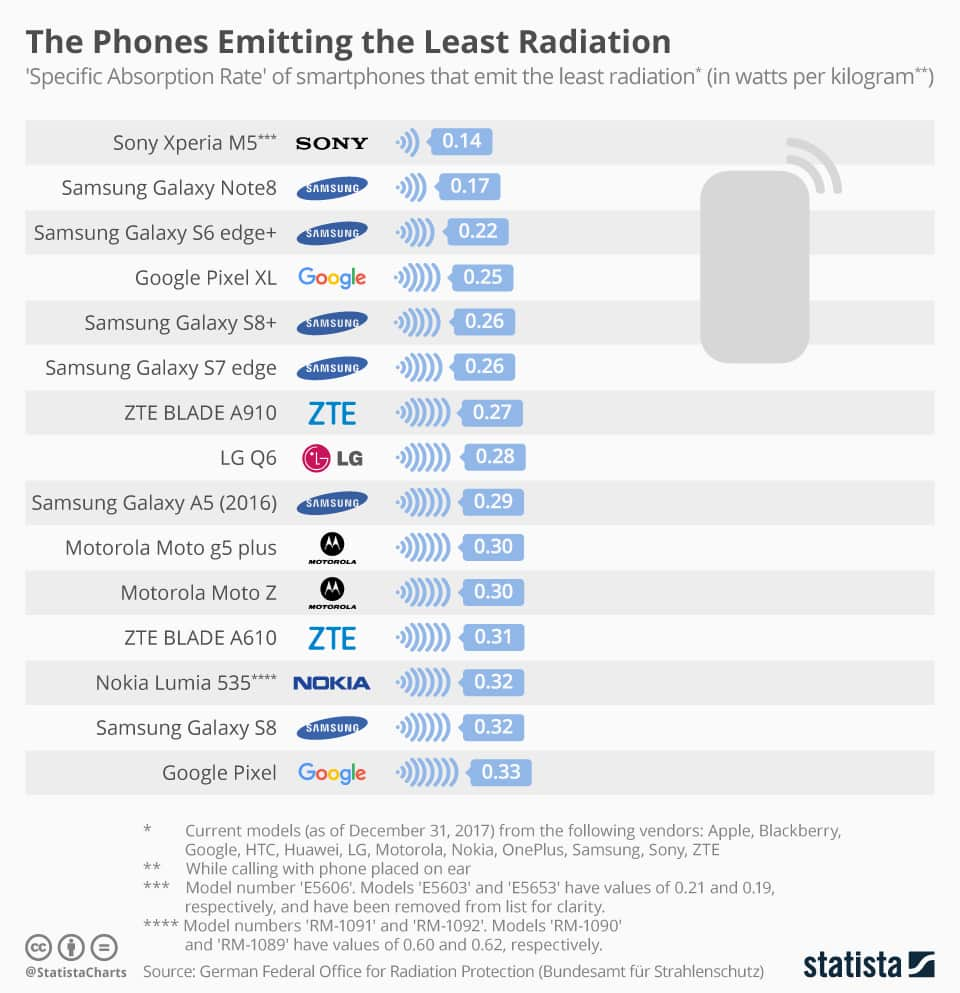 Most radiating phones
The German Federal Office for Radiation Protection has also put out a list of the most radiation emitting smartphones.
According to the criteria set by the German Federal Office for Radiation Protection, the current smartphone emitting the highest level of radiation is the Xiaomi's Mi A1. Mi A1 emits about 1.75 watts per kg.
In fact, the top half of the list is dominated by handsets made by Chinese companies. Xiaomi, OnePlus, Huawei and ZTE together have 10 out of the 16 phones on this list.
At 1.68 watts per kg, OnePlus 5T comes second among all surveyed smartphones along with OnePlus 5 which emits around 1.39 watts per kg.
The survey has also revealed that as many as three Apple iPhone models made their way into the list of phones that emit the most radiation. The three iPhones are iPhone 7, iPhone 8 and iPhone 7 Plus emitting 1.38, 1.32 and 1.24 watts per kg, respectively.
Six smartphones manufactured by Chinese electronic giant Huawei also figured on this list including models such as Mate 9, P9 Plus, GX8, P9, Nova Plus and the P9 lite.
None of the Samsung smarthpones figured in the list of top 15 most radiating smartphones.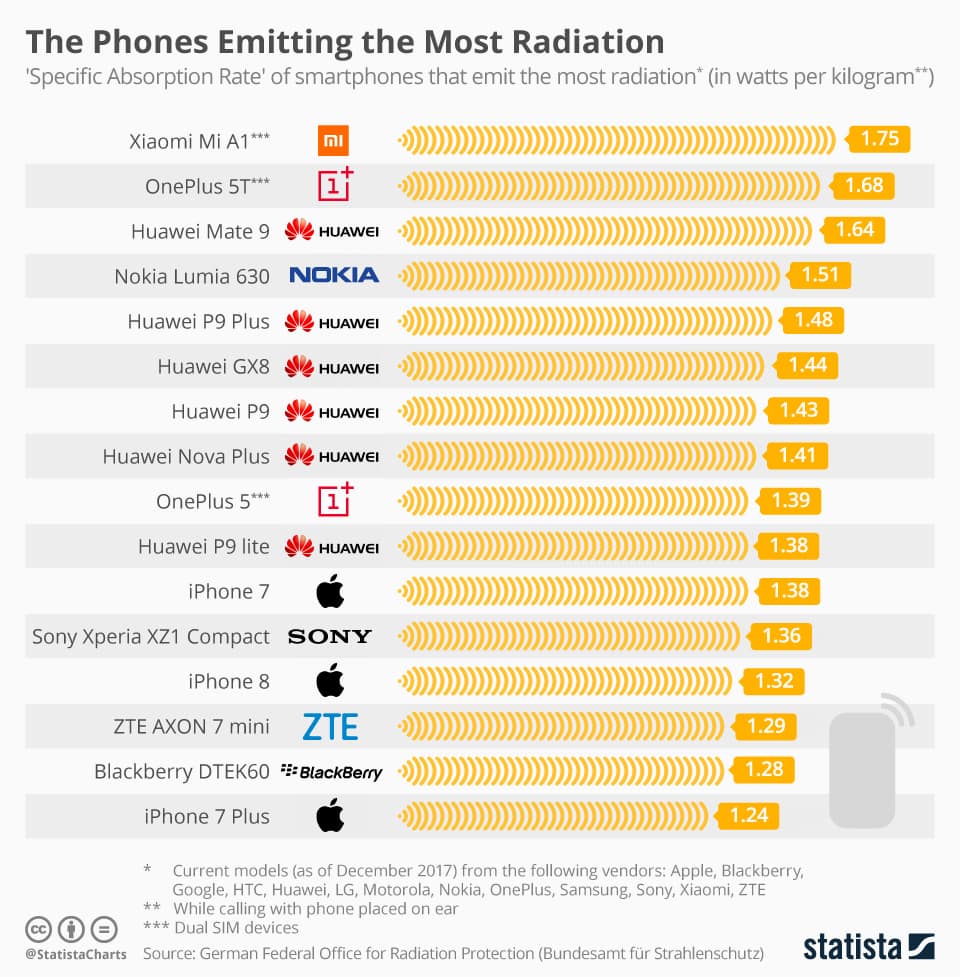 The measurement
The Bundesamt für Strahlenschutz is Germany's federal authority for monitoring various types of radiation.
As there are no universal guidelines for 'safe' levels of phone radiation, smartphones with an absorption rate of less than 0.60 watts per kg are certified by German certification for environmental friendliness, called 'Der Blaue Engel' (Blue Angel), according to a report by Statista.
Clarification: Statista updated the infographic on February 22, 2018, to include dual SIM devices. The original version of the chart incorrectly listed the OnePlus 5 and 5T devices as single SIM.
First Published on Feb 23, 2018 03:24 pm