The root of the current political situation can be traced back to the 2017 Goa assembly elections, when the BJP formed the government despite winning lesser seats than the Congress

Chief Minister Manohar Parrikar's hospitalization has kicked off a fresh round of political churn in Goa.
The chief minister has been undergoing treatment for a pancreatic ailment, for which he was admitted in a hospital in the United States for almost three months. Although he returned after his treatment in September this year, his condition hasn't been stable and he was again admitted to a Goa hospital last week. The BJP leader was then shifted to the All India Institute of Medical Sciences (AIIMS) in New Delhi over the weekend.
As the ailing chief minister continues to be under observation, the state is wading into political drama.
Here's a detailed look at the current political condition of Goa:
The numbers
The root of the current political situation can be traced back to the 2017 Goa assembly elections. Despite winning lesser seats than the Congress, the BJP formed the government after forming a coalition with smaller Goan parties — the Maharashtrawadi Gomantak Party (MGP) and the Goa Forward Party (GFP).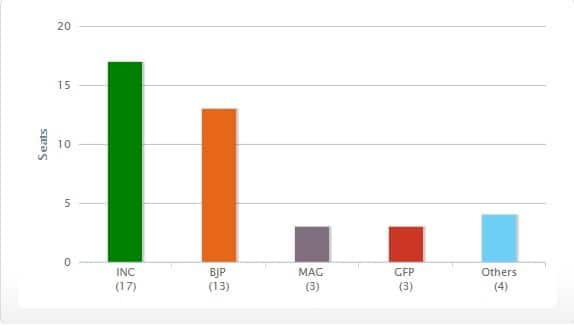 (Image credits: IndiaVotes)
The allies
The twist in the plot was that the smaller regional parties agreed to ally with the BJP to form the government in Goa under only one condition — that Manohar Parrikar resign from his post as the Defence Minister and become chief minister.
With Parrikar not at the helm of affairs, it remains to be seen if these parties will continue to extend their support to the BJP in the assembly.
MGP chief Deepak Dhavalikar told reporters that the parties are looking for a "common solution" which is line with "what the allies have been requesting", while GFP President Vijai Sardesai said his party was looking for a solution which is permanent rather than "ad hoc".
The Opposition
Smelling an opportunity, the Congress has submitted a memorandum to Governor Mridula Sinha on September 17, staking claim to form the government in the state.
The Congress, which has at least 16 members in the 40-member state assembly, urged the Governor not to dissolve the assembly and instead invite them to form the government, Leader of Opposition Chandrakant Kavlekar confirmed.
The Congress still awaits their appointment with the Governor.
The future course of action
BJP president Amit Shah sent three senior members of the party – BL Santhosh, Ram Lal and Vinay Puranik – to Goa on Monday to take stock of the situation in the coastal state in light of Parrikar's indisposition. They will submit their report to Shah.
There have been speculations regarding the party high command chalking out an interim arrangement. However, a concrete decision is expected to be announced soon.
First Published on Sep 18, 2018 05:23 pm