Corrections in the price in the recent times have been sharper or close to 20-25%, this has created a buying opportunity in quality management and business.
To all those who thought that making money in equity markets was tough – the year 2017 proved them all wrong. There were more than 350 stocks on the BSE which more than doubled investors' wealth in the same period maximum being from the small & midcap theme.
The Indian market was driven more by sentiments in the year 2017 rather than fundamentals but for the year 2018, it is exactly opposite. A large part of the rally was seen in the broader market which saw many small & midcaps more than doubling investors' wealth in the previous calendar year.
However, there are many stocks which saw wealth erosion in the year 2018 up to 50 percent. Stocks which came under pressure after a sharp rally in the year 2017 include names like California Software which rose over 1000 percent, followed by Sanwaria Consumer which gained 958 percent, and Weizmann Forex which was up 732 percent.
Other stocks which more than doubled investors' wealth in the same period include names like ITL Industries, Bharat Seats, Gopala Polyplast, C&C Construction, Paramount Communications, Shalimar Wires, Frontier Springs etc. among others.
"2017 saw a year of stock market frenzy, especially in small and midcap stocks. One thing to watch is that most of these stocks are highly illiquid. Some stocks the volume is few hundreds. So in a bull run, all these stocks saw buying amid extremely low volumes," Pankaj Karde, Head- Institutional Sales of Systematix Shares told Moneycontrol.
"They were beneficiaries of low liquidity. Now that the markets are in a correction mode, it is justified that these stocks correct the maximum. I believe if you have more than doubled your money, you should exit and start investing in more liquid better names," he said.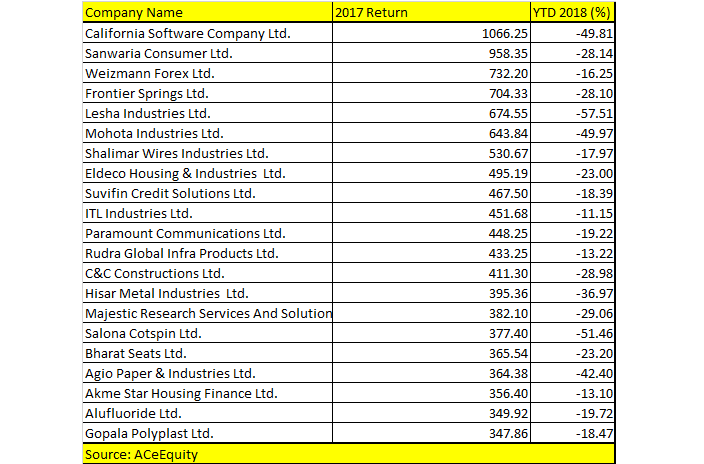 The large part of the rally was led by domestic institutional investors (DIIs) as money from retail investors flowed into mutual funds got directed in the small & midcap space which gathering most attention.
However, most experts now think that if you have made money in the year 2017 in the small & midcap names then the time has come to either book profits and invest in more liquid quality mid or largecap names. But, if you have a longer holding period horizon then these stocks could do well.
Large cap or just quality stocks have also seen a 10% correction, and in a falling market, illiquid stocks will be a death trap, suggest experts.
"Unlike 2017, 2018 will be a year of high volatility & uncertainly as we are getting closer to an election cycle. Global economic growth is strong but that is coming back with higher inflation, as a result of which bond yields went higher and that led to global sell-off in equities," Soumen Chatterjee, Head of Research, Guiness securities told Moneycontrol.
"Back home, higher inflation remains a risk due to rising crude oil prices with added uncertainty around monsoon this year and elections. Therefore, it is advised to keep moderate return expectations this year and book partial profit in space where stocks has given stellar returns in past few years with stretched valuations and shift to more quality names where earnings visibility is high with a reasonable valuation," he said.
Corrections in the price in the recent times have been sharper or close to 20-25%, this has created a buying opportunity in quality management and business.
However, every falling knife is not bound to cut your hands. In the recent times the correction was due to global sentiments and overvaluations in some of the stocks.
"Frankly, I would take this correction very positively. Fundamentally overvalued stocks will see selling. On the other hand, strong names would create buying opportunities. On an overall scenario, I would like to agree that mid and small cap space is unlikely to outperform in the year 2018," said Karde of Systematix Shares.
"But, I will also say that we buy smaller names with a 2-3 year horizon. So, if the long term story remains intact, I will hold on to the stocks. Market timing in smaller stocks is very difficult and hence it is best to stay invested if the fundamentals haven't changed," he said.
Top stocks to buy in the small & midcap space which saw a big correction:
Analyst: Ritesh Ashar, Chief Strategy Officer, at KIFS Trade Capital
The company has posted excellent results in Q3 and company is looking at top line growth of 25% with the planning of new stores in MP. Promoters is confident about the growth story and have increased the stake in last quarter.
WeizmannForex Ltd:
The company is trading at a higher PE ratio of 52.98x, making it more expensive than the average consumer finance stock. In terms of returns, Weizmann Forex generated 19.32% in the past year, which is 11.91% over the consumer finance sector.
Weizmann forex to acquire payment and solution startup JaldiCash. At the CMP stock is overvalued but can be accumulated at lower levels. Investors can stay invested in the stock.
Analyst: Soumen Chatterjee, Head of Research, Guiness securities
We continue to hold the stock on superior return on equity around 33 percent. The stock is reasonably priced at 22-23 times of its trailing earnings.
Strong Parentage: Bharat Seats Ltd is a joint Venture of Suzuki Motor Corporation, Japan, Maruti Suzuki India Ltd and the Relans for the manufacture of complete seating systems and interior components for the automotive and surface transport.
Disclaimer:
The views and investment tips expressed by investment expert on Moneycontrol.com are his own and not that of the website or its management. Moneycontrol.com advises users to check with certified experts before taking any investment decisions.
First Published on Mar 21, 2018 09:22 am