Starting a new college session from next month and looking for a place to stay? Moneycontrol profiles three startups to find out which offers the most bang for the student's buck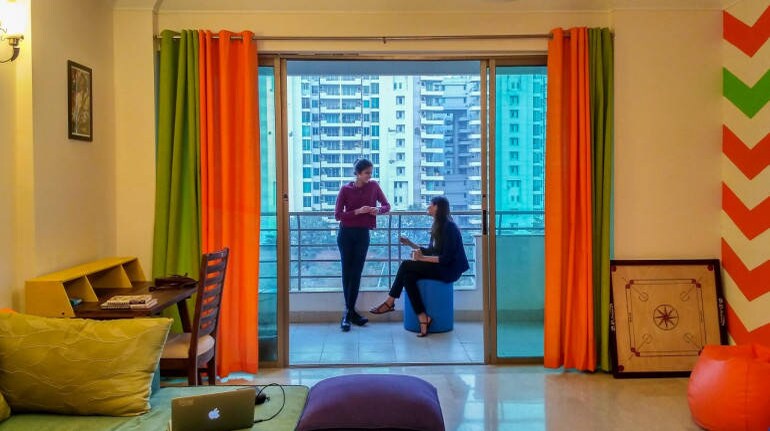 Hunting for an inexpensive and clean accommodation when moving to a big city in India customarily entails being hassled by brokers and home owners into paying a premium price.
However startups such as CoHo, Placio and Nestaway are trying to make the transition easier for students and singles moving to metro cities either for higher studies or work.
Moneycontrol profiles the three startups to find out which offers the cheapest accommodation.
CoHo: Gurgaon-based CoHo jumped into the co-living market in 2015 and has properties in Delhi, Noida and Gurgaon.
Currently it offers 856 beds across 38 properties in Delhi-NCR.
CoHo has a tie up with Delhi University's Faculty of Management Studies and has a property in the vicinity of Delhi University's North Campus.
The rooms are priced between Rs 10,000-Rs 25,000 per month. The students can choose among single, twin, triple sharing or dormitory options.
"The overall quality of youth accommodation in India is in an abysmal state with inconsistent services, poor infrastructure and no technology whatsoever. There is a crying need for a trusted brand with promise of consistent services at affordable price point in long stay accommodations segment," said Uday Lakkar, co-founder, CoHo.
CoHo provides ready-to-move-in shared accommodation with services such as housekeeping, WiFi, DTH cable TV, facility repairs and maintenance, etc.
Besides there are provisions for self-help amenities such as fully-automatic washing machines for laundry, ironing facilities, microwave and induction oven, fridge, tea/coffee machine, etc.
House rules restrict guests from entering a resident's room CoHo in properties where the number of people is higher.
The lunch and dinner plan is included in the rent for CoHo Dorms.
CoHo claims it has touched annualized revenue of about USD 1 million. CoHo's business is profitable at an operating level currently and will break-even by end of 2017.
Placio: Started in 2017, Noida-based Placio has started converting rented properties near Amity University into co-living spaces.
Placio recently announced the launch of its 1,000 bed capacity network of properties spread across 18 location in Noida.
The rooms are priced between INR 10,000 and INR 25,000 per month and the students can choose among single, twin, triple sharing or dormitory options. Once the students have finalised a Placio of their choice, they have to pay a year's rent at the beginning of the academic year, which is not the case in Nestaway or CoHo. Some properties have a mandatory lock-in period of up to six months.
This means that a student may not get any refund if he or she wishes to move out of Placio's network after a few days of living.
Placio claims that all the properties are fully furnished with basic amenities like Wifi, geyser and washing machines.
Apart from these, Placio also claims to provide recreational equipment for such as pool table, table tennis and foosball. Some select Placio properties also have a gymnasium and a pick and drop service.
Services offered and house rules differ from property to property. Each Placio has a strict no drinking or no smoking policy. According to the house rules posted on Placio's website, you cannot meet or invite your friend of an opposite inside a Placio.
"This is specifically for shared apartments where working singles are living. Some maybe accommodative while some may complain," said Rohit Pateria, cofounder Placio.
When it comes to food, students can opt in for a breakfast and dinner package for around Rs 3000 per month depending on the property. Placio's website lists some properties which are strictly vegetarian.
"There are specific demands for those requirements both from students as well as property owners," Pateria said.
Currently there is no option to pay for services online via an app. Pateria explained that Placio projects itself as a discovery platform and since it charges on the basis of a long term lease, most of the transaction happens offline.
"Our property management system has an app where the guests can have their own dashboards, lodge complaints and interact with the community managers," Pateria said.
He also said that there are dedicated community managers who cater to a guest's requirements.
Talking about scalability Pateria said, "With 50 million students pursuing higher studies outside their hometown and 30 percent increase in college enrolments every year, student housing is a USD 50 billion market,"
"This year we will be profitable, if not expanding."
Nestaway: This Bangalore based startup manages over 7,000 homes across Delhi Gurgaon, Noida, Bangalore, Ghaziabad, Hyderabad, Pune and Mumbai.
A bed in a 3BHK on twin sharing basis in one of Nestaway's fully furnished property in Noida costs around Rs 5500. A shared 2BHK in Delhi would set you back by around Rs 12500.
The rent excludes the cost of electricity, a DTH connection, Wifi and house help charges.
Nestaway claims to offer relocation of homes within its network, no guest restrictions and no time limits like in PGs.
It organises regular social events such as bicycle trails and cricket matches for its guests.
Nestaway is also planning to leverage IoT in an innovative way by including services such as Iot-based home cleaners and drones that could fly and give a live view of the property to potential tenants.
Most of its properties have a four to six month lock-in period wherein if you move out before four months, you will need to pay a month's rent as fee.
First Published on Jun 15, 2017 02:50 pm