Highlights:
- Asset-light store additions and product launches will drive revenue - Measures to monetise Thane land have commenced - The stock can be considered at current levels

--------------------------------------------------
Raymond's Q4 FY19 earnings were a mixed bag. Earnings visibility would largely hinge on the profitability trajectory in the branded apparel and shirting fabric segments, network/channel augmentation, new designs and success of marketing programmes.
Q4 analysis
Positives

- Decent sales growth from all segments
- Operating expenses as a percentage of sales declined year-on-year
- Margin uptick was visible in shirting, apparel and auto components
Negatives

- Margin de-growth in branded textile, garmenting and tools
- Overall margin was primarily affected by steep input costs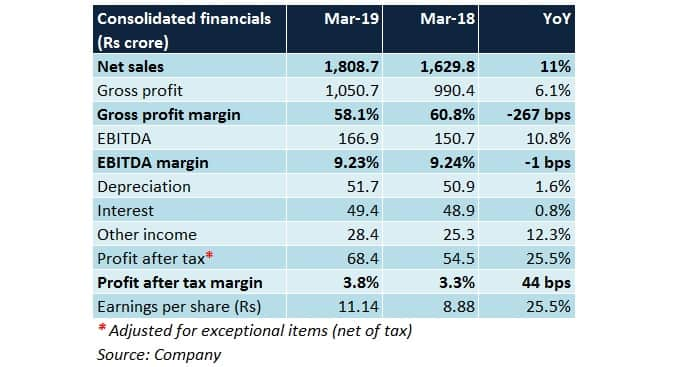 Segmental performance – A bird's eye view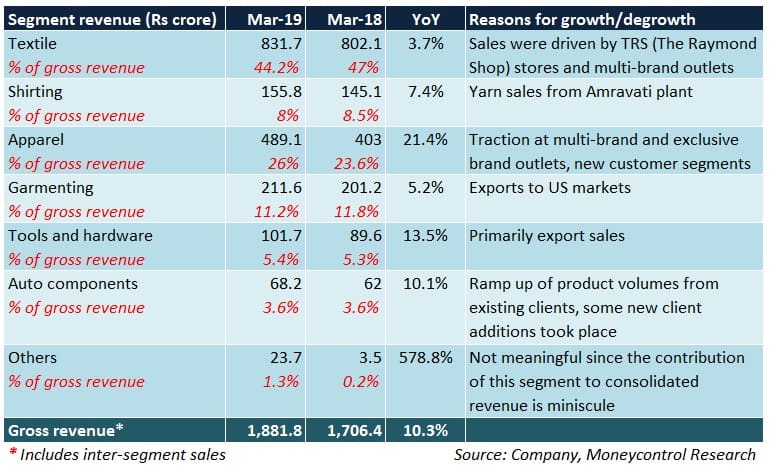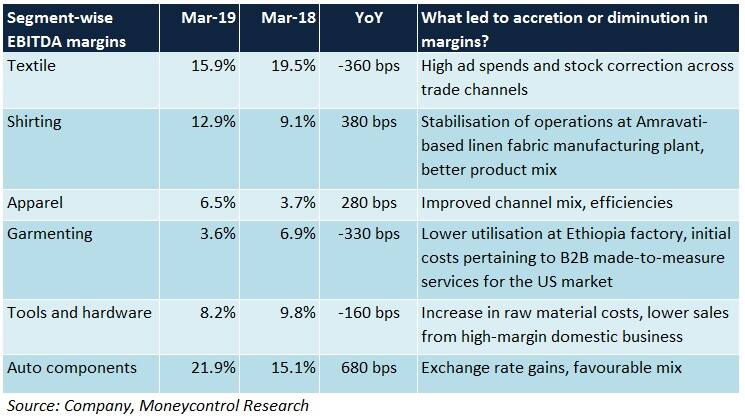 Observations
Network expansion

To boost the top-line, the management plans to add stores across all formats. Raymond operates 1,444 stores pan-India, spanning a total retail space of 2.4 million square feet.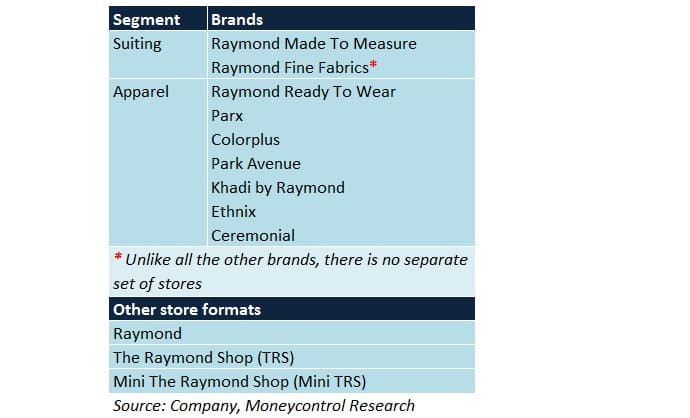 To keep the business asset-light, 80-90 percent of the outlets will be franchise-run. Tier 4/5/6 regions would be the primary focus areas as far as new store openings are concerned.
Brand extensions

By leveraging the strength of its brand, advertising campaigns and distribution reach, Raymond is scaling up smaller categories such as shoes, clothing accessories and ceremonial wear. Raymond Made-to-Measure stores will now cover products other than formal wear.
Value-added services

To boost sales of branded fabric, Raymond is likely to enter into tie-ups with more tailors. Presently, the company works in partnership with 51 tailoring factories/hubs in India and the conversion capacity (i.e. processing of fabrics into garments) is two million metre per annum.
Branded apparel (retail): Promising prospects

While Parx, Park Avenue and Colorplus have been growing steadily, two new brands (Ethnix and Khadi by Raymond) are gaining momentum too. Raymond may foray into athleisure and innerwear in the near future. Economies of scale and better realisations should augur well for margins.
Shirting fabric: A transition is underway

In the past, business-to-business dealings constituted a major chunk of the segment's revenue. The revenue mix is shifting in favour of the business-to-consumer category since the opportunity size is huge.
Textile (branded suiting fabric): Near-term roadblocks

Due to the impact of seasonality, for a quarter or two, sales may turn sluggish. Offtake in trade channels has also been slow. Raw material prices have been on the rise. It remains to be seen as to how these challenges are addressed.
Garmenting: Progress dependent on the US

Issues pertaining to civil unrest in Ethiopia have been resolved. The factory is functional at normal utilisation levels and the order book is stable. Nonetheless, weak demand in the US markets could dent export revenue.
Auto: Weakness ahead

At present, high costs (fuel, insurance, interest payments), uncleared inventory at the dealers' end and new axle load norms for commercial vehicles are bottlenecks for the Indian auto industry. This hints at a weak outlook for this segment.
Tools and components: Turnaround on track

Impetus will be laid on achieving operational efficiencies and rationalisation of the product portfolio.
FMCG: Weak macros

Rural demand, which is on a downtrend, could weaken further if the monsoon is below normal. In the long run, the segment is poised to grow on the back of a stronger distribution network.
Real estate: Going full steam ahead

Raymond began phase 1 of the residential housing project at its Thane land recently. The project will cover nearly 2.8 million square feet of saleable area and may be concluded by FY24-end. More than 400 bookings have been received till date.
Outlook
More often than not, the stock has been on a downward spiral for the last 12 months. At 18.8 times its FY21 estimated earnings, the undemanding valuation merits the attention of medium-to-long term value investors.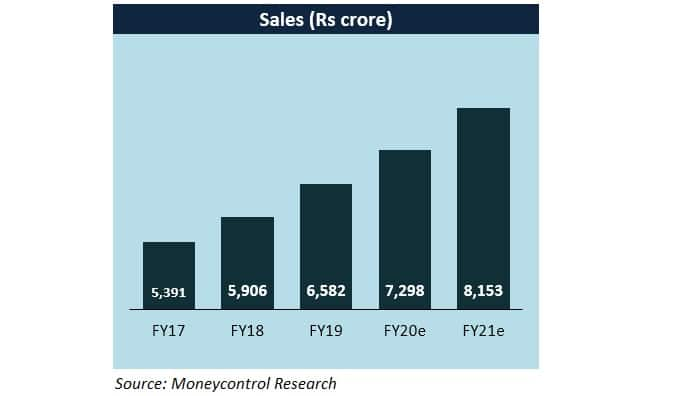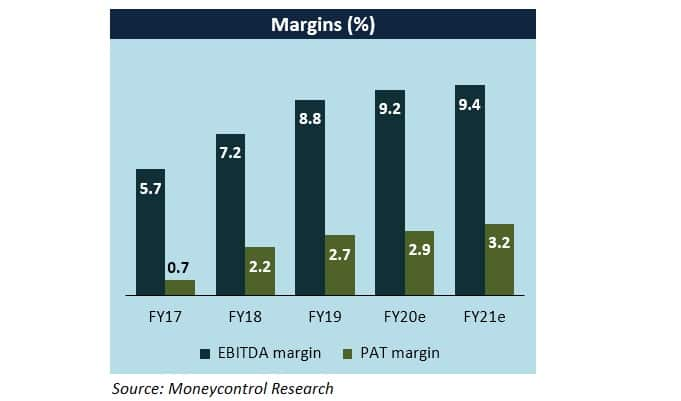 For more research articles, visit our Moneycontrol Research page
Disclaimer: Moneycontrol Research analysts do not hold positions in the companies discussed here
First Published on May 6, 2019 01:40 pm