As attractive as the scheme may appear, it can turn out to be a trap for borrowers/ buyers.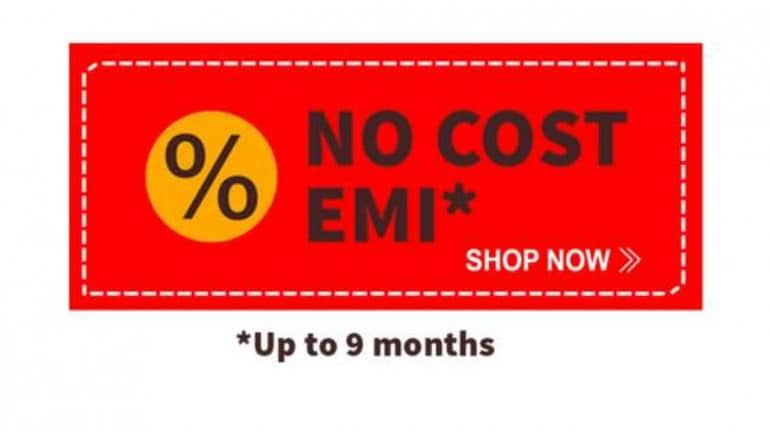 With the commencement of the festive season, e-commerce companies like Flipkart and Amazon are enticing shoppers with lucrative deals. Several retailers and e-commerce portals follow their footsteps and introduce various attractive schemes, discounts and cash-back offers around this time. A popular scheme catching the attention of buyers is 'no-cost EMI'.
What is a 'no-cost EMI' scheme?

"No-cost
EMI
schemes are loan offers in which buyer of the product or service just repays the selling price of the product in equal installments, without paying any interest on the loan. However, as RBI has prohibited lenders and card issuers from offering 0% interest loans, the interest component is actually subvented by manufacturer or merchant, either in the form of upfront discount or cashback to the buyer," Naveen Kukreja, CEO & Co-founder, Paisabazaar.com, explained. The buyer, however, will have to pay tax charged on the interest amount.
So, under no-cost EMI scheme, the total amount paid by you to the EMI provider will be the price of the product split equally across the EMI tenure. The interest payable to the bank will be offered as an upfront discount during checkout, effectively giving you the benefit of No Cost EMI. You might think this as a best deal while buying it but let's understand math behind it before you opt.
For instance, you decide to buy your favourite product worth Rs 30,000 on one of the e-commerce websites. Assume, they are offering no-cost EMI scheme for three months. Let's analyse what actually happens: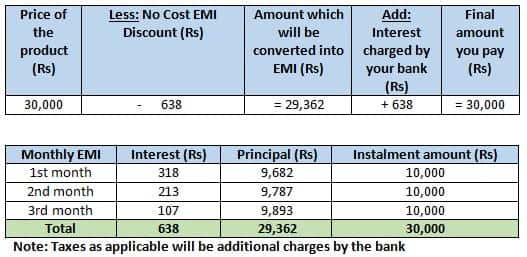 Generally, your bank will charge you interest. However, this interest charge has been provided to you as an upfront discount at the time of your purchase (as illustrated above), effectively giving you the benefit of a no-cost EMI.
So, when you take the no-cost EMI option as shown in the chart, you pay Rs 638 as interest which could have been a discount on debit/cash purchase. Bottom line is you end up paying more in this scheme which includes interest and taxes charged by your bank.
Avoid the trap of 'no-cost EMI' scheme
As attractive as the scheme may appear, it can turn out to be a trap for borrowers/ buyers. "They are nothing but a reinvented version of zero interest schemes, which were introduced by retailers a few years back and were clamped down by RBI for their non-transparent terms and hidden charges. The purchase price tend to be higher in these schemes than what you may pay for an instant cash purchase. So, in essence you are trading a large value discount for no cost EMI scheme, which is nothing else but a hidden interest charge you are paying on the loan," said Gaurav Gupta, Co-founder and CEO, MyLoanCare.in.
While the scheme comes with its set of advantages with the manufacturer bearing interest costs on products, the concealed disadvantage is that consumers are often lured into the purchasing trap, spending more than what they originally have.
"Like any other loan, buying a product on no-cost EMI needs to be repaid on time in full. In case that does not happen, it can affect your credit score and bar you from further credit," Navin Chandani, Chief Business Development Officer, BankBazaar.com cautioned.
Follow @thanawala_hiral
First Published on Oct 10, 2018 12:36 pm