Warren Buffett described the Mcap/GDP ratio as the single best measure of where valuations stand at any given moment.

After a flattish 2016, no one was expecting Indian market to deliver stellar returns and hit a record high in the first three months of the year 2017.
The rally which got short traders on the wrong foot has also boosted India's market capitalisation/GDP ratio which now hovers around 100 mark, a valuation indicator which suggests that the market is going into overvalued zone.
Thanks to Market Guru, Warren Buffett, who described this ratio as the best single measure of where valuations stand at any given moment" in a December 2001 article for Fortune magazine -- India's M-cap to GDP ratio stands at 97 percent, according to an IDFC report.
Later on Monday, IDFC clarified that the exact number stands at 77 per cent and not 97 per cent which leaves room for further upside in the market, but investors should tread with caution.
M-cap to GDP ratio keeps a check on the valuation and sentiment of any market. Any movement much above or below the 100 percent level provides an indication to the investor that whether the current valuation is overvalued or undervalued. Some analysts also compare it with the average level seen in the last 10 years, which could well be below 100.
It peaked at 147 percent at the end of 2007 (according to the old calculation of GDP), and we all know what followed in the year 2008, global financial crisis. It is good to check the outlook of the economy and compare its valuation to peer country for a better perspective, suggest experts.
India's market cap to GDP though at all-time peak but it is relatively lower than peers such as Taiwan which has a M-cap to GDP ratio of nearly 300 percent, followed by Singapore (over 150 percent), Malaysia (nearly 130 percent), and Japan and Thailand where M-cap to GDP ratio stands just above 100 per cent.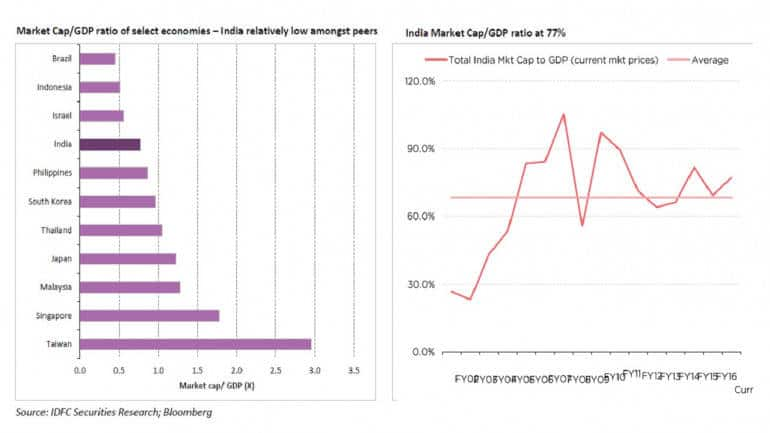 The Nifty50 has given some stellar returns so far in the year 2017 by rising nearly 12 percent or nearly 1,000 points, and by about 16 percent from December low of 7,900.
The S&P BSE Sensex climbed to a fresh 52-week high of 29,824.62 but is still 400 points away from its record high of 30,024 recorded back in March 2015.
"It is fair to turn cautious during the near-term. The current buoyancy in the domestic market is largely led by sentimental factors like cut in political risk and continuity in long-term policies which has led to a reversal in FII inflows while valuation has also peaked to all-time high," Vinod Nair, Head of Research at Geojit Financial Services told Moneycontrol.com.
Valuation may continue to be high as the euphoria is maintained or unless being impacted by external or domestic factors, suggest experts.
However, the market could turn into a mild consolidation as buoyed sentiment reverses led by the fact that there is a lack of support from earnings growth.
Implication for investors:
Well, any uptick in Mcap to GDP ratio does suggest caution for investors but it is not alarming because the economy is still expanding compared with other developed economies which are in stagnant phase or low growth rate.
The ratio could well surge above 100 in no time but this should not be the only measure which investors should consider while deploying their money into markets, say experts.
"Market valuations can be captured in a broad range of indicators such as Price to Earnings, Price to Book, Market Cap to GDP, Earnings Yield in comparison to interest rates etc. Given this, any asset allocation decision based on any one indicator may not be appropriate," Harish Krishnan, Sr. VP & Equity Fund Manager, Kotak Mutual Fund told Moneycontrol.com.
"We are at a pivotal point in time, where due to a multitude of events like GST, demonetization etc., we will see a greater formalisation of the economy as informal ways of business dealings will evolve to organised form which will give a strong runway of growth of the organised economy," he said.
Investors should understand that companies that are listed on the stock exchanges are a subset of this formal segment of the economy and will also benefit from this trend.
Any uptick in the economy will also reflect on the balance sheet and earnings of the companies which are economy-linked.
Focus on MCap to forward GDP:
Instead of looking into Mcap to GDP ratio, investors should focus on Mcap to forward GDP. After demonetisation, most experts slashed their estimates of India economy below 7 percent. However, latest GDP data proved them all wrong.
The Central Statistics Organisation (CSO), India's Gross Domestic Product (GDP) grew at a healthy rate of 7 percent in the October-December quarter despite demonetisation. CSO pegged its advance GDP growth estimate for the current fiscal at 7.1 percent.
If we look at the Market Cap to GDP indicator, GDP is a function of the economic activity of a country and while there are reasonable measures of the formal economy, GDP compilation of India's huge informal or unorganised economy are more approximations at this point in time.
"The ratio can increase further as the economy expands on a continuous basis, similarly to which we have noted in other developed emerging markets," said Nair. "It will be more effective if we consider the current Mcap to the forward GDP. And the ratio tends to be better as the outlook improves," he said.


Moneycontrol Ready Reckoner
Now that
payment deadlines have been relaxed
due to COVID-19, the Moneycontrol Ready Reckoner will help keep your date with insurance premiums, tax-saving investments and EMIs, among others.
Get best insights into Options Trading. Join the webinar by Mr. Vishal B Malkan on May 28 only on Moneycontrol. Register Now!
First Published on Mar 19, 2017 04:09 pm