Mindspace has so far raised Rs 2,643.74 crore from strategic and anchor investors, which is 58.74 percent of the total issue size of Rs 4,500 crore.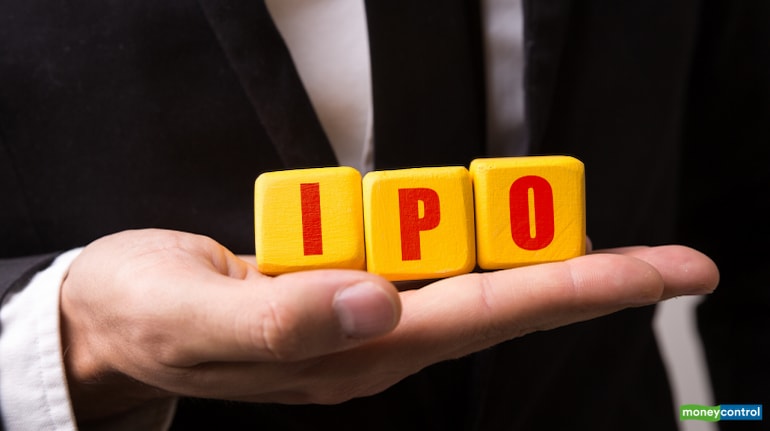 The public offer of Mindspace Business Parks REIT is set to open for subscription on July 27 and the closing date is July 29.
It is the second REIT to come out with IPO after Embassy Office Park REIT which launched its Rs 4,750 crore IPO in March 2019.
The units of the REIT will be listed on both BSE and NSE.
Morgan Stanley India Company, Axis Capital, DSP Merrill Lynch, Citigroup Capital Markets India, JM Financial, Kotak Mahindra Capital Company, CLSA India, Nomura Financial Advisory and Securities India, UBS Securities India, HDFC Bank, Ambit Capital, IDFC Securities and ICICI Securities are the book-running lead managers to the issue.
Here are 10 key things to know about the issue:
Public Issue
The company plans to raise up to Rs 4,500 crore from the issue which consists of a fresh issue of up to Rs 1,000 crore and an offer for sale of up to Rs 3,500 crore by selling unitholders.
As per the document, 75 percent of the net offer (around 9.20 crore units or worth Rs 2,531 crore) is reserved for institutional investors and the rest 25 percent (around 3.07 crore units or worth Rs 844 crore) for non-institutional investors.
Bids can be made for minimum 200 units and in multiples of 200 units thereafter.
Raised Funds So Far
The company already raised Rs 1,518.74 crore from anchor investors ahead of its public issue opening. It finalised allocation of 5,52,27,200 units at Rs 275 per unit to anchor investors including Capital Income Builder, Cohen & Steers, Fidelity, Nomura, HSBC Global, Singapore Government among others.
Mindspace Business Parks REIT, owned by K Raheja group and Blackstone, has already received commitment worth Rs 1,125 crore from institutional investors including Singapore government's Sovereign Fund GIC, affiliates of Fidelity Group, Capital Group, Fullerton Group.
Total REIT units proposed to be subscribed by strategic investors will be 4.09 crore units and will be allotted to them at Rs 275 per unit.
With this, Mindspace has so far raised Rs 2,643.74 crore from strategic and anchor investors, which is 58.74 percent of the total issue size of Rs 4,500 crore.
Therefore, the net offer after excluding strategic and anchor investors' portion would be around Rs 1,856.26 crore.
Price Band
The price band for the public issue has been fixed at Rs 274-275 per share.
Objects of the Issue
The net proceeds from its fresh issue will be utilised towards partial or full pre-payment or scheduled repayment of certain debt facilities of the Asset SPVs availed from banks/financial institutions (including any accrued interest and any applicable penalties/ premium), purchase of NCRPS of MBPPL, and general purposes.
The company will not get any proceeds from the offer for sale portion.
Company Profile
Mindspace Business Parks REIT, which is an irrevocable trust registered with SEBI as Real Estate Investment Trust, has a quality office portfolio of 295 lakh square feet of office properties in key markets - Mumbai, Pune, Chennai and Hyderabad, which comprises of 230 lakh square feet of completed area, 28 lakh square feet of under-construction area and 36 lakh square feet of the future development area, as of March 31, 2020.
Its portfolio has five integrated business parks with superior infrastructure and amenities (such as restaurants, crèches and outdoor sports arenas) and five quality independent offices.
The company intends to use a combination of rent commencement from leased out space which is contracted, as of March 31, 2020 and has not generated rental income for the full year during the fiscal year 2020, contractual rent escalations, lease-up of vacant area, re-leasing at market rents and on-campus development of existing business parks to continue the growth of the portfolio.
The company will be managed by the management led by Vinod Rohira, chief executive officer, who has approximately 20 years of experience in the real estate industry and supported by a seven-member core team with experience in operating, developing, leasing and managing commercial real estate in India.
Portfolio
The total market value of its portfolio, which comprises the market value of the portfolio and the facility management division, as of March 2020, as per the valuer, is Rs 23,675.1 crore, company said in its RHP.
About 94 percent of the market value in the portfolio is derived from the completed area and area for which completion certificate has been applied for.
As of March 2020, its portfolio is stabilized with 92 percent Committed Occupancy and a weighted average lease expiry (WALE) of 5.8 years, as of March 2020, which provides long-term visibility to revenues.
The portfolio is well-diversified with 172 tenants and no single tenant contributed more than 7.7 percent of gross contracted rentals. Furthermore, approximately 84.9 percent of gross contracted rentals were derived from leading multinational corporations and approximately 39.4 percent from Fortune 500 companies. Its tenant base comprises a mix of multinational and Indian corporates, including affiliates of Accenture, Qualcomm, BA Continuum, JP Morgan, Amazon, Schlumberger, UBS, Capgemini, Facebook, Barclays and BNY Mellon, as of March 2020.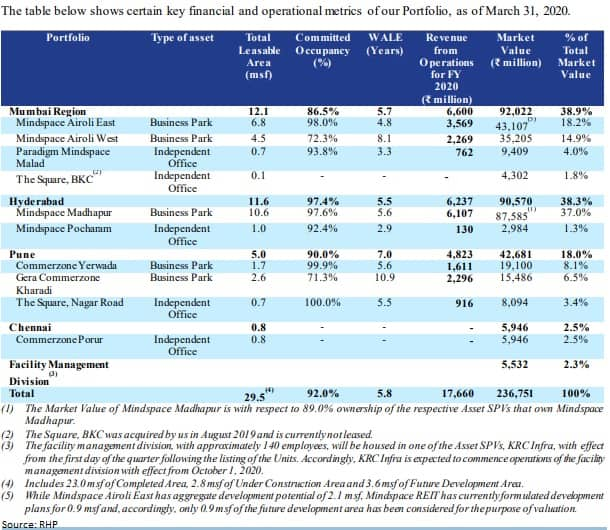 REIT Manager, Sponsors and Trustee
Mindspace REIT was settled on November 18, 2019, at Mumbai, Maharashtra, India as a contributory determinate irrevocable trust under the provisions of the Indian Trusts Act, 1882, pursuant to a trust deed dated November 18, 2019.
The sponsors of Mindspace REIT are Anbee Constructions LLP (ACL) and Cape Trading LLP (CTL). Both ACL and CTL form part of the K Raheja Corp Group, which is one of India's leading real estate development and retail business groups.
KRC group has acquired and/or developed properties across various businesses of approximately 28.5 million square feet of commercial real estate, as of March 2020.
Axis Trustee Services Limited, owned by Axis Bank, is the Trustee of Mindspace REIT.
K Raheja Corp Investment Managers LLP has been the manager of the Mindspace Business Parks REIT. Ravi C Raheja and Neel C Raheja are the partners of the Manager.
Proposed Mindspace REIT Structure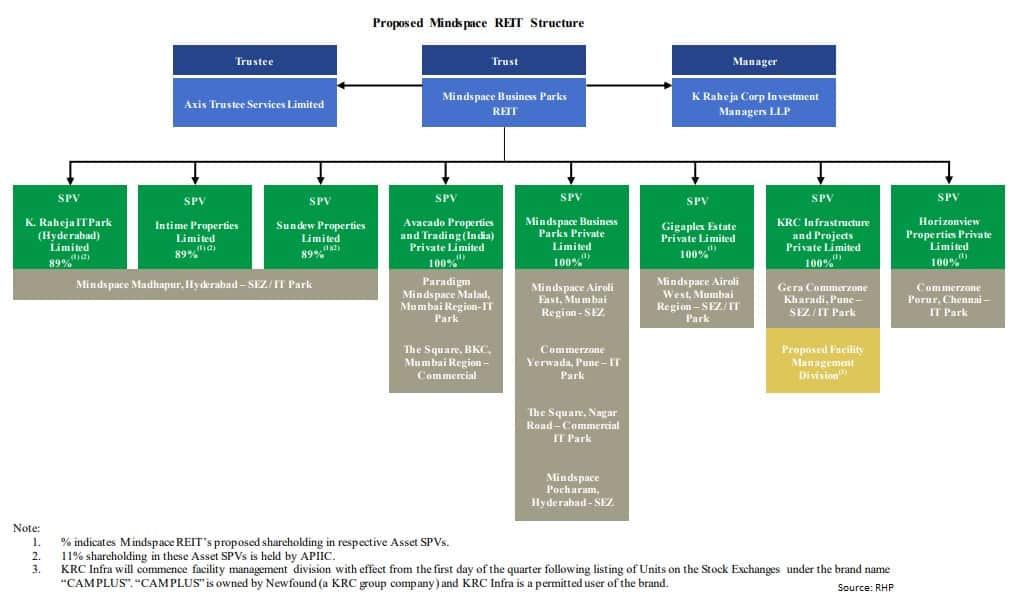 Competitive Strengths
Its competitive strengths are as follows:
> Portfolio with significant scale;
> Diversified and quality tenant base with long-standing relationships;
> Stable cash flows and strong growth potential;
> Strong industry fundamentals;
> Presence in four key office markets of India; and
> Experienced management team backed by the KRC group (K Raheja Corp Group)
Financials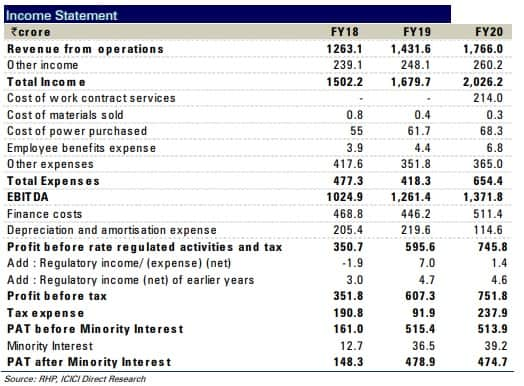 First Published on Jul 25, 2020 03:02 pm