Going into FY19, revenue contribution from brands, asset turns of existing and new capacities, and regional diversification by foraying into new geographies will be pivotal to the company's success.
Himatsingka Seide (HSL) is a vertically integrated home textile manufacturer of bed sheets, upholstery fabrics, drapery fabrics and ultra-fine count yarn for the export market. The company's retail and distribution arm caters to private labels of major retailers across North America, Europe and Asia.
With new names under its already wide brand umbrella, utilisation levels of new bed sheeting and yarn spinning plants picking up, and terry towels getting added to the product portfolio, HSL is well-placed to outperform its peers. Moreover, the stock is pretty reasonably valued as well.
Performance review
In FY18, it registered subdued year-on-year (YoY) revenue growth owing to lower bed sheet realisations. This, in turn, was on the back of a strong rupee versus the dollar and capitalisation of trial production revenues (from its expanded bed sheet manufacturing facility).
Yearly gross and net EBITDA margins rose sharply due to operationalisation of its spinning facility in Q4 FY18. However, additional debt and depreciation charges pertaining to the terry towel project, coupled with a higher tax rate, suppressed its profit after tax margins.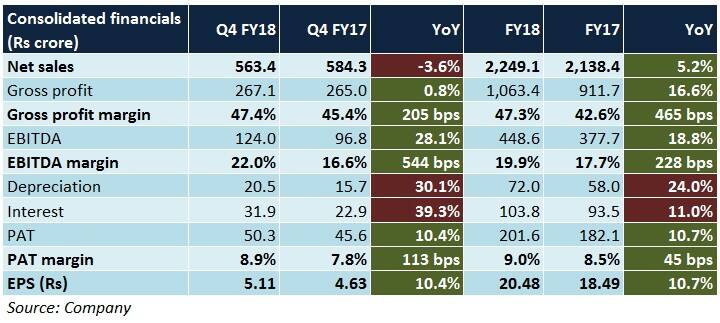 The path ahead
Brand rights
HSL recently acquired the home textile portfolio of Global Brands Group Holding through Himatsingka America. HSL will have exclusive license rights to brands like Tommy Hilfiger (for North America), Copper Fit, among others. This could add Rs 400-450 crore to FY19 sales.
Rearrangement
HSL's management approved the integration of Himatsingka Wovens Pvt Ltd, HSL's subsidiary, with its own operations. Consequently, HSL is anticipated to benefit from economies of scale, process optimisation, technical expertise and cost rationalisation.
Bed sheets
In Q3 FY17, the company doubled its bed sheet manufacturing capacity to 46 million metres per annum (mmpa). While utilisation for the old 23 mmpa capacity will remain steady, scaling up utilisation at the new 23 mmpa capacity from 40-45 percent in FY18 to 50 percent or above in FY19 will be margin accretive.
Backward integration
In February, HSL commissioned its yarn spinning capacity of 2,11,584 spindles. Utilisation levels at the facility will pick up as the fiscal progresses. Yarn manufactured at this unit will be primarily consumed by the bed sheet division, thus saving a sizeable chunk of input costs.
Share from brands
HSL's sales from private label brands (of foreign retailers) grew 33 percent YoY to Rs 1,610 crore in FY18. To boost margins, emphasis will be laid on increasing the percentage contribution of such sales to HSL's consolidated turnover from 70 percent in FY18 to 75-80 percent over the next 2 years.
Terry towels
To capture market share in the bath linen space in international markets, HSL commenced the construction of a 25,000 tonne per annum terry towel plant in Q4 FY18. The factory will be functional by FY19 end. Starting FY20, it will be among the key contributors to HSL's top-line.
Continental Europe
To mitigate risks associated with overdependence on North American markets, HSL formed a new management team in Europe to target revenue growth, especially from high-quality brands. Superior realisations from such products could translate to a margin uptick too.
Should one invest?
Going into FY19, revenue contribution from brands, asset turns of existing and new capacities, and regional diversification by foraying into new geographies will be pivotal to HSL's success. Nevertheless, a few risk factors may have a material impact on the company's near-term financials.
Given capex requirements in connection with the terry towel plant, net debt (total debt less cash balance) is expected to remain elevated in the company's books, particularly during H1 FY19. Blockage of funds because of Goods & Services Tax-induced hurdles is a major drag on its cash flows too.

In the past 12 months, besides tackling sectoral headwinds better-than-competition, HSL reported a steady and consistent set of numbers over the quarters. At 11 times FY20 projected earnings, the stock's undemanding valuation merits the attention of long-term investors.
For more research articles, visit our Moneycontrol Research page
First Published on Jun 4, 2018 04:27 pm