Input cost pressure is being increasingly absorbed by companies as the demand environment in weakening
The Q2 corporate earnings season is drawing to a close with over 86 percent of Nifty constituents having reported their results. While most companies continue to announce strong sales growth, margin pressure is evident for the broader universe and earnings breadth seems to be deteriorating.
There were few stand out winners from larger companies, although certain sectoral trends are worth taking note of.
Consistently positive topline performance

Aggregate sales of 1,746 companies grew 21.1 percent year-on-year (YoY) growth as against 15.4 percent growth reported in the previous quarter and 8.8 percent in the year ago quarter.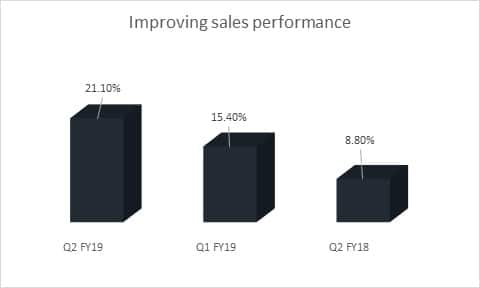 Source: Moneycontrol Research
Early result trends suggest that operating profit failed to keep pace, with earnings before interest, tax depreciation and amortisation (EBITDA) growing 13.3 percent YoY in Q2 compared to a growth of 30.2 percent in the previous quarter and 15.4 percent in the year ago quarter.
The trajectory is no different if one looks at sequential (quarter-on-quarter) growth. While sales grew 5 percent QoQ, EBIDTA and profit after tax declined 1.3 percent and 0.5 percent, respectively.
Blended operating margin for the group declined 90 basis points (100 bps = 1 percentage point) QoQ and 100 bps YoY to 15.2 percent.
Input cost pressure is being increasingly absorbed by companies as the demand environment in weakening. This could be an early sign of an impending slowdown and warrants close monitoring.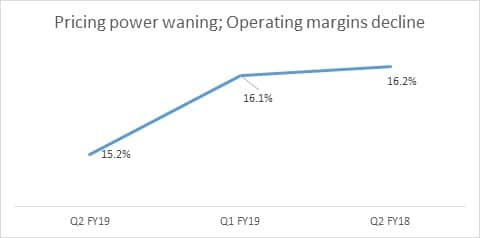 Source: Moneycontrol Research
Overall interest outgo was stable around 12.1 percent of sales, similar to the level seen in the previous quarter. However, it was lower compared to the year ago quarter, where the interest-to-sales ratio stood at 13.2 percent. India Inc clearly appears to be running a tight ship.
Growth in PAT to the tune of 9.9 percent was similar to the 8.9 percent growth in overall profit seen in the previous quarter, but improved over the 4 percent reported in the year ago quarter. It may be misleading to draw a conclusion from this profit figure because of several one-off adjustments below the operating performance line.
What is pertinent to note is that the number of companies reporting losses in Q2 actually rose to 465, or close to 27 percent of the group, which is a significant increase over the 348 companies (or 20 percent) seen for the same group in the immediate preceding quarter. Earnings breadth appears to be deteriorating.
43 Nifty constituents report earnings with few hits

The earnings picture for Nifty companies was no different from the broader trend. Close to 43 Nifty constituents have reported their earnings so far. Aggregate sales growth for this group was a healthy 24.4 percent, which is an improvement over the 18.9 percent growth recorded in the previous and 9.7 percent in the year ago quarter.
Margin pressure was evident for Nifty companies. Growth in operating profit was much weaker at 10.6 percent as against 31.3 percent reported in Q1 FY19 and 16.8 percent in Q2 FY18. Consequently, there was a significant erosion in operating margin, down 130 bps sequentially and 180 bps YoY at 14.4 percent.
Sequentially, for Nifty companies, while sales growth was 4.4 percent, operating profit de-grew 4.5 percent.
Reported profitability growth at 2.9 percent YoY was a tad higher than Q1 growth of 1.2 percent, but was lower than the 14.2 percent growth reported in the year ago period, without adjusting for one-offs.
The winners

Winners from the Nifty pack were few and far between. The results that caught our attention were those from corporate facing banks like
State Bank of India (SBI)
,
Axis Bank
and
ICICI Bank
, with much lower slippage and an overall guidance of a normalisation in credit cost in FY20.
Among financials, Bajaj Finance stole the show with a strong growth in assets and margin and stable asset quality.
Adjusted for one-offs, Zee Entertainment reported a strong core performance.
From the resources pack, strong earnings from its domestic aluminium business and overseas operations of Novelis aided Hindalco's performance. Despite rising cost pressure, JSW Steel posted strong Q2 earnings.
The other strong performers were GAIL (India) and Oil and Natural Gas Corporation (ONGC). Gains from natural gas marketing and profitability from the LPG segment helped GAIL, whereas high crude prices and a weak rupee benefitted ONGC.
Capital goods companies mostly had a much better quarter. The likes of ABB India and Cummins India reported satisfactory Q2 earnings. The same positivity was seen in sector bellwether Larsen & Toubro (L&T), which reported robust execution and strong order intake.
The other sector worthy of mention was paper that appears to be riding on multiple secular and strong opportunities.
Environmental concerns in China and consequent shift in production appears to be benefitting graphite electrode manufacturers. Shortage of basic raw materials for pharmaceutical companies due to slowdown from Chinese manufacturers benefitted Divi's Laboratories, which reported a stellar quarter.
Most IT companies reported an in line Q2. Consumer facing businesses reported mixed performance, with many firms facing margin pressure and some benefitting from a nascent rural recovery. Earnings from the pharma space continued to remain uninspiring.
The losers
Margin pressure impacted earnings of most cement companies. Automobile companies like
Bajaj Auto
and
Hero MotoCorp
also bore the brunt of rising input prices.
Vedanta's subdued Q2 numbers reflected input price pressures as well as lower zinc volumes.
Lower gross refining margin and forex loss impacted profitability of downstream oil companies like Hindustan Petroleum Oil Corporation (HPCL) and Bharat Petroleum Corporation (BPCL). Low plant load factor impacted NTPC's numbers.
In contrast to the past, Yes Bank saw asset quality pressure and IndusInd Bank too took a one-time provision hit on account of its exposure to the Infrastructure Leasing & Financial Services (IL&FS) group.
The only Nifty constituent to have reported a loss in Q2 was
Tata Motors,
weighed down by the poor showing from Jaguar-Land Rover (JLR) especially in the Chinese market.
First Published on Nov 13, 2018 10:52 am