A strong order book, relationships with marquee Indian AC brands, impetus towards high-margin inverter ACs, benefits of recent acquisitions and momentum in the AC component sales division should augur well for the company.
Amber Enterprises is an original equipment manufacturer (OEM) and original design manufacturer (ODM) for room air conditioners (RACs) and components thereof (excluding compressors). The company also manufactures parts for washing machines, refrigerators and microwaves.
The company reported a weak performance in Q1 FY19. Topline was impacted due to a subdued offtake of RACs in the first half of the quarter, which, in turn, was attributable to weak summer conditions and unseasonal rains in northern India.
Though RAC sales declined 9 percent year-on-year (YoY), AC/non-AC component sales grew 8.1/31.1 percent YoY, respectively. Amber's revenue mix also changed quite a bit, as seen below:

While margin was flat YoY at the operating level, a substantial reduction in debt from IPO proceeds and a lower tax rate led to a marginal improvement in bottomline margin.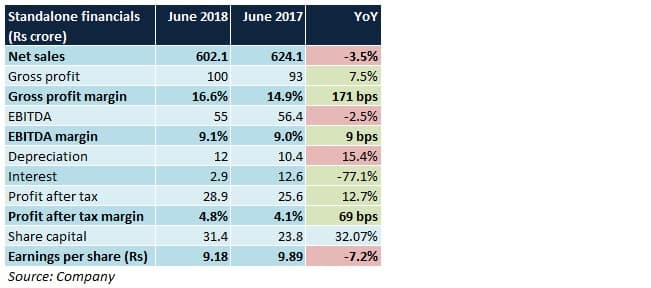 The path ahead
Higher volumes
Amber's management aims to increase the number of RAC units manufactured from 1.9 million units in FY18 to 2.3 million units by FY19-end. Most activity on this front will be visible in the second half of this fiscal.
Operating leverage
Capacity utilisation at Amber's existing manufacturing facilities is likely to progressively increase from 50 percent by FY18-end to 70 percent in FY20. Consequently, higher asset turns should boost operating margin by virtue of economies of scale.
New technologies
The possibility of developing inverter RAC models on the internet-of-things (IoT) platform is on the radar in upcoming fiscals. This should help Amber differentiate its product offerings and earn higher realisations and margin from each unit of IoT inverter RAC sold.
Inventory clearance
In Q1, Amber witnessed stock build-up because of weak demand. This, coupled with higher receivables, caused the working capital cycle to increase from 35 days in Q4 FY18 to 53 days in Q1 FY19. Liquidation of such unsold inventory is anticipated to take place gradually during Q2 and early Q3 FY19.
New products
To achieve backward integration, the management is likely to invest in manufacturing of specialised AC components. These include brushless direct current motor, resin-core motor and inverter controllers. Reduced dependence on external suppliers for these should result in cost savings and be margin accretive. 
Export markets
To diversify risks linked to overdependence on Indian markets, Amber's strategy entails tapping high-potential markets in the Middle East and Southeast Asia. The company is in the process of seeking the requisite approvals from RAC brands in these regions. Sales are likely to commence in the next 2-3 years.
Debt repayment
Amber will trim its exposure to debt funds (Rs 475 crore allocated for this and other general corporate purposes at the time of its initial public offering in January) during the course of this fiscal. With interest costs likely to decline by up to Rs 40 crore by FY19, the company's profit margin will improve noticeably.
Capex
Capital expenditure to the tune of Rs 45 crore will be incurred during the course of FY19, of which Rs 32 crore will be allocated to Amber's in-house operations. The balance will be utilised to scale up operations of its new inverter AC component verticals: Ever Electronics and IL JIN Electronics.
Inorganic growth
Ever Electronics is one of India's leading electronic printed circuit board (PCB) manufacturers. LG, LS Automotive, Powercraft Electronics, Godrej and Intangibles Labs are among its major clients.
After acquiring a 19 percent stake in Ever in H2 FY18, Amber is scheduled to purchase an additional 51 percent stake by March 2019. This should help Amber consolidate its ODM strengths further.
IL JIN Electronics is the Indian branch of the South Korea-based IL JIN Group. IL JIN manufactures and deals in electronically-assembled printed circuit boards for consumer electronics. Its clientele includes Panasonic, LG and Samsung.
Of late, 3 new names were added to the list. This should help Amber earn a turnover of roughly Rs 150 crore from FY20.
Amber acquired 70 percent stake in IL JIN Electronics in H2 FY18. In FY18, it contributed Rs 100 crore to Amber's consolidated operating revenue. Going forward, as Amber's revenue mix changes from RACs to AC components, advantages of this acquisition should lead to incremental topline growth.
PICL, a subsidiary of Amber that was acquired in FY12, manufactures induction motors for RACs, coolers and washing machines. It primarily caters to clients in the Middle East (mainly Saudi Arabia and Bahrain).
PICL had been a loss-making entity in FY18 owing to contraction of supplies from China, among other reasons. It is now shifting its attention to the Indian markets.
PICL has become the first company in India to offer resin core motors for indoor AC units. The indoor resin core motor market in India stands around 5 million units. In FY19, PICL targets supplying 4 lakh units and intends to scale it up to 1-1.5 million by March 2020.
Key challenges

Though barriers to entry in this field are high, Amber's business model involves capex at reasonably regular intervals on the research and development front. Given the high risk of technological obsolescence, inability to derive the desired degree of revenue from such spends may affect profitability.
Leading AC brands, which outsource RAC manufacturing processes to companies like Amber, may need to initiate price cuts to withstand competition. This may compel Amber to reprice its RAC output accordingly, while simultaneously ensuring that quality control standards are maintained.
RAC sales are predominantly influenced by seasonality (higher demand in Q4 and Q1). Therefore, an unfavourable summer can be pretty disruptive.
Should you invest?
A strong order book, relationships with marquee AC brands in India, impetus towards high-margin inverter ACs, benefits of recent acquisitions (Ever Electronics and IL JIN Electronics) and momentum in the AC component sales division should augur well for Amber.

A weak performance in a seasonally strong Q1 has caused us to downgrade our FY19 estimates. Nonetheless, we remain confident about the long-term earnings prospects of India's cooling sector companies in general.
This is mainly because of the prevalence of tropical temperature in the country for most part of the year, higher disposable incomes, low penetration and improved electrification coverage.
After a sharp rally post-listing, the stock has corrected by 30.7 percent from its 52-week high. At 21.7 times FY20 projected earnings, the reasonable valuation should not be overlooked by investors.
For more research articles, visit our Moneycontrol Research page
First Published on Aug 10, 2018 09:19 am