The taskforce will be headed by Finance Minister Nirmala Sitharaman.
Addressing the nation on concerns related to the coronavirus outbreak, PM Narendra Modi on March 19 said that a task force will be set up to tackle the after-effects of the pandemic.
The taskforce will be headed by finance minister Nirmala Sitharaman.
Sitharaman will hold the first meeting of COVID – 19 Economic Response Taskforce on March 20. She will be meeting ministers from animal husbandry, dairy and fisheries, civil aviation, MSMEs and tourism.
However, the finance ministry is yet to provide details on the composition of the taskforce.
Click here to see what the PM had to say about the coronavirus outbreak
"The taskforce will work on ways to reduce economic difficulties. It will be in constant contact with all stakeholders. The taskforce will ensure all decisions are taken to tide over the economic crisis," PM Modi said in a televised address to the nation.
COVID-19 Vaccine
Frequently Asked Questions
View more
How does a vaccine work?
A vaccine works by mimicking a natural infection. A vaccine not only induces immune response to protect people from any future COVID-19 infection, but also helps quickly build herd immunity to put an end to the pandemic. Herd immunity occurs when a sufficient percentage of a population becomes immune to a disease, making the spread of disease from person to person unlikely. The good news is that SARS-CoV-2 virus has been fairly stable, which increases the viability of a vaccine.
How many types of vaccines are there?
There are broadly four types of vaccine — one, a vaccine based on the whole virus (this could be either inactivated, or an attenuated [weakened] virus vaccine); two, a non-replicating viral vector vaccine that uses a benign virus as vector that carries the antigen of SARS-CoV; three, nucleic-acid vaccines that have genetic material like DNA and RNA of antigens like spike protein given to a person, helping human cells decode genetic material and produce the vaccine; and four, protein subunit vaccine wherein the recombinant proteins of SARS-COV-2 along with an adjuvant (booster) is given as a vaccine.
What does it take to develop a vaccine of this kind?
Vaccine development is a long, complex process. Unlike drugs that are given to people with a diseased, vaccines are given to healthy people and also vulnerable sections such as children, pregnant women and the elderly. So rigorous tests are compulsory. History says that the fastest time it took to develop a vaccine is five years, but it usually takes double or sometimes triple that time.
View more
Show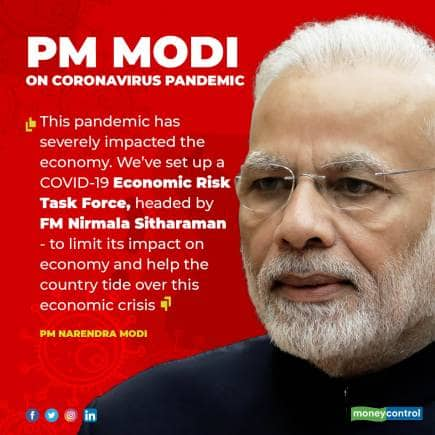 Although Modi acknowledged the threat posed by the deadly coronavirus, he urged citizens not to create an environment of panic.
Track all the latest developments on the coronavirus pandemic
In an
interview to Moneycontrol
, Chief Economic Adviser KV Subramanian has said that the government is working on putting together the right response and there is scope for fiscal intervention. He said that direct cash transfers on the lines of what Hong Kong has done is also an option.
"For instance, the Uttar Pradesh government has actually announced that they will make cash transfers to some of the informal sector. I think there is basically a case for examining some of the options," he said.
He also said that India's growth is set to fall in the coming months as Covid-19-induced lockdowns and restrictions continue to disrupt economic activity.
According to government data released in February, India's GDP grew 4.7 percent in the October-December quarter of 2019-20. GDP growth in the previous quarter had been revised to 5.1 percent.
India's GDP grew 4.5 percent in July-September 2019, the lowest since the fourth quarter of 2012-13. The economic slowdown came at the back of 5 percent GDP growth recorded in April-June and 7.1 percent in July-September last year.
The Economic Survey 2019-20 has pegged India's economic growth at 6-6.5 percent in 2020-21.
Follow our LIVE coronavirus coverage 
here
.
First Published on Mar 19, 2020 08:34 pm