Almost 52 percent of IPOs listed on the bourses in the last 10 years has given a negative return and only 48 percent survived the bull and the bear cycles. Out of 48 percent, nearly 100 companies gave a return ranging from 100 percent to 6000 percent.
Rakesh Jhunjhunwala, the big bull of D-Street might be giving a miss to the newly listed initial public offering (IPO) launched in the year 2017 but investors who have invested in the primary markets 10 years back have already created an enormous amount of wealth.
Rakesh Jhunjhunwala in a recent interview in the month of November to a wire agency said that he is steering clear of all initial public offerings for now as valuations have skyrocketed amid strong inflows and exuberance in equity markets.
Making money in India equity markets is hard and the most difficult part is to value stocks at the right time. Not every IPO launched back in the year 2007 turned to gold for investors; hence, investors have to do their own research before they put in the money.
India Inc. raised as much as Rs2.7 lakh crore from India equity markets in the last 10 years spanned across 424 IPO including SME category. But, the majority of them have given negative returns from their respective listing price.
Big boys Coal India (Rs 15,199 crore IPO) which listed in the year 2010, Reliance Power (Rs 11700 crore IPO) which made its debut in 2008, and GIC which had an issue size of Rs11,175 crore listed on bourses in 2017 failed to lift sentiments, according to data compiled from Capitaline.
Coal India is trading 6 percent lower from its listing price, while Reliance Power slipped as much as 98 percent, and GIC dropped about 7 percent from its listing price, the data showed.
Almost 52 percent of IPOs listed on the bourses in the last 10 years has given a negative return and only 48 percent survived the bull and the bear cycles. Out of 48 percent, nearly 100 companies gave a return ranging from 100 percent to 6000 percent.
In other words, if you would have invested Rs100000 in Page Industries back in the year 2017 your money is worth nearly Rs65,00,000 now in 10 years (for reference).
Stocks which outperformed markets and gave over 1000 percent return in the last 10 years include names like Page Industries which delivered 6415 percent, followed Majestic Research which rose 2543 percent, Rushil Decor gave 1033 percent etc. among others.
Stocks which gave 100-1000 percent return include names like Astral Poly, Jubilant Foodworks, Lumax, Dilip Buildcon, Repco Home Finance, KPR Mill, Apex Frozen, V-Guard, Kaveri Seed Company, PC Jeweller, NBCC, Muthoot Finance, Power Grid, Team Lease, Bharti Infratel etc. among others. (Refer Image 1)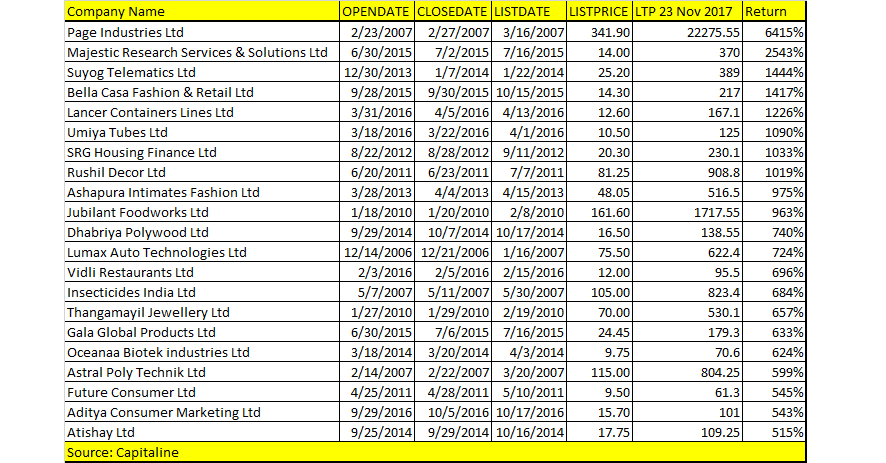 IPO in 2017:
The year 2017 has seen a flurry of IPO's thanks to domestic liquidity which pushed benchmark indices to record highs and helped raise nearly Rs60,000 crore so far in the year, which is also a record at least in the last 10 years.
"About Rs.58000 crore has been raised so far from the mainline IPOs in this calendar year, which is the highest number (at least in 10 years)," Deepak Jasani, Head Retail Research at HDFC Securities told Moneycontrol.
"Depending on the PSUs divested or new sector listings from the private sector, this number can change in 2018, but most likely it may be less than the figure in 2017," he said.
Three companies have raised money more than Rs5000 crore so far in the year 2017 which include names like General Insurance Corporation of India, SBI Life Insurance, and ICICI Lombard General Insurance.
IPO has done fairly well in the year 2017. As many as 20 companies gave negative returns when compared to their respective issue price. While on the positive side, as many as 34 companies gave positive returns in the same period.

As many as 8 stocks more than doubled investors wealth in the year 2017 which include names like Meera Industries, Shankara Building Product Ltd, Apex Frozen, Avenue Supermarts, PSP Projects etc. among others.
"Off late Indian IPO market has registered a staggering performance with over a dozen of companies raising more than Rs. 12,000 crore through IPO during the first half of 2017. The IPO market has created mammoth returns for investor during this financial year with the same trend expected to continue for next decade," Dinesh Rohira, Founder & CEO, 5nance.com told Moneycontrol.
"A scrip like Avenue Supermart got listed above100 percent premium followed by a recent premium listing of MAS Financial at 43 percent. The changing preference of young Indian consumer and niche offering in retail outlets coupled with uptrend per capita income in mid-segment population, the same scrip in retail segment is expected to register exponential growth in the same timeline," he said.
What should investors do?
Thanks to the rise in domestic liquidity and inability of other asset classes such as gold, real estate, or fixed deposits to give inflation-beating returns, investors are flocking to equities as the preferred source of investment.
However, there was no dearth of IPO and as long as the liquidity cycle continues, more and more companies will be compelled to raise money.
Analysts' advise investors to stay cautious and do their own research about the pedigree of the management and the complete product profile of the company before putting money.
"We think there will be a continuing supply of IPOs coming to market. However, what is unclear will be the demand side. We think capital eagerly seeks attractive businesses at reasonable valuations. The fundraising will depend on the quality of business models and valuations," Sunil Sharma, Chief Investment Officer, Sanctum Wealth Management told Moneycontrol.
As we step into 2018, it looks like the government will be the biggest fundraiser from the primary market in order to meet the divestment targets keeping in mind the fiscal constraints. But, quality IPOs should be able to deliver handsome returns in the next 10 years.
"The quality of companies that are coming to raise money from the primary market are all excellent, either they are funded by private equity investors which through IPOs are partially encashing the fruits of the past hard work and risks that they had undertaken, or the IPOs are done by government-owned companies," Jimeet Modi, CEO, Samco Securities told Moneycontrol.
"With tight disclosure requirements and the responsibilities bestowed on to the shoulders of the merchant bankers, there are no chances of fraud or misrepresentations. However, since we are in a mature bull market, the valuation aspect is currently unfavorable in the short term," he said.
Modi further added that IPOs are richly priced currently for that reason. But with a ten-year time horizon, majority of companies coming out with IPOs will deliver handsome returns. Longer the holding period for equities the better the returns.
First Published on Nov 27, 2017 08:50 am