A taxpayer who opts for this scheme would not be questioned further and will have to pay only the disputed amount

Khyati Dharamsi
If you have been struggling for years to resolve your tax dispute and have made little headway, despite mounting legal charges and other allied expenses, the government has thrown open a window for a limited period of five months to settle your issues.
A Vivad Se Vishwas (VSV) scheme has been proposed; a taxpayer can get a waiver of interest and penalty added to the taxable amount payable for cases that have been under dispute.
A taxpayer who opts for this scheme would not be questioned further on the dispute and will have to pay merely the disputed amount if he opts to end the dispute by March 31, 2020. Between April 1 and June 30, 2020, the taxpayer would have to pay additional 10 per cent charge on the tax payable under dispute.
Those who challenged the fee, interest or penalty amount levied on the tax earlier would be able to pay 25 per cent of the disputed charges by March 31, 2020, or 30 per cent of the levies up to June 30, 2020, and get the cases resolved.
Ganesh Raj, National Leader, Business Tax Services, EY India, said, "This will also bring finality to litigation, which has been pending for a long time for the taxpayers."
There are 4.83 lakh cases, involving Rs 9.41 lakh crore, which are pending at various forums such as the office of the Income Tax Commissioner, Income Tax Appellate Tribunal, High Courts and Supreme Court, as stated by the FM.
These cases have been filed, challenging either the tax amount per se or the additional charges in the form of penalty, fee or interest on the tax amount payable. Disputes have also stemmed from erroneous tax collection and tax deduction at source.
Cases for which appeals have been filed in these forums before January 31, 2020, would be able to claim a breather under the VSV scheme.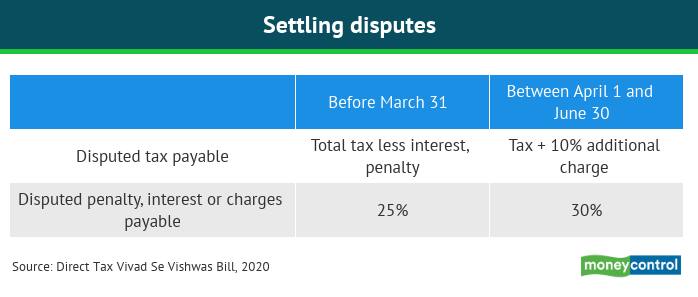 What is at stake?
Apart from the tax under question, there are additional amounts involved in going for an appeal. "When one files an appeal, about 20 per cent of the taxable income needs to be deposited. While that money is stuck, a taxpayer spends additional legal fees in the range of Rs 25,000-50,000 charged by specialised professionals to file an appeal. Additional consultation charges for lawyers and specialised chartered accountants need to be borne to fight the legal battle. Beyond that an interest higher than the nominal rate of 1.5-2 per cent per month is accumulating on the tax payable. The amount shoots up significantly due to compounding of interest, especially with regards to cases that are being fought for 5-10 years," elaborates Sudhir Kaushik, co-founder, TaxSpanner.com, while discussing the monetary impact of a dispute.
Weighing the scales
You should assess whether the case is strong enough for you to continue with the legal battle or if the matter is of real consequence. "Sometimes the taxpayer has a genuine issue; others try to even delay payment of the taxes and hence file an appeal to manage their cashflow situation. It is best to resolve such cases at the current stage as interest and penalty are being waived off," says Kaushik.
"If you are certain that the tax amount or charge has been wrongfully levied and are fighting a consequential battle to bring about a change in tax laws per se, you can continue," he suggests.
No respite for select cases
At this juncture, it is worthwhile to note that cases involving undisclosed income or assets located outside India would not be admitted for resolution under the VSV scheme. Cases under which a forum or court has already announced its decision for a particular assessment year or, those where an assessment order has already been passed under Section 153A and 153C of the Income Tax Act, wouldn't be resolved under this scheme.
People, against whom detention orders have been issued for smuggling goods, wouldn't be able to seek relief under the VSV scheme. Others who have been tried under various civil crimes such as drug abuse, money laundering, benami property transactions and other unlawful crimes wouldn't be able to get their cases resolved under the scheme.
Steps to get disputes resolved under Vivad Se Vishwas Scheme
-  File the Vivad se Vishwas declaration form at the forum
- A certificate is issued by the Tax Department within 15 days, containing details of the amount of tax payable as per the VSV scheme.
- Pay the disputed tax amount within 15 days of receiving the certificate
- Intimate the Tax Department about the payment using a prescribed form
- The taxpayer will be issued an order about the payment received
- The order would be conclusive and cannot be challenged and opened in any other court in India or abroad.
Who should you approach?
This dispute resolution wouldn't be restricted to the income tax department alone. Hence, you would have to go to the professional involved, which could be a chartered accountant in cases that involve the Commissioner of Income Tax or the Income Tax Appellate Tribunal. Other courts would require a lawyer.
You can request the said professional to file a declaration form in the forum in which the case is being heard. After the said tax payment has been done through the right channel, await the final order that mentions the dispute resolution.
Since this is a limited tenure scheme, you need to act within the next five months.
Raj of EY India suggests, "Tax authorities should also take this as a campaign to achieve the objective and also educate taxpayers of this one-time opportunity."
First Published on Feb 7, 2020 02:13 pm