Much of the rally seen in the small & microcap space could be attributed to attractive valuations and new investors joining the D-Street party, suggest experts.

Largecap stocks which were in focus in 2019 saw profit booking at higher levels in 2020, while the smart money seems to be moving towards the unloved 'smallcap' stocks.
The broader market has been in a bear phase since 2018, but with recent price correction, money started moving towards this undervalued space.
Much of the rally seen in the small & microcap space could be attributed to attractive valuations and new investors joining the D-Street party, suggest experts.
"It seems that first-time investors and traders who can also be termed as lockdown players have taken this market higher especially by shoring up the share prices of small-cap and penny stocks," Jimeet Modi, Founder & CEO, SAMCO Securities & StockNote told Moneycontrol.
In the broader market, especially in the smallcap and micro-cap space, companies displayed signs of momentum. There are as many as 8 companies within the market-cap of Rs 1,000-5,000 crore that have risen more than 100 percent in the last 6 months, data from AceEquity showed.
Stocks that more than doubled investor wealth were IOL Chemicals, Suzlon Energy, Aarti Drugs, Best Agrolife, Alkyl Amines Chemicals, Marksans Pharma, Astech Lifesciences, and GTL Infrastructure.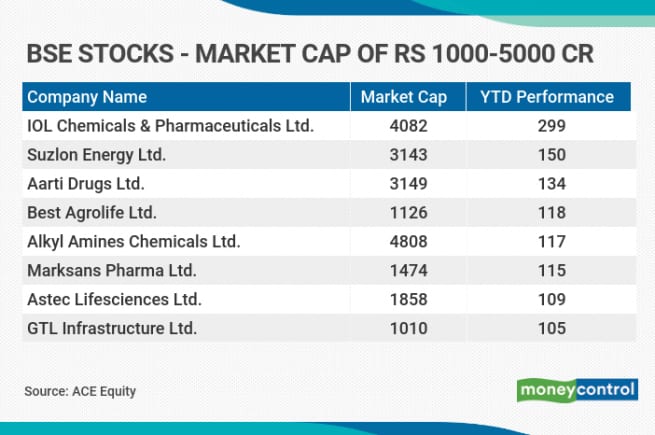 Note: The table is for reference and not buy or sell ideas
On a YTD basis, the broader market performed relatively better with around 12 percent and 9 percent respective falls in the mid and small-cap indices in the last six months.
Although, analysts advise caution in the small, mid, and penny stock space, at the same time if investors bet on the right stocks, the probability of it giving more than double-digit return also becomes higher.
"The problem in lesser researched companies is as much quality as it is corporate governance – particularly in the mid and small-cap segments," Vikaas M Sachdeva, Chief Executive Officer, Emkay Investment Managers Limited told Moneycontrol.
"If the stock stands by the touchstone of quality, as mentioned above, and corporate governance, they will do well irrespective of market caps. I think there is a lot of money to be made in high quality small and midcaps and these are early days in terms of a rally," he said.
There are as many as 78 stocks that have a market-cap of less than Rs 1,000 crore that have more than doubled investors' wealth in the last six months.
Stocks that rose 100-1100 percent include names like Opto Circuits, Ruchi Infrastructure, Hathway Bhawani, JMT Auto, Ballarpur Industries, Educomp Solutions, Reliance Communications, and Inter Globe Finance etc. among others.

Note: The table is for reference and not buy or sell ideas
"Penny stocks usually do not have any fundamentals and has poor standard of corporate governance, therefore it is very difficult to arrive at any valuation. Prices of penny stocks are driven by news and hope and therefore it has a spectacular rise in prices and equally spectacular fall," Atish Matlawala, Sr Analyst, SSJ Finance and Securities told Moneycontrol.
"Beaten-down midcaps with strong fundamentals has shown a good rally and we expect them to perform well in 2020 due to attractive valuations," he said.
Investors should not confuse penny stocks with small-cap stocks. Penny stocks are those which trades below Rs 10, has less than 15% promoter holding, and does not have a viable business.
"Small-cap generally are those stocks which have high promoter holding, expanding business and whose net profit is growing at a CAGR of more than 20%. We would advise investors to stay away from penny stocks," advise Matlawala.
What is the risk for new-age investors?
The risk of new-age investors or Robinhood traders joining the D-Street party is a welcome sign; however, analysts advise caution as momentum will not remain on the upside always.
The number of new broking & Demat accounts opened in the last two months has indeed surprised many. "It is indeed good to see increased retail participation in equities since India is a hugely under-penetrated market," Ashish Chugh, Director, Hidden Gems Advisory told Moneycontrol.
"However, what worries me is the reason many of such investors have chosen to invest/trade in Stocks - the nationwide lockdown & people not having anything better to do at home. Many investors are the first time investors & early success leads to complacency. That's the worry," he said.
Chug further added that one must understand the fact that the stock market is not an easy place to make money. You may get lucky once or twice but not all the time. "Many of these investors are merely chasing stock prices without much understanding of company fundamentals & valuations, which can end in pain," he added.
Disclaimer: The views and investment tips expressed by experts on Moneycontrol.com are their own and not those of the website or its management. Moneycontrol.com advises users to check with certified experts before taking any investment decisions.
First Published on Jul 16, 2020 10:19 am