The current model adopted by the government — of being both the subsidy provider and the procurement price player — has failed to deliver good results. It has made the farmer lose incomes and even self-respect

RN Bhaskar
If farmers have been on the warpath in many states across the country, they have good reason for their anger. Two reports, one by Nabard and the other by India Ratings, tell a story that is different from what state and central governments like to tell.

Table 1 shows that rural incomes have been pathetic in most states, including Maharashtra which boasts of doing so much for farmers. The states where farm prosperity is high have not seen farmer agitations. Hence, one does not hear about farmer agitations in the Punjab, Kerala, Haryana, Himachal Pradesh and Goa. They have erupted in Maharashtra and Madhya Pradesh, because the farmer does not earn enough.
While Madhya Pradesh has climbed from being a Bimaru state to one which has made farmers a lot more prosperous than in the past, Maharashtra has done precious little. Instead of protecting the farm sector, it has focussed on the welfare of farmers who are close to cooperatives — mostly run by the Congress and the Nationalist Congress Party (NCP). Hence, only 20 percent of land is cultivated in Maharashtra compared to 67 percent in Madhya Pradesh. Clearly, water has been cornered by the sugarcane and cotton lobbies. Not surprisingly, farmer distress is greater in this state.
True, Gujarat's farmers earn more than their counterparts is most states. That is proof that the farmer agitation there is more political than based on poor remuneration for farmers. The agitation there needs a political, not a commercial, solution. However, the Nabard report points to a bigger farm crisis than had been imagined earlier.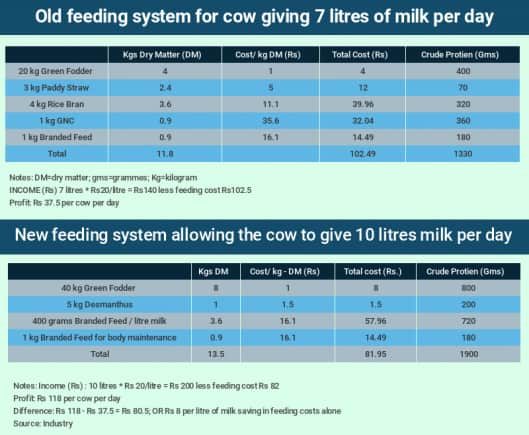 Table 2 shows that average income from cultivation was just Rs 3,140 per household per month. Worse, incomes from livestock rearing generated only Rs 711 a month. If state governments had put in place the right systems, income from livestock could have been closer to Rs 3,000 per cattle per month.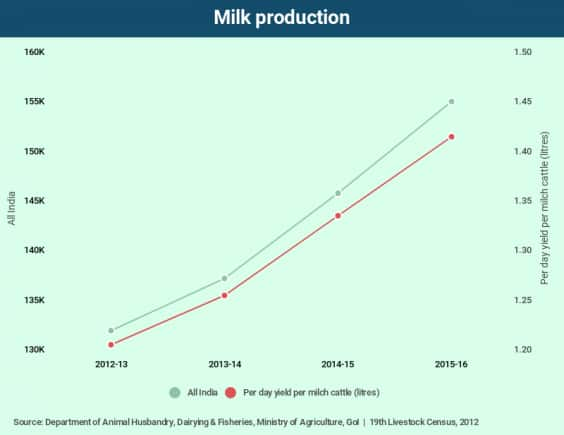 The poor income from animal husbandry is on account of two factors. Table 3 shows that average yield per cattle is just around 1.4 litres per day. It should have been three at the minimum and 10 on the average. Compounding this is the ill-advised ban on cattle slaughter. It deprives cattle-owners from earning around Rs 20,000 from the sale of each cattle-head when it becomes old. That means a loss of another Rs 1,500 per month.
Over the past seven decades state governments have failed to educate farmers into using good artificial insemination techniques. Moreover, just a change in feed allows a yield of seven litres to swell to 10 litres. That pushes up farmer profits (not turnover) from Rs 40 to Rs 100 per cattle per day, as table 4 shows. That can make a farmer earn Rs 3,000 per cattle per month.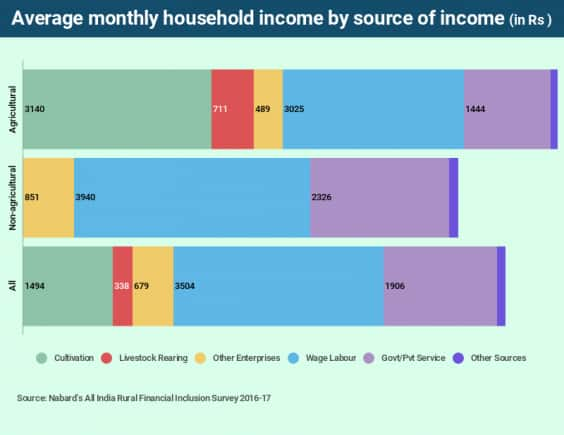 This is gross negligence on the part of animal husbandry staff in most states. They have failed to teach farmers how to augment their income. States such as Maharashtra have the dubious distinction of letting farmers get Rs 25 a litre by subsidising cooperatives. In doing so, Maharashtra has burdened taxpayers with Rs 3,000 crore a year. When Gujarat, Madhya Pradesh, Karnataka, Tamil Nadu pay over Rs 26 and some over Rs 36 a litre, why can't Maharashtra?
The Nabard data shows that farm distress is even more severe than averages reveal. The amounts earned by marginal farmers is painfully pathetic. One in every five households "earned Rs 2,500 or lesser per month, which appears insufficient to meet the bare necessities of life." At the same time the top 20 percent of households saw a quadrupling of income to Rs 48,833 per month.
"The rise in income was much steep in the 99th percentile households which earned more than twice the ones in the 95th percentile and about four times the ones in the 80th percentile," said the report. In other words, rich farmers got richer. Poor farmers remained where they were, or even got poorer. These disparities may be attributed to existing inequalities in terms of households' ability to access various resources and opportunities..
The story of inequity is the same as for the rest of the Indian economy. The top 20% of people account for over 90% of the wealth in the country. The bottom 20% barely manages to survive.
It should have been different for agriculture and rural communities, given huge government spending and doles. It should certainly have been different for milk producers where a working model exists in Gujarat — thanks to Verghese Kurien — and where farmers get over Rs 30 per litre without state subsidies.
The Nabard findings are reinforced by data from an August 23 report India Rating which showed how farmer incomes have stopped growing significantly during the past three years.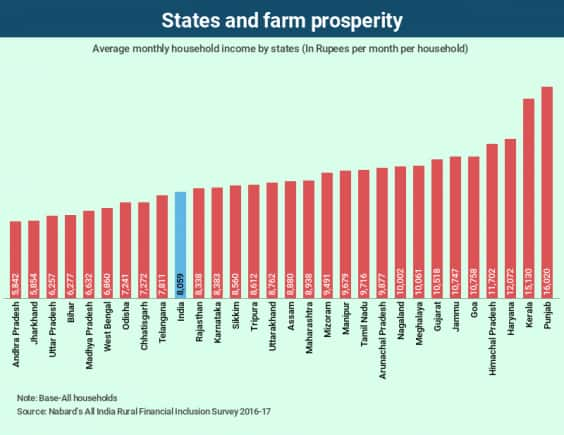 Clearly, doubling of farm incomes is not the solution. Doubling Rs 2,500 a month will fetch the farmer only Rs 5,000. That is still distressful. The best way of ensuring a better deal for the farmer is by guaranteeing him a fair percentage of the market price.
A 50% share of the market price ought to be the norm. It would be a bit lower than the 80% share of the market prices that Gujarat's milk cooperatives offer their farmers. Anecdotal evidence shows that farmers often get as little as 10% of the market price. That is where the root cause of farm distress lies.
Maybe the current model adopted by the government — of being both the subsidy provider and the procurement price player — has failed to deliver good results. It has made the farmer lose incomes and even self-respect. Could India allow instead a bigger role for market forces, and a system linked to consumer prices? Could the farmers finally get a better deal?
(The author is consulting editor with Moneycontrol)
First Published on Aug 30, 2018 10:35 am