Smaller companies have had a good run in September quarter. This suggests that such stocks can give good returns even as the market volatility ensues.
With more than half of Nifty companies having reported earnings so far, it is worth revisiting the aggregate earnings picture. While most companies continue to post strong show on topline, margin pressure is getting evident for a broader universe of companies.
There were quite a few big disappointments from larger companies. However, our analysis of over 440 earnings shows several smaller companies have held on to their ground. This suggests that even amid a slightly adverse macro picture, it is possible to find some hidden gems, and the market volatility could be a right opportunity.
Healthy topline
The aggregate sales of the group of shows and on-year growth of 22.2 percent against 19.9 percent reported in the previous quarter and 10.9 percent in the year-ago quarter.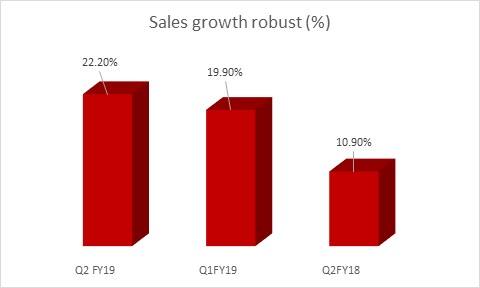 Source: Moneycontrol Research
However, operating profit failed to keep pace with EBIDTA (earnings before interest depreciation and tax), growing by 19.3 percent (YoY) in the quarter under review compared to a growth of 32 percent in the June quarter.
Sequentially, the growth in sales was 5.9 percent but EBIDTA grew by a meagre 1.6 percent. Consequently, the blended operating margin for the group declined by 70 basis points sequentially and 40 basis points year on year to 18.4 percent.
Input cost pressure is being increasingly absorbed by companies as the demand environment in weakening.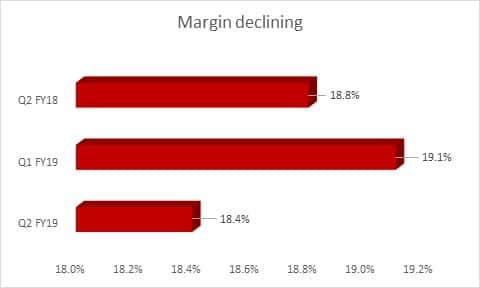 Source: Moneycontrol Research
Overall interest outgo was stable at around 11.7 percent of sales. The growth in after-tax-profit was to the tune of 9.2 percent which was much lower than previous quarter's 14.4 percent but better than year-ago quarter's 4.1 percent. This figure is not strictly comparable as there tends to be several one-off adjustments to the profit figures. The decline in profitability of Zee in the current quarter due to one-off in the year ago period being a case in point.
More misses than hits for 28 Nifty cos
The earnings picture for Nifty companies was no different from the broader trend. Close to 28 Nifty companies have reported their earnings so far. The aggregate sales growth for this group was a healthy 25.8 percent which is an improvement over the 21.7 percent growth reported in the June quarter and 9.3 percent in the year-ago quarter.
For the Nifty companies too, the pressure on margin was evident. The growth in operating profit was softer at 15.5 percent as against 24.2 percent reported in Q1 FY19.
Sequentially, for Nifty companies while the growth in sales was 6 percent, operating profit grew by only 1.7 percent. Consequently reported operating margin declined 170 basis points YoY and 80 basis points QoQ to 20 percent.
Reported profitability growth at 7.9 percent year on year was a tad lower than Q1 FY19 growth of 8.4 percent but was better than 3.4 percent that was reported in Q2 FY18.
Margin pressure for few, steady for IT & retail bank, stellar for ICICI
In terms of recent announcements from Nifty companies, margin pressure on account of input prices were visible in Asian Paints and Ambuja Cement. Bajaj Auto's numbers bore the brunt of adverse product mix. Maruti saw tepid volume numbers on account of subdued sentiment aggravated by rising fuel prices, interest rates and higher insurance costs.
While
Bajaj Finance
reported a stellar quarter with good growth in assets, margins and stable asset quality,
Bajaj Finserv
saw the adverse impact of Kerala flood and IL&FS exposure in its general insurance business.
On expected Bharti Airtel reported disappointing domestic business performance. Yes Bank saw pressure on its asset quality on top of myriad concerns ranging from management change to insufficient capital.
While Adani Port's headline numbers were muted on account on SEZ income in the year-ago quarter and exchange loss in the current period, the core was strong.
In line performers from the Nifty pack were HCL Technologies, Wipro, UPL and Kotak Mahindra Bank.  ICICI Bank's lower slippage was welcomed by the market leading to a momentum build up across corporate lenders.
Smaller companies that ought to be on investors' radar
There were few companies outside the largecap universe that captured our attention with stellar earnings. The sector worthy of mention is paper that has been reporting superlative earnings in this season. The mention worthy names are International Paper, Seshasayee Paper and South India Paper.
Some of the mid cap companies that came out with impressive results were
Atul Ltd
,
Bharat Electronics,
Bharat Financial Inclusion,
L&T Infotech
,
ICICI Lombard
and
M&M Finance
.Smaller stocks to be kept on the radar are
Bodal Chemicals
,
Everest Industries
,
HIL
,
HOEC
,
Intellect Design
,
GNA Axle
, and
Lumax
. A volatile market could provide good opportunity to buy into smaller names with great earnings visibility.
First Published on Oct 30, 2018 12:38 pm