Highlights:
- Both stocks trade at reasonable valuations
- Capacity utilisation is the key monitorable
- Limited capex will improve free cash flows
- Backward integration should aid margins- High dependence on US-based importers is a major risk
--------------------------------------------------
Indian home textile companies have had a good run since FY12. More than 50 percent of India's home textile exports are to the US, constituting approximately one-third of the global home textiles market. India's share of cotton bed sheets and terry towel exports to the US rose to 40-45 percent in FY18 versus 34 percent in FY12, as per Crisil.
Given the importance of US in the context of home textiles, 3 key factors merit an investor's attention towards export-focused names such as Himatsingka Seide and Trident (both derive about 70-80 percent of their annual export revenue from the US).
These include the Indian rupee's steep depreciation against the US dollar since April 2018, improving cost competitiveness of Indian players (vis-a-vis those in China and Pakistan), and gradual restocking by US retailers after a phase of inventory pruning in the past.
Himatsingka and Trident have witnessed a sharp price correction over the past year and also happen to be in a time correction phase since the last 2-3 months. Both stocks trade at nearly 8 times their FY20 projected earnings, thus making them consideration-worthy for the long haul.
Q2 review
Himatsingka's top-line growth was led by brands, comprising 80-85 percent of annual turnover. Margin expansion was restricted due to higher overheads for setting up the terry towel unit.
For Trident, sales growth was aided by healthy volume growth in the home textile segment and a steady performance in the paper-cum-chemical segment. Reduced raw material prices, lower employee costs and a higher share of sales from premium bed linen products led to a noticeable uptick in operating margins.


The path ahead
Himatsingka Seide
Integration of licensed international brands (such as Tommy Hilfiger, Copper Fit, Calvin Klein Home) with the company's own brands (Pimacott, Organicott, Atmosphere) will help increase the contribution of branded home textile products to yearly sales. Since these variants fetch better realisations vis-à-vis unbranded ones, it would be relatively easier to pass on input cost increases to the importers.
Higher utilisation rates at the expanded 23 million metres per annum (mmpa) bed sheet manufacturing unit will have a positive rub-off on revenues and margins.
The company's terry towel plant, with a capacity of 25,000 tonnes per annum, is likely to be commercialised in H1FY20. This will enable it to tap a wider audience abroad.
The yarn spinning facility, with a capacity of 2,11,000 spindles, has stabilised operationally. Since almost the entire output will be captively consumed to manufacture fabric for bed sheets, margins are anticipated to go up in due course.
To reduce dependence on the US markets, the company is exploring new export opportunities in continental Europe.
Despite the conclusion of capex activities over the next 3-6 months, elevated debt levels and higher depreciation charges (pertaining to the to-be-shortly-commissioned terry towel unit) could take a toll on the bottom-line margins.
Trident
In H1 FY19, utilisation levels at the company's bed/bath facilities stood at 58/49 percent, respectively. Ramping up these capacities to 60-70 percent in both categories by FY20 will be crucial in terms of top-line maximisation and margin accretion.
The company pared long-term debt to the tune of Rs 260 crore in H1FY19, thus reducing its debt-to-equity ratio to 0.7x as on September 30, 2018. Going forward, on the back of favourable cash flows, the management aims to reduce the degree of dependence on borrowed funds. This, in turn, would strengthen the bottom-line.
The share of high-margin copier paper to yearly paper sales is slated to increase in the coming fiscals from the present mark of 15-20 percent. The recently observed increase in pulp (raw material for manufacturing paper sheets) prices, growing demand, shutdown of paper factories in China, and onset of the publishing season in Q4 (exams across educational institutes/boards pan-India) should help derive higher realisations for paper too, thereby bolstering its profitability prospects.
The scale of captive consumption of cotton yarn (for manufacturing bed and bath linen fabric) is anticipated to go up progressively. This should result in operating leverage.
Outlook
Notwithstanding the positives mentioned above, some sectoral risks shouldn't be overlooked. For instance, raw material (cotton) prices are unlikely to cool off in the near-term and could exert downward pressure on margins. Unhedged cash flows may impact earnings as well.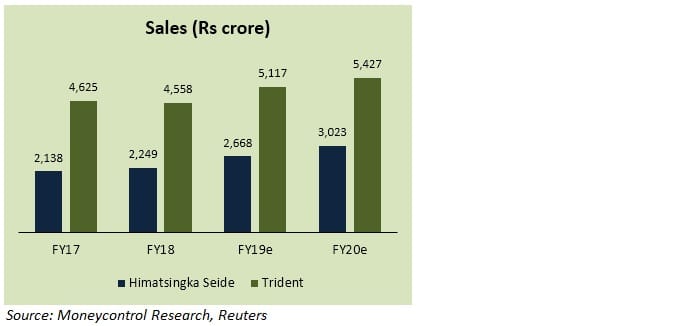 We believe Himatsingka and Trident can weather the above-mentioned sectoral challenges better than peers (Indo Count Industries, Welspun India). This would be primarily attributable to moderation in their capital intensity, a strong order book and operational efficiencies.
For more research articles, visit our
Moneycontrol Research page.
First Published on Dec 28, 2018 01:20 pm