With India importing nearly 15 percent of its crude imports from Iran, the future course of diplomatic policy and trade alterations would be worth watching out.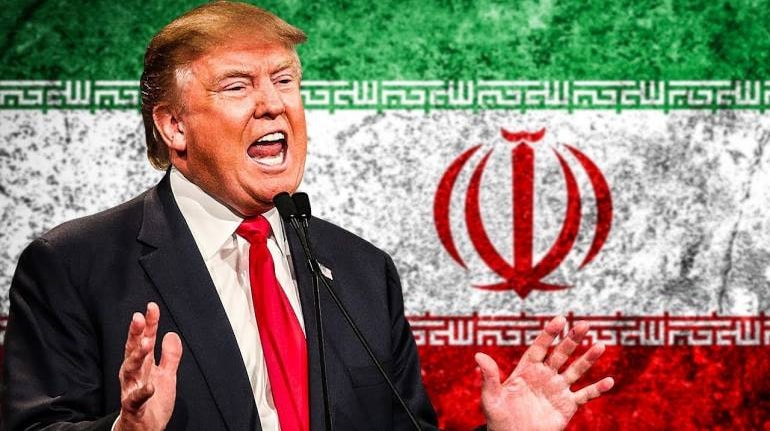 The announcement by the US, of a no-tolerance policy pertaining to Iranian sanctions and its intention of imposing an economic and political sanction on countries and companies which continue trade with Iran beyond November 2018 deadline, leaves India in a tough spot. With India importing nearly 15 percent of its crude imports from Iran, the future course of diplomatic policy and trade alterations would be worth watching out.
The US has postponed bilateral talks with the defence and foreign ministers of India, which was scheduled for the upcoming week. This highlights the pressure tactic from the US in the backdrop of growing disagreement over the Iran nuclear deal and the brewing global tariff war.
The uncertainty around this resulted in crude rallying by 3 percent and surpassing the $78 per barrel-mark. With the surge in crude, stocks of oil marketing companies in India took a knock with BPCL, HPCL, and IOCL correcting 11, 12.6 and 7.6 percent, respectively.
Last year, India started importing crude from the US which has been keen on exporting more and creating a market for its crude globally. The current sanctions and global trade wars are also seen at the US' attempt to capture more market for its own crude.
We believe, like pre-2015 era, India will come out with some sort of a barter payment system to work around the US sanctions and the impact on imports would be less than the current anticipation.
However sequential reduction of imports from Iran cannot be ruled out and a certain portion of oil imports would possibly flow to other countries. This would mean an increase in the import bill for India, given the discounts offered by Iran on crude currently, and a possible increase in logistic costs for imports.
About the sanctions
The US had been increasingly imposing economic sanctions on Iran to restrain its nuclear activities until 2015 when the former agreed to the nuclear deal in collaboration with the UK, France, China, Russia, Germany and the EU to revoke the sanctions on Iran if it limits nuclear activities. However, the deal was silent about the development of the ballistic missile program, and had a sunset clause permitting Iran to develop nuclear technologies after 2025.
US exiting the deal
According to the US, the deal was ill-negotiated and lacked adequate mechanisms to prevent and detect non-compliance. Iran, on the other hand, has accused the US of imposing many other secondary sanctions which violated the deal terms. In May 2018, the US announced its unilateral exit from the nuclear deal which meant the re-imposition of sanctions on Iran.
The threat by the US
The US has now asked all countries to progressively reduce and eventually terminate any kind of currency flow to Iran with a strict deadline of November 2018 and threatened secondary sanction on countries and companies which continue trade with Iran post the time frame.
This threat by the US again poked international oil market as secondary sanctions could reduce the supply of crude by Iran. This perhaps was the single largest reason which led to the change of policy course by OPEC in last week's meeting with other members jumping to grab the void created by the removal of Iranian crude from international markets.
India's Situation
Crude import volumes have been steadily rising in India, in sync with India's total crude oil consumption. India imports almost 80 percent of its total crude requirements. Iran is the third largest supplier of crude oil to India, after Saudi and Iraq. Currently, India imports more than 15 percent of its total crude imports from Iran. For Iran, India is the second-biggest buyer of crude after China.

Pre-sanction era for India
India's imports from Iran have increased steadily post the lifting of sanction in 2015, with almost a 34 percent year-on-year (YoY) uptick in 2017. Prior to 2015, during the sanctions era, India had devised a quasi-barter system with payments through other commodities and rupee remittances for purchasing Iranian crude. India had also obtained concessions from the US to import crude from Iran during that time. Despite this, it cannot be ignored that during the sanction phase of 2011-15, Indian crude oil imports from Iran had declined and the same might recur in months to come.
The export-import situation for India

India imports 2.4 percent of its total imports from Iran of which 83 percent are oil imports. Exports to Iran make up a minuscule 0.9 percent of total Indian exports, of which 35 percent are cereal exports.
On the other hand, exports to the US account for a significant 15.8 percent of the total Indian exports, majorly gems, jewellery, pharma products, mineral fuels and nuclear reactors. Imports from the US account for 5.7 percent of total India's imports with major imports for nuclear reactors, fuels, aircraft and electric machinery. Given the statistics, any non-agreement between India and the US could impact India's trade relations and impact Indian exporters. This is one scenario that India can ill-afford at this stage.
The overall impact of strict implementation of sanctions
Given the huge quantum of crude imports, Indian companies might have to look for alternate supplies to compensate Iranian supply if sanctions are imposed strictly. In the beginning, we believe there might be some resistance from India, but gradual reduction and diversion of sourcing to other nations cannot be ruled out.
Reduction of Iranian barrels from international markets would bring in some supply void, and how much of it can be filled by other nations like Saudi, Russia, and Israel is something to watch out for. Countries like Venezuela, Libya, Canada and the US itself have been facing some issues which have limited their production capacity currently.
Given the spare capacity with Saudi and Russia and eventual removal of bottlenecks for the US shale production, we see the void to be filled up fast and eventual stabilisation of crude prices.
However, if crude sustains current levels along with the depreciating Indian rupee, fiscal math might come under pressure. Though it spells cheer for oil producers like Oil India and ONGC by way of better realisations, a sustained rise is not desirable as they might then have to bear a share of the subsidy burden. Oil marketing companies (OMCs) like IOC, HPCL, BPCL along with fertilizer, gas downstream, petrochemicals, paints companies might see pressure on margins.
For more research articles, visit our Moneycontrol Research Page.
First Published on Jun 28, 2018 06:20 pm