While the NCLT takes care of secured creditors and employees, consumers have to travel a long road to recover their pending dues

 Khyati Dharamsi
While the bankrupt Jet Airways faces proceedings at the National Corporate Law Tribunal (NCLT) and creditors await their dues, a few others are left holding candles. These are passengers who had booked tickets on Jet Airways flights last year, which were cancelled because the airline's fortunes went into a tailspin. One of affected persons was Mumbai-based Bhavesh Nagda, whose Jet flight last year to Singapore got cancelled. He lost Rs 90,000 on his tickets.
Around a year ago, Pune-based senior citizen couple Maneck K and Kayomarz M Adajania had just got their visas for their group tour to Europe arranged by Cox & Kings, when the tour company declared bankruptcy and folded up. The tour got cancelled. The Adajanias are yet to get their Rs 2.5 lakh back. The NCLT has made strides and bankers across the country are hopeful of getting their dues after bankruptcy proceedings of several companies end. But the recovery road for the consumer, from such companies, is more arduous.
Legal experts suggest alternatives.
Get in touch with a resolution professional
When a company is declared bankrupt, the creditors – typically bankers – have the right to file a petition at the NCLT, asking for a resolution. The NCLT appoints a resolution professional (RP) whose main task is to revive the company. If the company cannot be revived, then it is liquidated and creditors are paid off.
Unfortunately, "a lot of consumers, who have made their bookings or paid for a service, are not recognised by law as creditors and need to file for a claim as the court will never know that you have a valid claim," says Abhay Vohra, Partner at Burgeon Law.
File a case in consumer court
Since NCLT gives preference to secured creditors (such as banks), Uday Wavikar, Vice President of Consumer Court Bar Association of Maharashtra and Goa suggests approaching a consumer court. Make the RP a party to the case, he adds, even if you go to a consumer court. By doing this, a favourable ruling from a consumer court, whenever it comes, brings you up on par with secured creditors. Wavikar has been fighting consumer cases for the past 20 years in the consumer court.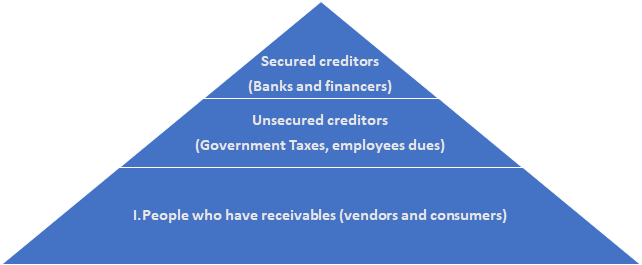 For instance, in the Jet Airways case, of Rs 26,000 crore worth of dues, the first in line to receive dues are banks (Rs 8,500 crore), followed by taxes and salary payments (Rs 3,000 crore), and vendors (Rs 10,000 crore). Passengers, such as Nagda, come last. All this recovery is to be made from an airline that has losses of around ₹13,500 crore piled up.
Now, if Nagda approaches the RP first, he would be the last one in the queue. But if he files a Consumer Court Case, includes the RP as a party and obtains a decree order, then he would rise higher up in the order of priority and will be paid before the vendors' Rs 10,000 crore is settled.
Fighting simultaneously in two forums
Consumer protection experts say that cases pertaining to the same causes, fought separately in the NCLT and consumer courts, can lead to clashes. Jehangir B Gai, a Mumbai-based consumer activist says, "The NCLT is a comparatively new forum and cases are moving faster compared to how they do in consumer courts, where there are backlogs. Home buyers of HDIL housing projects have been awaiting adjudication of their complaints – filed several years ago – by the consumer commissions, while NCLT has (already) initiated proceedings."
When these home buyers approached the RP, they were advised to pay the balance amount and take illegal possession of the flat without the Occupation Certificate to protect their right to the flat.
Gai says this is absurd while equating it with jewellery stored in a bank locker being auctioned when a bank goes bust. "It may be in the bank, but that does not make it the bank's property."
Be prepared to wait it out
Court cases in India have been known to go on for months, often years. NCLT has a waiting queue of 6,000 cases of the total 12,000 filed since June 2016. According to a report from Motilal Oswal Securities, the average time taken for the resolution of cases stood at 410 days, as of March-end.  On the other hand, Consumer Courts have lakhs of cases pending at all the three levels – District Forums (5.5 lakh), State Commission and the National Commission (3 lakh).
"It used to take five years earlier, now if consumers file online, it would take 2-3 years. The District Forums also take four years," says Wavikar. Vohra points out, "It is not a viable option. Consumers today face misery due to the process of law – too many uncertainties, too much effort and too many nuances. The mechanics of law are in place, but the implementation is an issue."
Different courts can lead to opposing views
Even the judgements passed by each are difficult to act upon and leave one perplexed. So, if HDIL flat-owners approach the Consumer Court, it would simply pass an order for deficiency in service by ordering the builder to complete construction, obtain the Occupation Certificate (OC) and hand over possession of flats. "If the company is liquidated and no longer in existence, who is going to obtain the OC and handover the flat? Surely not the NCLT," Gai questions.
NCLT, on the other hand, would order auctioning of flats during liquidation proceedings, leaving the flat owners in lurch. "It is extremely doubtful if the flat purchasers would even be able to recover their dues, let alone get legal possession of their flat. Even the consumer forum cannot overrule the NCLT's decision," Gai adds.
Currently, there is nothing much that a customer can do, apart from approaching a consumer court or staking a claim with the resolution professional and assessing whether a sale of assets would meet their dues.
Parallel systems of resolutions are a big pain point in the justice process. But as Gai says, "When the law is framed, it has to take into consideration all these factors and even judges have to protect the rights of third parties." Globally, Germany and Britain have overhauled their Consumer Laws. India, too, revamped its Consumer Protection Act (this month). But whether this would result in swifter judgements for those whose money is stuck with bankrupt companies remains to be seen.
First Published on Jul 30, 2020 09:09 am