While investing in mutual funds, it is the fund's track record, fund manager's consistency and risk adjusted return strategy that investors should be more bothered about, than a free life cover added benefit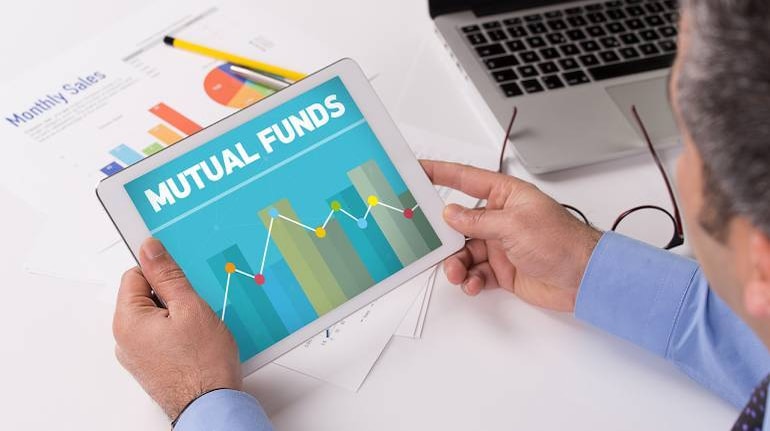 Recently, fund houses, namely ICICI Prudential AMC, Reliance Mutual Fund and Birla Sun Life Mutual Fund, have launched an add-on feature, which is providing life insurance cover to the investors. The life insurance cover provided is available to investors of select schemes of these fund houses and is directly proportional to the monthly SIP investments being made by the investor. This feature provides coverage against the uncertainties of life besides enabling investors to accumulate wealth.
B Ramakrishna, Executive Vice President, ICICI Prudential AMC, said, "The thought behind offering such a feature was to make the investing experience more special for investors. We seek to inculcate the habit of regular investing for longer duration and this insurance cover is a reward to investors for investing consistently to achieve long-term financial goals." The feature is an add-on optional one and that too at no additional cost. The premium for such insurance cover is funded by the fund houses.
Age criteria of investors to be eligible for add-on feature

Investors aged above 18 years and not more than 51 years at the time of the first investment are eligible to opt for the insurance cover. Further, the cover ceases as the investor crosses the maximum age as prescribed by the fund house.
How does it work?

In order to be eligible for the insurance cover, the SIP registered should be for a period of three years and above. The cover is 10 times the monthly SIP instalment in the first year, which increases to 50 times in the second year and then 100 times third year onwards. There are caps to maximum cover by these AMCs. The following table gives an idea of how this life cover feature works: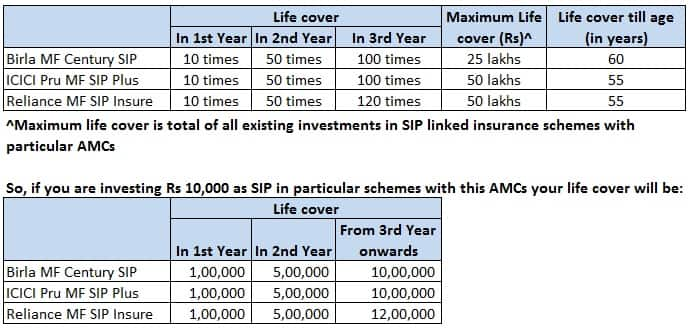 What if an investor exits mid-way / stops SIPs / withdraws partially?

Ramakrishna explained, "If the investor discontinues the monthly investment before three years, the insurance cover under SIP Plus stops immediately. However, in case the SIP Plus is discontinued after three years, the insurance cover is available equivalent to the value of SIP Plus units so allotted as per the valuation on the first business day of the month in which renewal confirmation is given."
Sundeep Sikka, ED and CEO, Reliance Mutual Fund said, "In case the investor discontinues SIP insure after completion of minimum period of contribution i.e. for three years, the sum assured will be equivalent to the fund value subject to maximum of 120 times the monthly SIP instalment or max sum assured limit i.e. Rs 50 lakh, whichever is lower."
Further, the insurance cover will cease to exist in the following circumstances: "Partial or full redemption / switch-out of units purchased under Reliance SIP Insure before completion of the mandated SIP tenure / instalments or till attaining 55 years of age, whichever is earlier; discontinuation of SIP instalments before completing the minimum period of contribution i.e. for three years of the opted SIP tenure," Sikka added.
Merits
"One of the key advantages of SIP with insurance cover is that the scheme provides a free group insurance cover to the investor without any extra cost. This insurance coverage shall continue to pay the SIP amount in case of premature death of the investor to achieve his investment goals," said Taranpreet Singh, senior consultant with TASS Advisors.
Anil Rego, CEO and founder of Right Horizons, added, "It's virtually free insurance for a mutual fund investor. To get a bigger life cover, an investor would need to boost his / her systematic investment plans. This indirectly boosts their wealth creation chances."
Demerits
This add-on insurance feature is not available under all schemes and therefore it provides limited choice to the investor in terms of selecting the funds. Singh said, "The insurance claim, if any, needs to be settled with the insurance company directly and AMC does not provide any support in this aspect. Further, the insurance coverage is provided to only the first unit holder and is not extended to joint/ second unit holder."
Buying this cover as the only protection is not a smart move. Rego said, "This is because life covers in these features are only a multiple of your SIP. Ideally, insurance should be taken on a multiple of annual income. Further, any insurance whose cover ends before you turn 60 is not a good
cover
. Most of us retire at 60. So, the cover should exist till you turn 60."

What do experts recommend?
Rego said, "Opting for this scheme merely because they provide a free life insurance cover is a sub-optimal decision. While investing in mutual funds, it is the fund track record, fund manager's consistency and risk adjusted return strategy that investors should be more bothered about, than a simple life cover added benefit."
Ideally, an investor needs a 10-20 times annual income life cover. If total life insurance sum assured across different schemes do not get the same, you are under-insured. So, the investor needs to take a term insurance coverage to support his family members in case of untimely death.
Singh said, "This add-on feature can be explored by new investors with lower risk appetite. This provides them with additional protection to achieve their financial goals in the case of untimely death. However, this feature is not available with all the funds and therefore this restricts the choice of good fund for investment."
Follow @thanawala_hiral
First Published on Jun 14, 2018 12:50 pm