Vajpayee had paved the way for liberalisation of the telecom and insurance sectors.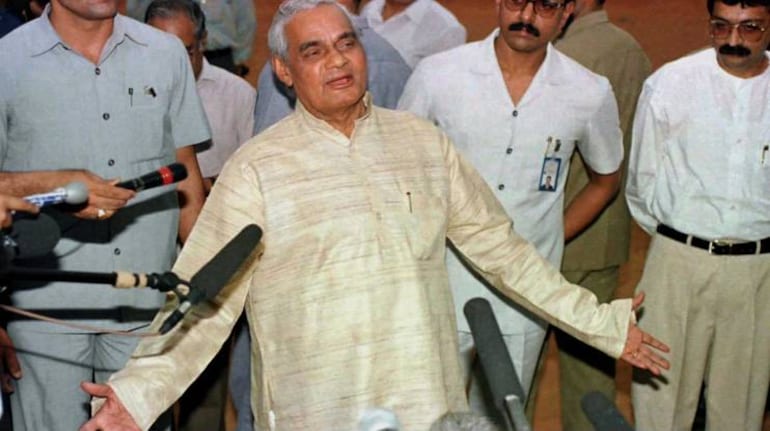 Visionary leader and former prime minister Atal Bihari Vajpayee, who passed away at the age of 93 at AIIMS (New Delhi) on August 16, was the forerunner for several economic reforms undertaken by his successors. Be it the Goods and Services Tax (GST), divestment programme of state entities or liberalisation of the insurance sector to allow private entities, Vajpayee was the man behind many key decisions.
Here's a lowdown on five major economic decisions that former PM Vajpayee took to change the course of India's journey:
Goods and Services Tax
GST was implemented in India on July 1, 2017. However, it was Vajpayee who had first mooted the idea of a common tax structure for goods and services across the country. In 2000, the Vajpayee-led government had set up a committee to design the backbone of the GST model and ensure that the technology back-end was put into place. However, due to lack of consensus among the parties and individual states, the reform was delayed for as long as 17 years.
Sarva Shiksha Abhiyaan
The mission to provide free and compulsory education to all children between 6 and 14 years of age was driven by the former PM. The primary objective of the scheme, which commenced in 2000-01, was to reduce dropouts and increase the net enrolment ratio at primary level. In fact, the song School Chale Hum that was used to promote the scheme was penned by Vajpayee himself. With the mission in full force, the rate of dropouts reduced from almost 40 percent in 2000 to less than 10 percent in 2005.
Fiscal Responsibility Act
The government, under the former PM Vajpayee, enacted the Fiscal Responsibility and Budget Management (FRBM) Act in 2003. The Act had set targets to reduce fiscal deficits and boost savings in the public sector. While there were several amendments made to the Act, it was Vajpayee who brought forth the idea of keeping fiscal deficit under check at 3 percent of gross domestic product (GDP).
Telecom reforms
India boasts 984 million active wireless phone users (as of May 2018)and credit for the same should go to Vajpayee. In 1999, his government took a decision to end state monopolies for entities like Bharat Sanchar Nigam Limited (BSNL) and introduced a new Telecom Policy where a revenue-sharing regime was started. This led to revenue sharing model and eventually paved the way for  call rates getting cheaper as well as affordable mobile phones.
Disinvestment/Privatisation
One of the flag-bearers of divestments in public sector undertakings, former PM Vajpayee had set up a separate department for disinvestment as early as 1999. Under his leadership, large disinvestment initiatives including that of Bharat Aluminium Company (BALCO), Hindustan Zinc as well as Videsh Sanchar Nigam Limited.
The insurance sector, until 1999, was dominated by state-owned entities in both life and general insurance segments. The sector was privatised to allow corporates to set up insurance companies. Foreign direct investment of up to 26 percent was permitted that led to several global insurance companies entering India. Co-incidentally, the Insurance Laws (Amendment) Act was passed in 2015 under Prime Minister Narendra Modi's leadership that allowed foreign shareholders to hold up to 49 percent stake in Indian insurance companies.
First Published on Aug 16, 2018 08:21 pm