As part of the deal, co-founder and executive chairman Sachin Bansal will exit completely, selling his 5.5 percent stake.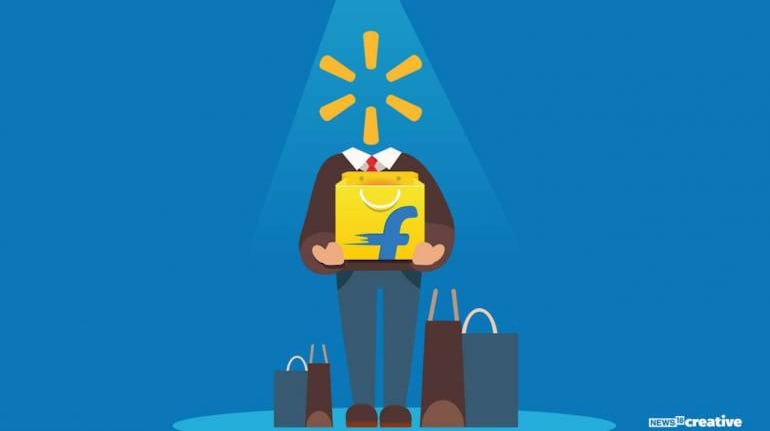 Global retail giant Walmart announced on Wednesday that it would buy 77 percent of online retailer Flipkart for USD 16 billion, as it made an elephant-footed entry into India's exploding e-commerce market.
The remainder of the business will be held by some of Flipkart's existing shareholders, including Flipkart co-founder Binny Bansal, Tencent Holdings Limited, Tiger Global Management LLC and Microsoft Corp
Walmart's foray into India's online retail space set the stage for an American business war against Amazon.com Inc in the world's fifth largest economy.
"India is one of the most attractive retail markets in the world, given its size and growth rate, and our investment is an opportunity to partner with the company that is leading transformation of eCommerce in the market," said Doug McMillon, Walmart's president and chief executive officer.
Also Read: Why Walmart is investing in a loss-making Flipkart
The deal valued Flipkart at USD 20.8 billion. Walmart will also be investing USD 2 billion directly by infusing fresh equity in the Bengaluru-based company founded by Sachin Bansal and Binny Bansal (they are not related) in October 2007.
It was not immediately known whether Google-parent Alphabet Inc, with whom Walmart is reportedly partnering for its India e-commerce foray will bring in fresh investment into Flipkart, for a stake in the company.
As part of the deal, co-founder and executive chairman Sachin Bansal will exit completely, selling his 5.5 percent stake. Binny Bansal will sell about 10 percent of his current holdings, lowering his stake to about 4.5 percent from the current 5.1 percent.
Also read: The beginning of a new bout between Walmart and Amazon
Binny Bansal will take over as the as the new Executive Chairman and Group CEO of Flipkart, implying he will also be steering the ship for Myntra, Jabong and PhonePe.
Krish Iyer, president and chief executive officer of Walmart India, will continue to lead that part of the business
Kalyan Krishnamurthy will continue in his current role as the Flipkart CEO.
Flipkart's existing shareholders including US-based Tiger Global Management and Accel, will exit partially and retain small stakes.
Tiger Global Management will pare its holdings by 60 percent, bringing its stake to 8 percent from the current 20.6 percent.
Sources indicated that these investors will likely have the option of selling their stake to the Bentonville-based retailer at a later date at the same valuation at which Walmart bought majority stake in Flipkart.
SoftBank, which owns 20.8 percent stake in the company will exit completely. The Masayoshi Son-controlled Japanese company will make a neat profit by selling its stake in Flipkart, with its investment of USD 2.5 billion set to fetch about USD 4 billion, a gain of 60 percent.
South Africa-based Naspers Ltd. and eBay will also completely exit, selling their entire 12.83 percent and 6.11 percent stakes.
Timeline: Flipkart's journey from a bookseller platform to India's largest e-commerce company
Apart from Binny Bansal, Tencent and Tiger Global will continue on the Flipkart board, joined by new members from Walmart.
The final make-up of the board has yet to be determined, but it will also include independent members.
Closing is expected later this calendar year, subject to regulatory approval.
Walmart will also buy out the most of the existing small investors that together own about 16.6 percent in Flipkart.
Flipkart will be listed on stock exchanges in the subsequent years, most likely by 2019-20 as a fully-owned Walmart subsidiary, a corporate strategy similar to what it has adopted in Mexico.
While Walmart India and Flipkart will leverage the synergies, they will maintain distinct brands.
Walmart and Flipkart are also in discussions with additional potential investors who may join the round, which could result in Walmart's holdings moving slightly after the transaction is complete.
Even so, the company would retain clear majority ownership. Closing is expected later this calendar year, subject to regulatory approval.
To finance the investment in Flipkart, Walmart intends to use a combination of newly issued debt and cash on hand. Upon closing, Flipkart's financials will be reported as part of Walmart International.
Assuming closing at the end of the second quarter of this fiscal, Walmart expects a negative impact of 2018-19 earnings per share (EPS) of approximately USD 0.20-USD 0.25, which includes incremental interest expense related to the investment.
"As a company we are transforming globally to meet and exceed the needs of customers and we look forward to working with Flipkart to grow in this critical market," McMillon said in a statement.
In the fiscal year ended March 31, Flipkart recorded a gross merchandise value (GMV) of USD 7.5 billion, effectively meaning that goods worth USD 7.5 billion were traded through its site involving thousands of sellers and millions of buyers. It recorded net sales of USD 4.6 billion during the year, representing more than 50 percent growth in both cases.
"This investment is of immense importance for India and will help fuel our ambition to deepen our connection with buyers and sellers and to create the next wave of retail in India," said Binny Bansal.
"While e-commerce is still a small part of retail in India, we see great potential to grow. Walmart is the ideal partner for the next phase of our journey," Bansal said.
WALMART INDIA 2.0
Last year, Google had struck a partnership through which Walmart products are sold on Google Express, the internet search giant's online mall. Indian consumers can also look forward to personalised voice shopping of Walmart and Flipkart products by simply speaking out the orders to Google Home devices.
This will be Walmart's largest acquisition in the e-commerce space. It had acquired Jet.com for USD 3.3 billion in 2016. Last month, Walmart gave up control of its UK grocery chain Asda, merging it with British retailer J Sainsbury Plc. Walmart will retain a 42 percent stake in the combined company.
The decision to cede control of Asda is seen as part of Walmart's global strategy to focus more attention and resources on faster expanding markets such as India where consumer spending capacity has been rising significantly.
According to India Brand Equity Foundation, a government-supported research agency, the Indian e-commerce market is expected to reach USD 64 billion by 2020 and USD 200 billion by 2026 from USD 38.5 billion as of 2017.
With growing internet penetration, internet users in India are expected to increase from 481 million as of December 2017 to 829 million by 2021.
This will be Walmart's second coming of sorts for India's retail market. In 2013, it pulled out of its wholesale joint venture with Bharti Group.
Walmart's investment in Bharti has come under a scanner amid allegations that the global retail chain may have entered India's front-end multi-brand retail business two-and-a-half years before the government actually lifted the ban on foreign investors in the sector.
Bharti Walmart, an equal partnership joint venture between Bharti Group and Walmart, jointly ran wholesale stores under the `Best Price Modern Wholesale' brand.
Walmart India currently operates 21 B2B Best Price cash-and-carry stores and one fulfilment centre in 19 cities across nine states in India.
"This investment aligns with our strategy and our goal is to contribute to India's success story, as we grow our business. Over the last 10 years, Flipkart has become a market leader by focusing on customer service, technology, supply chain and a broad assortment of products. With Flipkart and the other shareholders who have come together, we will continue to advance the winning eCommerce ecosystem in India," said Judith McKenna, president and CEO of Walmart International.
The retail giant intends to scale up with plans to create "millions of jobs through supply chains, commercial opportunity and direct employment."
It also plans to support small businesses and `Make in India' through direct procurement as well as exports. Walmart said it will partner `kirana' (neighbourhood grocery stores) owners and members to help modernize their retail practices and adopt digital payment technologies.
Walmart also intends to scale up its sourcing of Indian merchandise and farm products, which, according to the company could result in an increase of an estimated USD 7 billion in farmer incomes, comparable to a doubling of the incomes of an estimated 6-6.5 million rural households.
The company said it will also invest in supply chains and cold storage infrastructure, helping reduce food wastage.
Beginning 2019-20, Walmart anticipates an annual (EPS) headwind of around 60 cents per share comprised of operating losses of approximates USD 0.40 per share, assuming minimal tax benefit losses.
It also anticipates interest expense of approximately USD 0.15 per share, amortisation of intangible assets of approximately USD 0.05 per share, resulting from purchase accounting. This should be applicable for a few years after the deal's closure.
"We believe we can continue our current share buyback programme, while maintaining our strong credit profile. This investment represents a unique opportunity in a market with significant long-term growth prospects," the company said.
The company said that over time, as the business scales and efficiencies are realised, Walmart expects losses to decline and returns to improve.
LOCAL RETAILERS OPPOSE
The transaction made Flipkart co-founders and software geeks-turned-e-commerce entrepreneurs fabulously rich, but left nagging questions on an Indian dream to build a world beater technology company.
The deal, however, raised questions on regulation and nationalism in an election year, with local traders—a core constituency of the ruling Bharatiya Janata Party (BJP)—sparing no punches in opposing the Walmart-Flipkart embrace, arguing that such mega online supermarkets that offer deep discounts will endanger the livelihood of millions of neighbourhood mom-and-pop stores and street vendors.
The Confederation of All India Traders (CAIT), an umbrella association representing millions of traders, has demanded government scrutiny of the Walmart-Flipkart deal, which it says will only encourage predatory pricing.
It wanted the "unholy nexus" to be "scanned and stopped" and wondered why the government was "keeping its eyes and ears shut" despite knowing the "intent and hidden agenda of companies like Walmart".
VODAFONE TAX REDUX?
Question marks, however, loomed over potential tax disputes that could emerge from the deal that will rank as the biggest inbound transaction, greater in value than the USD 12.9 billion Essar Oil-Rosneft deal.
The Walmart-Flipkart transaction is likely to conclude in Singapore where Flipkart is registered. That, however, may still attract taxes in India, given that Flipkart is primarily an `Indian' asset.
Tax authorities will likely draw parallel between the Vodafone's acquisition of Hutchison Whampoa's telecom assets in India in 2007. It paid USD 11 billion for 67 percent of Hutchison Essar.
A Cayman Islands-registered arm of Hutchison received the payment from Vodafone.
India's Income Tax (I-T) department, in September 2007, issued notices to Vodafone saying it was liable to pay taxes on the transaction. The I-T department's argument was that the Cayman Islands transaction was essentially a transfer of an Indian asset and, therefore, Vodafone should have deducted tax (often called withholding tax) when it paid Hutchison for the deal.
Vodafone had contested it in courts on the basis that no tax was due in any event as the deal was concluded in Cayman Islands.
In January 2012, the Supreme Court ruled in Vodafone's favour, holding that tax authorities do not have jurisdiction on an overseas transaction, thus setting aside a Bombay High Court judgement asking the company to pay income tax of Rs 11,200 crore.
Shortly thereafter, in the budget for 2012-13, the then finance minister Pranab Mukherjee introduced amendments in the Income Tax Act empowered authorities to tax companies for acquiring assets in India even if the deal was concluded overseas, retroactively from April 1, 1962.
According to these rules, which have come to be known as the "Retrospective Tax," any asset which is registered or incorporated outside India shall be deemed to be situated in India if the assets "substantially" located in India."
Vodafone has since initiated arbitration proceedings under the India-United Kingdom and India-Netherlands Bilateral Investment Protection Agreement in connection with the tax demand.
There is a possibility that taxmen may apply the same rules for the Walmart-Flipkart deal.
Gurcharan Das, former CEO, P&G India speaking on the deal said that the deal will be a game changer for both India and Flipkart. "What Walmart does better is the efforts they make in getting fresh farm produce to the cities at the lowest cost. I remember when Walmart went to Africa, they spent the first two years in countries like Nigeria to grow the right kind of tomatoes, potatoes. What happened there was that the farmers were huge beneficiaries," Das said.
He said that deal will give global access to Flipkart and its private labels. Flipkart Walmart deal will also create a huge number of jobs, Das said.
Former DIPP secretary Ajay Dua said that the exchange of shares worth $15 bn, held mostly outside the country is huge. The deal won't result in actual FDI in the country, he said. There are 56 percent shares of the company held overseas. The valuation of $20 bn that Walmart has agreed to is much more than what India has seen.
"In India, Amazon has put in close to $10 bn in the e-commerce space itself. Another $500 mn is being planned in the Indian market," Dua said.
First Published on May 9, 2018 04:38 pm