Soaring temperatures are likely to drive demand for air conditioners in 2018 even though penetration remains low
With the Indian Meteorological Division (IMD) warning of above-normal temperatures in the calendar year 2018, this summer season (April to June) across most parts of the country is set to be scorching.
This, could boost a 15 per cent growth in the room air-conditioner (AC) sales, as per a research report by Motilal Oswal.
"The soaring temperatures are likely to drive demand for air conditioners in CY18. A low base of the previous year (demonetisation impact) may also provide support. We expect India's room AC industry to grow at a 15% CAGR over FY18-20," said the report.

The report said that there are 9.1 million households with washing machines and 24 million with refrigerators but no ACs. It also added that as more households install ACs going forward, demand could reach 18 million to 48 million (which is equal to 3-8 years of annual industry AC sales) and penetration levels could increase significantly from current low levels of 10 percent in urban India.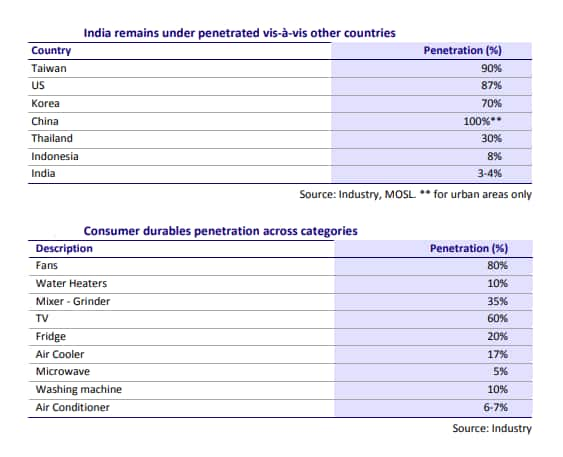 Given the improving macroeconomic conditions, the report said that ACs are now considered as a necessary rather than a luxury item, with many houses even installing multiple ACs.
Earlier, an air conditioner was previously considered as a seasonal product (used mostly during summer months). However, manufacturers have now started offering heating/cooling options so that it can be used throughout the year.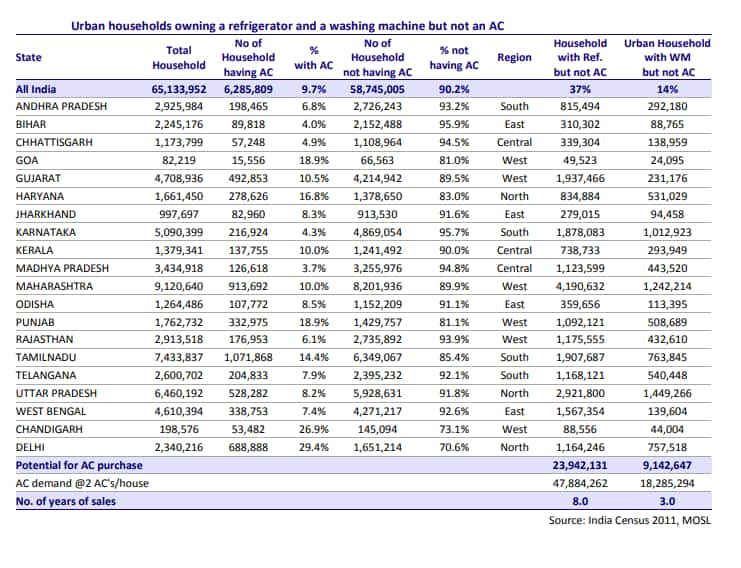 According to the report, around 65 per cent of the total numbers of hours in a year have a temperature above 24 degrees (based on the weather profile of 54 major cities in India).
"This, supported by rising income levels, has been the key driver of increasing demand for ACs. In our view, ACs could be one of the largest discretionary budget items in India over the next few years," said Motilal Oswal.
Among the companies operating in this space, the report said that competitive intensity in the room AC industry remains high, with more than 40 brands competing for market shares. Voltas, Lloyd Electric, Blue Star, LG, Hitachi and Daikin India are among the large brands operating in the AC space.
Quoting the GfK Nielsen's multi-brand outlet survey, the report said that Voltas ranked first with a share of ~23 percent Q3 FY18, but this does not include sales by exclusive brand outlets of MNC players.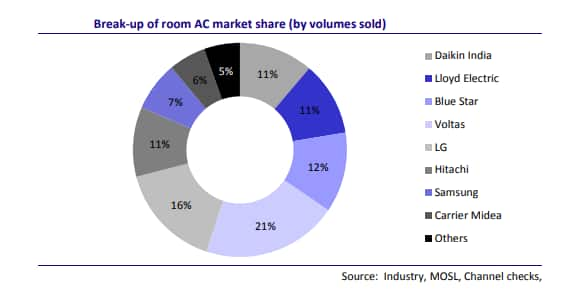 Brand, distribution, service network and dealer margins are key differentiators as per the report. It said that brand, distribution (~50–55 percent of AC sales now in tier 2/3 cities), service network and dealer margins are the key success factors in the industry. Companies typically spend 1-7 per cent of their sales on advertising.
First Published on Apr 18, 2018 01:42 pm