Stocks which have more than doubled so far in the year 2020 include names like Aarti Drugs, AGC Network, Suzlon, Dixon Technologies, Granules India, Eveready Industries, etc. among others.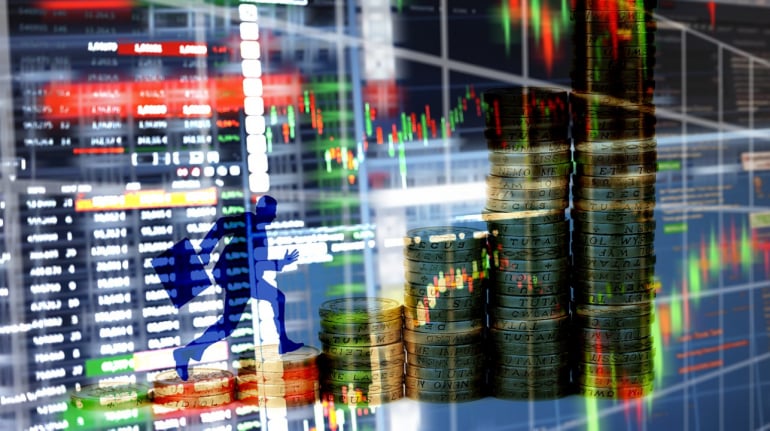 The influx of retail investors into the market in 2020 suggests that the new-age millennials have the cash and are not afraid of taking risk. Retail investors raised stake in more than 170 companies in the June quarter.
The stocks of 11 of them have gained more than 100 percent in 2020 so far.
The new-age investors seem like millennials in nature. They are no longer conservative and want to explore new options for generating alpha.
According to a media report, data from the Securities and Exchange Board of India (SEBI) showed that investors opened a record 2.4 million demat accounts in the June quarter, or 5.6 percent of the total number of such accounts, reflecting the growing retail participation in stock markets. In the six months ended June 30, 3.9 million accounts were added.
Listen | Business has recovered fast to pre-COVID levels: Urban Company Co-founder Abhiraj Bhal
Stocks that have more than doubled so far in the year 2020 include names like Aarti Drugs, AGC Network, Suzlon, Dixon Technologies, Granules India, and Eveready Industries.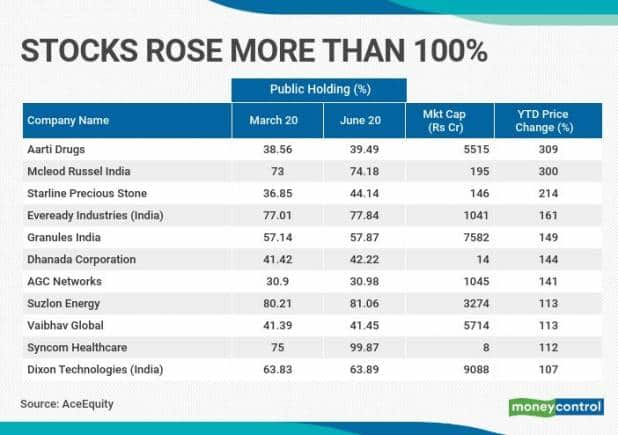 Experts are of the view that most of the stocks in the list are from the small & midcaps space. They are at best trading play and investors should book profits while stocks like  Dixon Technologies, Aarti Drugs, Vaibhav Global, and Granules India.
"Of the 12 stocks under consideration, 3 are penny stocks, 5 are going through turbulent times due to various reasons. Investors cannot consider these stocks worthy of long-term investment based on current financial strength or promoter pledges or poor financial performance," Tejas Khoday, CEO and Co-Founder, FYERS told Moneycontrol.
"The best stocks among these 12 would be Dixon Technologies, Aarti Drugs, Vaibhav Global and Granules India. Traders who have chosen the first set of 8 stocks have gone with the flow and made money," he said.
Small & Midcaps top picks:
Retail investors raised stake in 173 companies and about 17 percent of them are in the large-cap space with a market cap of over Rs 20,000 cr while almost 80 percent of the companies are from the small, mid, and micro-cap space, data from AceEquity showed.
Some of the large-cap names in which retail investors raised stake include names like HDFC Bank, HUL, Bharti Airtel, Kotak Mahindra Bank, Wipro, Axis Bank, HDFC Life Insurance Company, Britannia Industries, Dabur India, M&M, Dr Reddy's Laboratories, and Tech Mahindra, etc. among others.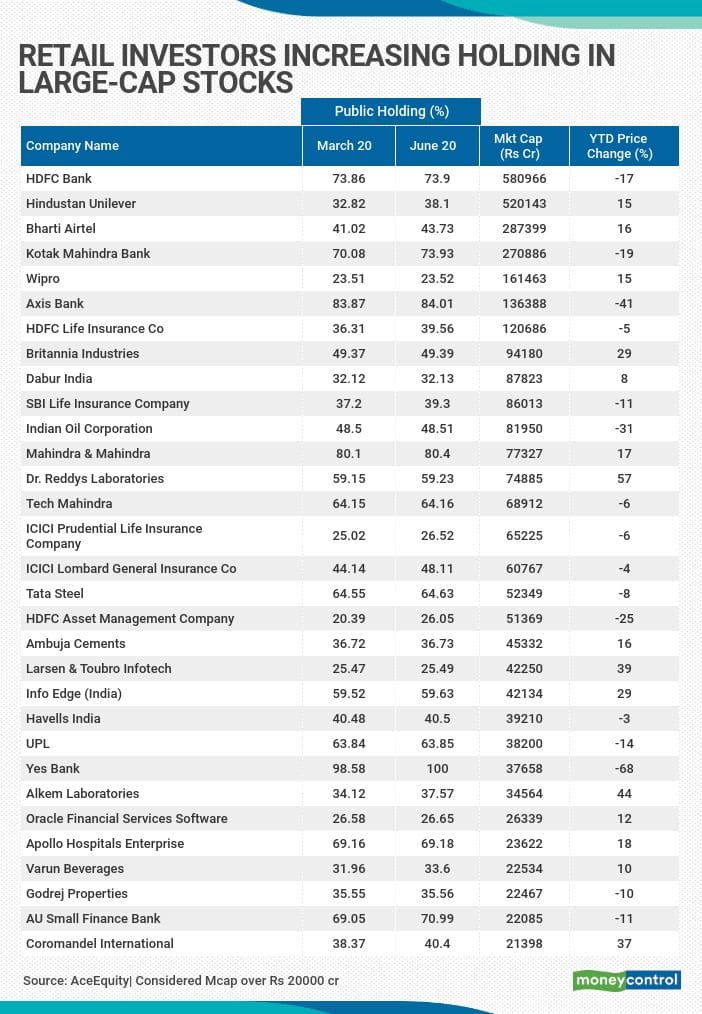 After the outbreak of COVID-19 across the world including India, measures introduced by the government favoured small & mid-cap space, and that could be one big reason why money started to move in the broader markets apart from attractive valuations.
Over a 3-year period, Nifty50 has given a return of 15 percent, while the Nifty Mid-cap index is still down 7 percent, and the small-cap index is down by 27 percent. Hence, there is still a lot of ground to cover.
"While the data shows that retail investors preferred small and midcaps - a proxy for higher growth, these were the very same stocks which were beaten down the most in the March bottom," Siddharth Panjwani, Chief Strategy Officer Pickright Technologies told Moneycontrol.
"Retail investors have shown some rationality when the market was placing a huge discount for these companies and bought stocks in the hope that the growth is higher than market expectations. The question is whether this growth will pan out in the Indian context," he said.
Will the party last?
Post March the only direction in which equity markets were headed was up. The liquidity wave took all boats in one direction and that is higher – so retail investors or Robinhood investors have very little role to play when it comes to pushing markets higher.
Anecdotal data suggest that ever since the global financial crisis in 2008, investors have seen Central bank puts in place measures to support the economy which has in turn lifted equity markets across the globe.
"In some sense, Robinhood investors have been conditioned to seeing bad news for the economy meaning good news for the Equity markets. While this could be sustainable for some time, it is highly unlikely that it will sustain in perpetuity," said Panjwani of Pickright Technologies.
"In that sense, at least for the current environment, Robinhood investors seem to have the appetite to take on extra risk and to be coming of age. The caveat to all this is that one cannot say when the party will end and music will stop. The other thing that we should differentiate is between cause and effect," he said.
Have Robinhood investors caused the market to rally, or have rising markets caused Robinhood investors to invest? Panjwani says that it looks like the former and markets have risen due to excess liquidity, then fundamentals are moving away from reality - a sign for caution.
Disclaimer: The views and investment tips expressed by investment experts on Moneycontrol.com are their own and not that of the website or its management. Moneycontrol.com advises users to check with certified experts before taking any investment decisions.
First Published on Sep 8, 2020 09:55 am