According to Rostow Ravanan, Mindtree CEO and MD, a bot helps a human balance life, giving it a chance to go out and learn new skills.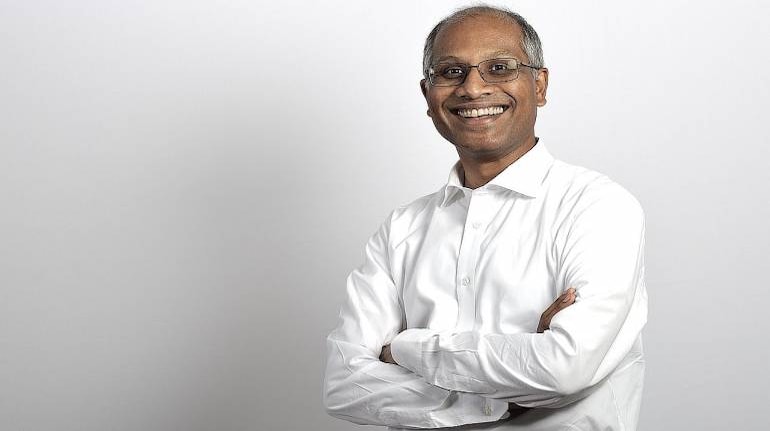 Chief Executive Officer and Managing Director of Bengaluru-based Mindtree, Rostow Ravanan, is at ease as he talks about bots and those that bots seek to replace - humans. According to him, a bot helps a human balance life, giving it a chance to go out and learn new skills.
He says bots are most suited for most kind of predictable jobs where no judgment was required. He is quick to say that an employee may have a genuine grievance on being replaced by a bot (a software that does certain jobs) and hence the key is to help the staff upskill.
In an interview to Moneycontrol, Ravanan spoke extensively on the importance of learning and the challenges facing the software industry. He said the company's onboarding of hires in April and May was higher than the levels in previous years.
Ravanan said the company was committed to its target of hiring 1,900-2,000 campus graduates this year and sees no need to revise that number. He said the hiring of laterals would be reviewed every quarter even as April and May had seen impressive additions to their number.
He said Mindtree had rolled out average wage hikes of 7-8 percent for offshore and about 3-4 for onsite employees in April.
Here are the edited excerpts from the interview:
Q: Digital is still a vague term in the minds of many. What does it mean for you?
A: So let me go back a little bit and tell you what we define as digital. We define digital and we put that in our factsheet, whenever we declare results every quarter.
In our definition of digital, we take one or two ways of defining it. To a business user, we definite digital from a business process perspective to say anything that allows my customer to connect to their customer better or anything that allows my customer to connect to their people better is one way of defining digital from a business process point of view.
Or if you were to look at digital from a technology definition point of view, we say it is social, mobility, analytics, cloud, and e-commerce. From a technology point of view, that is how we define digital.
When we report quarter after quarter, year after year, our definition has remained the same for the last three years. So that's how we define digital.
For us, both digital and the traditional services are both growing really well. Both pipeline piling, deal creation, deal wins, etc both are doing really well for us. Both have their own unique flavours.
For example, if you look at the traditional services like infrastructure or testing etc, the amount that we have been able to bring in, platforms, tools, artificial intelligence, automation, kind of some innovation or high technology is making a big impact to our customer.
We can promise significant year over year productivity improvement, cost savings etc for our customer, significantly improve the people satisfaction score within our customer because all the routine mundane kind of activities are being done by software and not suck up the human effort for finishing that kind of activities etc. That's also very innovative, high growth, high profitability piece for us.
Similarly, on digital, I think there's almost like a synonymous feeling between Mindtree and digital. We have made digital real for many of our customers till today. Some of the largest, complex programmes in digital anywhere in the world are being done by us.
For example, we are taking personalisation as a theme because retail wants to do personalisation, travel wants to do personalisation, multiple people want to do personalisation there.
So we, for example, we have our own sandbox that you call decision moments. Customers can come and put in their data, use our platform and then drive personalisation for their own business. So we have invested a lot in creating solutions like that for them.
Q: What kind of growth in digital are you expecting in the ongoing year? Will the growth momentum in digital continue at the FY18 pace?
A: So digital is growing really well for us. Over the last two years or so, digital has grown 2x of Mindtree. If Mindtree grows x, digital is growing twice as Mindtree but part of it is because of continuous productivity improvement we have promised to customers on the run piece. We tell the customer, every year we will cut the price by 10 percent or 15 percent or 20 percent or whatever.
There's a natural revenue decline year-on-year over there but digital at least is continuously growing compared to the rest of the industry. So from our perspective, both are growing really well.
Digital will still grow fast. So last year for example when we ended March 2018, Mindtree grew about 9 percent, digital grew about 18 percent, so digital grew almost 2x of Mindtree. So even this year, I think digital will grow quite, quite fast, quite healthy for us. But like I said, both will grow.
Mindtree as a whole will grow. I am not giving guidance, therefore I am not giving the exact percentage of growth there but what we have told the investment community is we will continue to grow faster than the industry.
The industry has projected somewhere between 7 and 9 percent growth for the industry if we go by Nasscom projections. We will continue to grow faster than that. We have also said we will grow faster than our last year's number.
Last year, like I said, we grew 9, we have said we will definitely grow much higher than 9 this year. If you look at the last two quarters, we have done really well and hopefully, we will be able to continue that momentum.
Q: Are AI, bots, and automation now an automatic choice wherever Mindtree can deploy one or is there still a toss with humans?
A: I think we will probably take credit for being the first one to declare the number of bots that we have but I am conscious that many companies have used bots even longer and today if you go to some of the large companies, they may much more bots than I have. I only take credit for being the first one to declare it.
We have 335 bots as on March 31, maybe another 30-50-100 whatever gets added during the quarter, so they continuously grow but we were the first one to declare. Our workforce was 17,723 human Mindtree minds and 335 bots when we declared our results for March 31, 2018.
Other than the creativity of declaration, I don't think I was the first one to or the largest to deploy.
Many people have done good work in this field in the industry. When it comes to project delivery, I think the predominant feeling is whether it is for customer project or whether it's for an internal project, even if we look at our internal project right now, say for example payroll processing or invoicing or whatever that we do.
Our feeling is if it is something that is first of all repetitive and if it follows a predictable decision process, we may look at something, make the same decision every time if the decision criteria can be formalised and if it is repetitive, the idea is to use automation to get that work done.
Only when there is either not repetitive, or the decision process cannot be formalised, if somebody has to eyeball it, apply some judgment and say I go left or right in a particular direction, only then we look at the human effort to be able to do that.
But otherwise, wherever it is repetitive, the idea is to first see if we can do automatically through automation than to do through manual labour.
It applies to anything, whether it is testing or infrastructure kind of thing that we do for customers or even internal processes.
Q: There is also a belief that if it's not taking too much of management bandwidth, doesn't cost much and doesn't employ a significant number of people, it may not be a bad idea to let humans continue running the process. What's your view and so internally, where does automation start and where does it end for you?
A: Automation is as much as enabling people because if it is a process that people are doing with repetitive work without any application of mind, then over time people find their job boring, there is no content in their job, there is no growth path for them, etc etc. But still, work needs to be done. So they come Monday morning, go back Friday evening. My answer is also driven by the needs of our people.
If that process is automatable and therefore automated, then people can finish their work earlier, maybe have a better work-life balance, maybe use that time to go learn a new skill and so on and so forth. It is also a way for me to also increase my people satisfaction. I am not doing automation only with the intention of cost saving or efficiency improvement.
Now that is one important goal, no doubt, but using automation, we can also improve people satisfaction. If you look at the amount of time that we have been able to save for people and therefore they can go and learn a new skill, it's a way by which we can also then make people ready for the future.
If you are doing a boring job, repetitive job and you are doing the same thing again and again and again, don't have any time to go invest in a new skill learning, then one day something will happen and the job will get automated. Then the organisation has not invested in you to be prepared for a new job and then that person will obviously be resentful towards the employer.
You sucked every drop of blood out of me as long as you wanted and now that you are able to do it in a cheaper way, you are throwing me out on the street there. We actually want to pre-empt it because for us helping our people learn and grow is as important as productivity improvement, efficiency and cost saving as well which is why I want to do automation even for internal processes or even for jobs that don't have high bandwidth requirements. But otherwise, how will I grow those people?
Q: The first quarter of the financial year is getting over. How has the hiring been and what's the outlook?
A: So this year, we are committed to recruiting between 1,900 and 2,000 campus graduates across both India and overseas and across both engineering students and management schools. So that plan is on. Typically, right now we are in the middle of deciding which campus we will go to, why and so on and so forth.
All that detail planning is going on right now but we are deeply committed to it.
I don't see any need for us to go back and revise it at the moment. Lateral additions, to some extent, is the buffer that will get determined either based on attrition or based on how business is growing.
I would say April and May we have had a significant number of lateral additions because business has done quite well but what will happen in July is difficult to predict today.
It is a function of what our pipeline is at that point in time plus also how some of the internal factors like attrition etc are shaping up there. Lateral recruitment will be finetuned quarter after quarter.
One campus batch joined us in April, about 250 joined us there. We have not made any offers in this quarter for the campus because campus recruitment typically happens from September to December timeframe.
Lateral admissions have happened both in April and May. April and May, our onboarding process was higher than what we have done in the past, so we continue to do that.
Q: What kind of wage hikes have you given this year?
A: Wage hikes were rolled out in first of April. I think we did 7-8 percent for offshore as an average and about 3-4 onsite as an average.
Q: Are you undertaking any capacity or hard infrastructure expansion?
A: No new cities but within each existing city, there is continuous expansion. So for example, we are still fitting out some of our extra seats in our office in Whitefield (Bengaluru).
At Mindtree Kalinga, we are building new residential blocks, new software developmental blocks, new academic blocks. So there is capacity expansion happening in Kalinga in Bhubaneshwar.
In Hyderabad, we are taking additional space within the same complex. So we are part of a larger SEZ (special economic zone) done by an external developer. It is not a dedicated Mindtree campus but within the campus, we have some amount of space and we are going to take an additional floor. So we are growing in all the cities we are growing.
Q: You have been active on the M&A front, having done more than a couple in the last few years. Can we expect another one this year?
A: At this point in time, no portfolio gaps can be solved by acquisitions. The portfolio is growing and every once in a while technology is evolving, so there will always be gaps there but at this point of time-based on what we have, I think an acquisition is not a solution to any of our current problems.
The last few ones solved specific niches for us. Magnet got us very deep SAP, very deep Salesforce experience. They also brought us some of the best Salesforce connects. When we bought Magnet, Salesforce was an investor in Magnet. Therefore, that gives us access to the sales team, to leadership teams within Salesforce.
Similarly, Bluefin got us great expertise and great connects into SAP. As and when we find those kinds of assets and they form part of a strategy, we will continue to do acquisitions but at this point in time, nothing is on the radar.
Q: You mentioned M&A is not a solution to any of your current problems. So what are those problems?
A: There is enough work that you feel excited to come to work on Monday morning. Handling all the disruption that's affecting our industry. And I will just take two.
Fundamentally, technology is changing everything that we are doing and preparing ourselves for it is a big challenge. The second is the transformation that our talent is going through.
At one level, what we're working on is that the entire middle management in our industry, not just Mindtree, but the industry as a whole, grew in an era where they were groomed to become people managers, process managers. So today, a lot of them have lost touch with technology and all of them have lost touch with customer expectations and all of that.
Getting them up to speed in the way the world is and the world will be in future has been a huge challenge.
So if we look at the amount of effort that I and the leadership team have done on analysing this, communicating to people, building awareness, building the tools and technologies to get them skilled and trained etc has been a big challenge and that needs to be pushed even more.
Similarly, for example, today, customer expectations are changing extremely dramatically. Today, customers are very, very sophisticated in terms of what they expect.
And secondly, historically, the Indian IT industry primarily sold to the technology buyer, to the CIO or the CTO or sold through the vendor management organisation etc.
Today when it comes to newer things like digital, business users are as much a part of the buying decision as the technology teams. So to connect with the business users, our sales teams need a massive upskilling to be able to deal with the new customer, new expectations. So that's another big challenge that we are working on.
Even personally for me also, the expectations that people have of leaders today are much more different. Continuous learning is a challenge for all of us as well. You have to do everything that you are doing and you also have to come back and deliver more for the future as well.
And then the challenge will always be to say how much do I balance the short term with the long term because the big issue is even an industry which is going through so much of transition, I have to deliver my present while I also imagine the future.
So keeping that simultaneous present and the future in mind is a challenge because several times you are required to make trade-offs.
If I lived in a perfect world, I will not get into this quarter after quarter reporting and get into things that I can make a big investment in AI and drive the business towards the long term. But I can't afford to do that. I am listed. My investors are expecting quarterly updates. So many of those are challenges that we are dealing with.
First Published on Jul 5, 2018 09:58 am