Coal and oil dominates India's energy mix. Renewable energy is expected to drive the future energy needs. However, during the transition process, natural gas may serve as a bridging fuel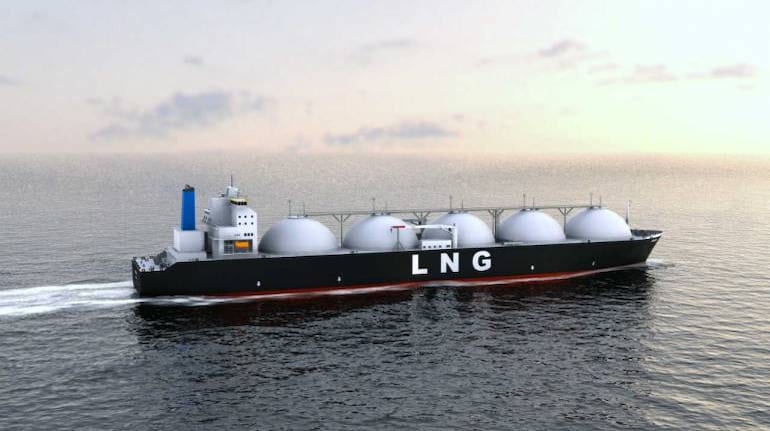 Sanjay Kumar Kar and Sayandeep Chandra
The positive linkage between energy and development has been fairly established. Energy is a key parameter for socio-economic development and researchers have established that its scarcity limits prosperity. Arguably availability and accessibility to modern energy could pull millions out of poverty.
India — the world's second-largest populous country, sixth-largest economy and third-largest energy consumer — is highly dependent on energy for its development and growth. In 2017, its total energy consumption of 753 million tonne of oil equivalent (MTOE) was higher than  Central and South America (700 MTOE).
In 2017, India registered a 4.6 percent growth in primary energy consumption over the previous year. During 2006-16, its energy consumption growth rate (5.7 percent) was higher than China's 4.4 percent. India's over dependence on fossil fuel emerges as a bigger concern than its lower per capita energy consumption.
Coal and oil, with a share of 57 percent and 29 percent, respectively, dominate India's energy mix. On the contrary, natural gas — the cleanest fossil fuel — contributes just over 6 percent in the energy mix compared to the global average of 24 percent. Renewable energy is expected to drive future energy needs. However, during the transition process, natural gas may serve as a bridging fuel.
Prime Minister Narendra Modi has been focusing on the environment and is committed to a carbon neutral economy. India's Intended Nationally Determined Contribution (INDC) aims for successful reduction in carbon by 33-35 percent as a percentage of GDP by 2030. In the context, natural gas is stated to play an important role in minimising India's carbon footprint.
From a 6 percent share in 2017, the Centre aims to expand share of natural gas to 15 percent by 2022 and 20 percent by 2030. A 9-14 percent increase in natural gas consumption will have a multiplier effect on the oil & gas value chain, consuming industries and infrastructure. The Centre is striving hard to build a much stronger foundation for a gas-based economy.
Considering the current economic growth rate, India's primary energy consumption is estimated to touch 940 MTOE by 2022. During this period, demand for natural gas will swell to 141 MTOE — almost threefold of 47 MTOE in 2017. In 2017-18, domestic natural gas production was 32.6 BCM compared to 52 BCM in 2010-11. Dwindling gas production from the Krishna-Godavari (KG) basin, which was supposed to give a big boost to India's gas industry, disappointed the producer, pipeline infrastructure developer, consuming industries and the government.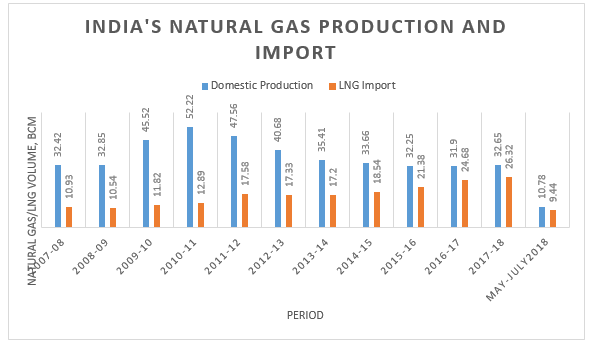 (Source: Prepared by the authors based on PPAC's data)
Low natural gas production resulted in under-utilisation of many cross-country pipelines, particularly the East-West Pipeline with a capacity utilisation of 21 percent. In 2017-18, with a flow of 161 mmscmd of natural gas, the gas grid utilised only 44 percent of its total capacity of 369 mmscmd.
The limited availability of domestic gas resources remains one of the biggest challenges for gas penetration in India. As a result, the role of imported liquefied natural gas (LNG) becomes critical to meet rising demand. It is evident that the import of LNG is on the rise. LNG import, which was just about 11 billion cubic metres (BCM) in 2007-08, touched over 26 BCM in 2017-18. About 45 percent of natural gas transported through pipelines was regasified LNG in 2017-18.
In addition to Qatar, new LNG sourcing destinations such as Australia, the United States and Russia have been added to India's sourcing basket. This is a welcome choice as the price of Brent crude is now trading above $84/barrel compared to $49.52/barrel two years back. The rise in oil price is bound to impact India's trade and the current account deficit. So, rising oil prices may help higher adoption of natural gas in India.
The Centre has been working hard to improve domestic gas production, but with limited success. It is no secret that higher domestic gas production is the ultimate solution to address rising import and trade deficit. Since April 2016, production from deep-water and high-pressure gas fields has been better monetised to attract investors and increase gas production. Besides exploring new fields, ramping up production from discovered small fields (DSF) is being fast-tracked.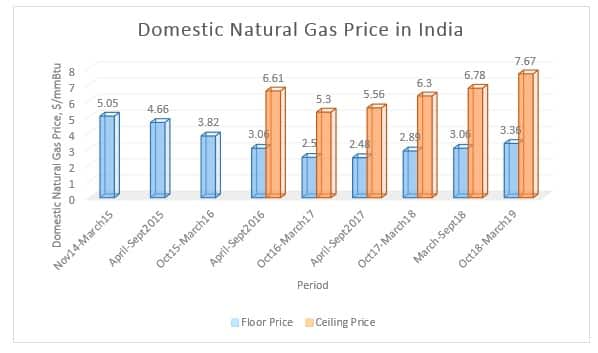 (Source: Prepared by the authors based on PPAC data)
In conjunction with the existing authorised 91 city gas distribution networks across India, the 9th round bidding for 86 geographical areas (GAs) is going to step-up natural gas demand. Following this, thousands of industrial and commercial customers will have access to natural gas in these GAs. A pan-India LNG infrastructure, along with a national gas grid of over 30,000 km and a potential gas trading hub will help development of India's gas market.
Sanjay Kumar Kar is Associate Professor (Marketing & Energy) and Head, Department of Management Studies, Rajiv Gandhi Institute of Petroleum Technology (RGIPT). Sayandeep Chandra is a PG student, Department of Management Studies, RGIPT.  Views expressed are personal
(Disclaimer: Reliance Industries Ltd, the sole beneficiary of Independent Media Trust which controls Network18 Media & Investments Ltd, has interests in the oil and gas industry.)
First Published on Oct 10, 2018 01:12 pm