A new Form 26AS format is effective from June 1, 2020, which will now include detailed financial transactions

The income tax (I-T) department has launched a few initiatives recently that focus on encouraging taxpayer compliance, facilitating ease of tax-filing and faster processing of returns. These include expanding the scope and information in Form 26AS and allowing taxpayers to verify all past returns
Expanding the scope and information in Form 26AS
A new Form 26AS format is effective from June 1, 2020, which will now include detailed financial transactions. The new Form 26AS will provide information about the specified financial transaction (SFT), pending tax proceedings as well as completed proceedings. The tax department has said that this form will become a comprehensive document and give a boost to the faceless assessment initiative of the department.
The new form is applicable for the AY 2020-21 (FY 2019-20) and will consist of specified high-value transactions (see graphic). For example, cash deposits or withdrawals (including bearer cheque) of over Rs 50 lakh from one or more current accounts of a person and all time deposits (except renewals) of over Rs 10 lakh made in a financial year. These items were part of the AIR (Annual Information Report) filed by specified entities earlier.
A campaign to encourage compliance
To encourage voluntary compliance, the I-T Department has begun an 11-day e-campaign from July 20, 2020. The focus is on FY 2018-19 (AY 2019-20) for enabling correction of discrepancy or defects, thus facilitating the processing of returns. The e-campaign will also look at securing verification of various financial information included in the taxpayer's Form 26AS.
During this period, the information will be available from the FY 2016-17 onwards about the various financial transactions, payments and investments. Also, the new Form will include information about these transactions by way of Annual Information Returns (AIR).  The Department may initiate enquiry or issue notices in suitable cases for assessment or reassessment. A tax officer can reopen an assessment if they have reason to believe that income chargeable to tax has escaped assessment.
Under the e-campaign, the tax department will send email/text messages to some identified taxpayers to verify information about their financial transactions as received by the I-T Department. It is also validating information relating to transactions carried out under a registered GST number. The data analysis of the Department identifies taxpayers who had high-value transactions and did not file a return. Also, it identifies taxpayers whose high-value transactions are not in line with their income tax return.
The department will provide taxpayers access to the information about their high-value transaction and also enable them to submit online responses against the same. Taxpayers can choose any of these options: (a) Information is correct; (b) Information is not fully correct; (c) Information relates to another person or financial year; (d) Information is duplicate or part of other information and (e) Denies information. The I-T Department will carry out the verification or validation process online.
Taxpayers can download the Form 26AS from their login and verify the transactions. They can offer voluntary tax compliance, especially for the FY 2018-19 and avoid scrutiny from the I-T department. Also, the last date to file a return for the FY 2018-19 is July 31, 2020. Therefore, taxpayers still have time to finish their compliance on this aspect.
Allowing taxpayers to verify all past returns
As part of its efforts to speed up ITR processing, the I-T department also gave a one-time relaxation for verification of ITRs filed from the AY 2015-16 up to AY 2019-20. A large number of tax returns remain unprocessed due to want of ITR-V or e-verification. A taxpayer can also e-verify an ITR using their net banking or Aadhaar OTP easily and conveniently. The Department allows time to close the pending verification by September 30, 2020 and targets to process them by December 31, 2020.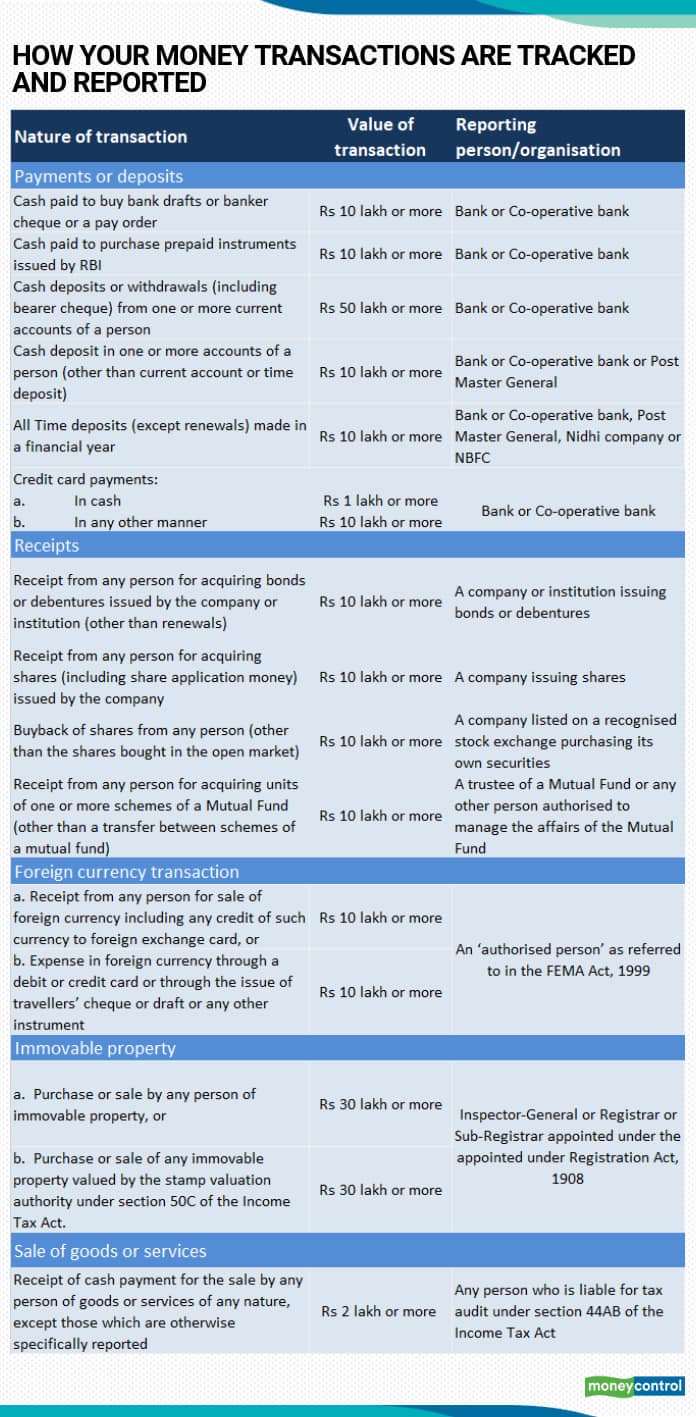 With these two initiatives, the department is now focussing on bringing closure to all outstanding tax returns and matters related to high value transactions as per AIR filed in earlier years. So far as the filings for FY 2019-20 are concerned, statement of financial transaction (SFT) filers, i.e., entities who are required to file Form 61A, the due date for such filing has been extended to March 31, 2021, while tax returns shall be due on November 30, 2020. Therefore, taxpayers who are filing returns for FY 2019-20 will likely see no entries in their Part E for such a year unless an SFT filer has made a submission. Part E shall be directly populated in Form 26AS through SFT information filed by prescribed entities.
(The writer is Founder and CEO, ClearTax)
First Published on Jul 28, 2020 09:29 am