MOFS's fee based businesses have scaled up well over the last few year but its overall performance is dragged down by the housing finance subsidiary, Aspire
Motilal Oswal Financial Services (MOFS) reported subdued Q2FY19 earnings. Strong performance in the capital market, as well as fee-based businesses (asset and wealth businesses), was partially offset by continued losses in housing finance subsidiary -- Aspire Home Finance.  The performance was also dragged down by mark-to-market provisions on fund-based investments as the NBFC transitioned to IndAS. Net profit was down 36 percent year-on-year (YoY) excluding the fair valuation of unrealised gains in the investment activity.
MOFS is going through a tough phase. In an effort to reduce its dependence on the capital markets, MOFS ventured into housing finance through Aspire Home Finance which focusses on affordable housing segment catering to mostly self-employed customers with an average ticket size of Rs 9 lakh.
This decision to enter housing finance business is the main reason for the pain that the company is currently enduring. Despite having infused Rs 650 crore as capital so far, the performance of the housing finance subsidiary continues to be weak with no meaningful contribution to the group. It has proposed further infusion of Rs 100 crore in Q3FY19. So what justifies the management's focus on nurturing a housing finance business?
First, the diversification will help MOFS mitigate the cyclicality in capital market related earnings. Second, given that most of MOFS' businesses are fee-based and have limited requirement of incremental capital, the housing finance business provides an avenue to deploy excess capital for creating long-term value. Lastly, some of the peers have successfully diversified and created a niche in a non-broking business line and marched ahead in value creation for shareholders pushing MOFS to follow the path. For instance, both IIFL holdings and Edelweiss Financial Services have a market cap of slightly more Rs. 15,000 crore while MOFS is below Rs 10,000 crore.
The moot question is can MOFS pull it off from here on? Its capital market business is inherently volatile while asset and wealth business is on a gradual yet steady growth path. While we are encouraged by the growing contribution of fee-based businesses (asset and wealth management), the same is also linked to the state of capital markets to a large extent. So, all eyes are on Aspire's performance which can make or break MOFS' fortune. With unfavourable macro factors like rising rates, tight liquidity, rising competition and no identified niche in affordable housing, we see daunting task ahead for Aspire in near term. Nevertheless, management's efforts to create a diversified financial services company demands a closer look at MOFS.
Q2 earnings driven by a couple of business segments
MOFS' Q2 net profit was mainly contributed by the broking and asset management business. As such, the diversification in profit streams seems some time away.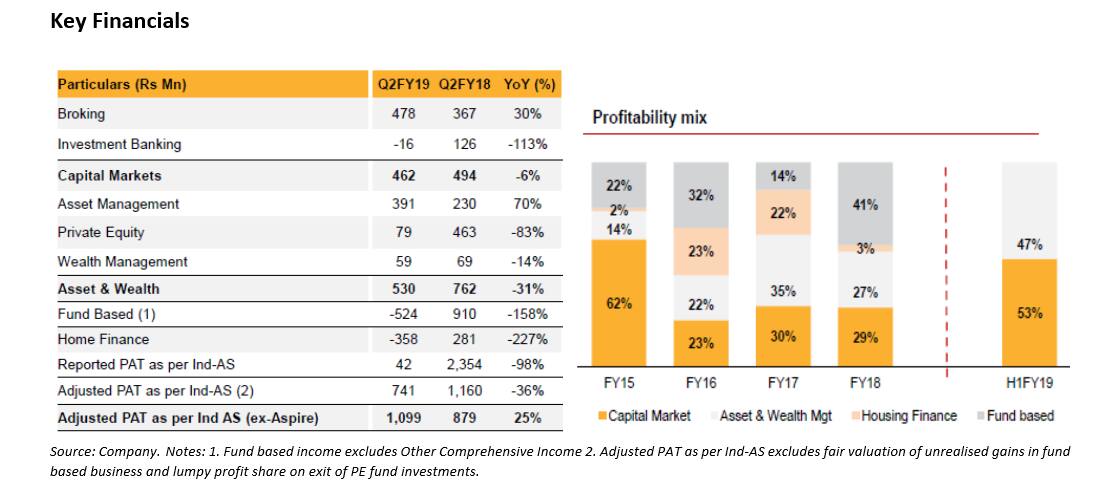 Retail broking and distribution aids group profit
The capital market business of MOFS mainly consists of 1) broking and retail distribution businesses and 2) investment banking business.
MOFS enjoys a strong market position in both retail and institutional segments of equity broking business and is among the top five brokers in India. However, broking segment is highly volatile and faces multiple challenges of declining volumes and increasing competition from low/zero cost brokers. We see this risk to be mitigated to some extent as MOFS has ramped up its retail distribution business.
Retail distribution witnessed strong traction in Q2 taking the asset under management (AUM) to Rs 8,500 crore, a growth of 40 percent YoY. Distribution income currently contributes only around 16-17 percent of total retail revenue. However, there is significant scope for an increase as distribution AUM can grow through cross-selling to the broking clients.
The performance of broking and distribution business was slightly negated by investment banking that reported a loss in Q2 due to a slowdown in capital markets-related activity.
Asset Management delivers steady performance
MOFS reported healthy growth in the assets managed under the mutual fund, PMS and alternative investment fund, with the AUM increasing to Rs 36,400 crore as at end September, a growth of 26 percent YoY. As a result, the asset management segment reported strong numbers with revenue increasing by 30 percent and net profit by 72 percent YoY in Q2 FY19, albeit on a smaller base.
We are enthused about certain aspects of MOFS' AMC business. First, it has positioned itself as an equity specialist. Hence, almost its entire AUM consists of high fee earning equity assets, unlike the industry which has more than 50 percent of low yielding debt and liquid assets.  Second, 48 percent of its AUM consists of non- mutual fund assets (PMS and AIF), where fees can be higher driven by performance fees.
Wealth Management impacted by high cost incurred for expansion
Despite wealth management AUM increasing by 20 percent YoY to Rs 15,500 crore, net profit declined by 15 percent YoY.  This is mainly attributed to 46 percent increase in operating cost as MOFS continues to hire relationship managers to grow this business. The increase in the vintage of existing relationship managers will aid assets growth and drive future operating leverage. However, future revenue of wealth and distribution business is likely to be adversely impacted by SEBI's order to cap total expense ratio as most AMCs are likely to cut distributors' commissions.
Aspire home finance - asset quality pain continues
Aspire's reported loss increased to Rs 37 crore. Asset quality continued to deteriorate with gross non-performing assets increasing to 7 percent as at end September as compared to 6.8 percent in the last quarter. Consequently, a significant increase in provisions and write-offs led to reporting of loss in Q2 FY19. MOFS is infusing a capital of Rs 100 crore in Q3 and proposed another Rs 100 crore infusion in H2 FY19
The fall in asset quality was in line with management guidance. The company is taking necessary corrective measures and increasing efforts on the collection front, but we remain cautious. While provisioning cost can stabilize in the second half of 2019, we can expect reported numbers to improve meaningfully from FY20 onwards.
Stock upside contingent on improvement in Aspire's performance
After a dream run till Dec'17, the stock has corrected more than 50 percent from its 52- week high price in Jan'18. The deterioration in housing finance was the key catalyst for the correction in stock price in addition to market factors. MOFS' stock is currently trading at 20 times FY20 estimated earnings. Valuation doesn't look cheap as earnings also have come off. However, risk-reward has turned favourable with limited downside and significant potential upside from improvement in housing segment over the medium to long term which will help diversify group's revenue mix.
We don't see a quick pullback in the stock price until we see improvement in Aspire's performance. Nevertheless, given the franchisee's strength and future growth levers, long-term investors with an appetite for some volatility can keep the stock on their radar.
Follow @nehadave01

For more research articles, visit our Moneycontrol Research page
First Published on Nov 16, 2018 04:34 pm