With the carnage in the markets, especially in the mid- and smallcap space, investors should keep these better quality smaller companies on their radar for a phased accumulation for the long term.
Amid the volatility in markets, we have taken a closer look at some smallcaps. While all small is not beautiful, all smallcaps need not be shunned on account of poor sentiment. But investors got to apply fundamental filters carefully.

What is common to these stocks is the excellent Q1 FY19 performance, coupled with high return ratios and a healthy Balance Sheet with little or no leverage.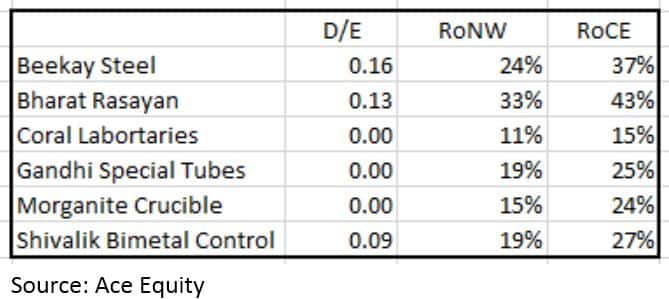 Beekay Steel Industries is a customised steel manufacturing company whose products are used extensively by automobile components producers, engineering industry, infrastructure players and railways. In fact, if there is any special requirement from the customer, the company tailors its product as per their required specifications. The company has successfully established its brand name over the past 15 years by supplying tailor made hot rolled and cold drawn materials in different shapes and sizes to domestic and global customers.
It has been able to protect its margin across cycles. Net profit in FY18 rose 105 percent year-on-year. Its Q1 FY19 performance was equally stellar and the low leverage makes it a company worth looking at. The stock trades at an undemanding valuation of 5.5 times FY19e earnings.
Bharat Rasayan (BRL) is engaged in the manufacture of technical grade pesticides, which in turn is used by the agrochemical industry to produce formulations. It is a B2B player in the agrochemicals space. Its customers include: UPL, Rallis India, PI Industries, Gharda Chemicals and Godrej Agrovet. It is one of the largest producers of 3-4 molecules. The company provides custom/contract manufacturing of diverse compounds to meet the unique needs of every client.
Reported financials have been healthy and the company has modest leverage on its books. Indian agriculture is on a growth path and awareness about crop protection is still low in India. All of which presents a long term opportunity. However, we are circumspect on the valuation at 30 times FY19e earnings and would await better entry opportunities.
Coral Laboratories is a two decade old pharmaceutical company with plants at Daman, Dehradun and Vasai. These plants are certified by several regulators. The company focuses on plain vanilla products and manufactures pharmaceutical formulations like tablets, capsules, liquids, topical preparations, eye/ear drops, injectables, etc. It mainly supplies to non-regulated markets. Almost 60 percent revenue accrues from exports and the management is looking to improve the same. We expect Coral to be a slow and steady performer. The recent rupee depreciation versus the dollar could be an earnings kicker.
Gandhi Special Tubes is a manufacturer of small diameter seamless and welded steel tubes used in automotive, hydraulics, refrigeration (condenser tubes) and other engineering services. In the automotive space, its products are used as fuel injection tubes in the medium and heavy commercial vehicles (M&HCV) segment. The company is an original equipment manufacturer (OEM) approved Tier II supplier of seamless tubes, which are eventually used by Tata Motors, Ashok Leyland, Mahindra & Mahindra (M&M), among others.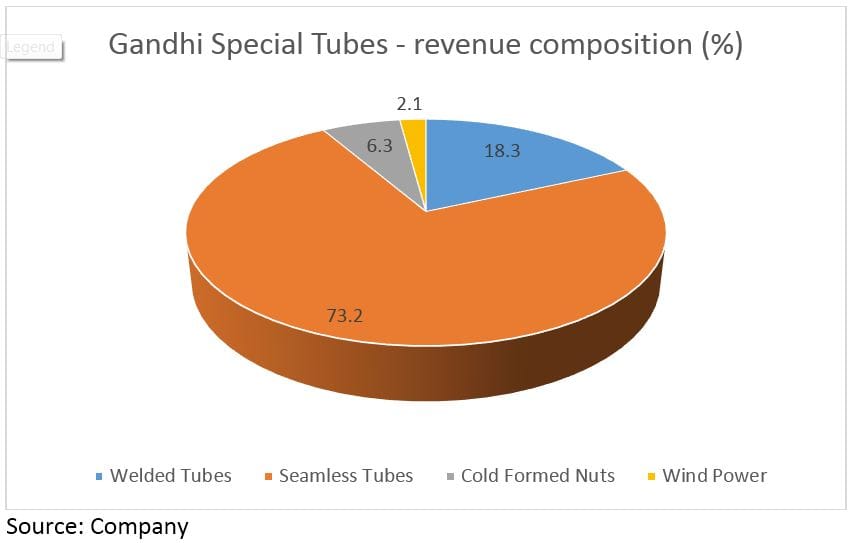 It has a lean, debt free balance sheet with net cash and investments of close to Rs 80 crore. Even after the recent share buyback, the cash position continues to be robust, thereby ensuring that the generous dividend policy can be maintained.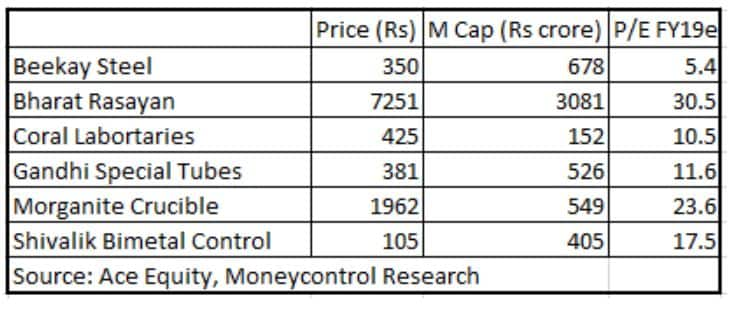 Morganite Crucible (India) is the subsidiary of the 160-year-old Morgan Advanced Materials, UK. It is a major manufacturer of silicon carbide. Its clay graphite crucibles are used primarily as consumables in the manufacture of non-ferro alloys.
These non-ferro alloys are consumed by a variety of industries like automobiles, industrial machinery, sanitary, electrical equipment, railways, etc, with auto segment consuming around 32 percent of total castings. Historically, growth in casting production has moved hand-in-hand with growth in the auto segment.
Crucibles also find application in allied industries like tyre production and electrical equipment manufacturing, where crucibles are used for manufacturing copper alloys. As the foundry industry is vital for supporting manufacturing and engineering sectors, and with the government's Make in India campaign gaining steam and a corresponding pick-up in capex of manufacturing companies, production of castings is likely to gain significant traction. This debt free company has seen impressive traction in its financial numbers, but the recent run-up warrants cooling off before we turn buyers.
Shivalik Bimetal Controls (Shivalik) is engaged in the manufacture of bimetals and shunt resistors. The company is led by technocrat promoters, who are considered to be one of the pioneers in the bimetal industry. Shivalik has developed shunt resistors, which are used in the battery management system (BMS) of electric vehicles. Currently, there is limited competition for the shunt resistor used in BMS as few players manufacture it. The company has an established relationship with one of the large semiconductor companies based out of US and it has been one of its biggest customers.
The company also has important technical certifications required for supplying such products which find use in automobile applications. The shunt resistors find use in smart meters that are used by electricity distribution companies. With increasing automation of cars, the usage of shunt resistors are expected to increase.
Bimetals are mainly used in circuit breakers, trippers, electronic alarms, fire alarm etc. The company is among the largest bimetal players in the world. The key thing in both shunt resistors and bimetals is to be expected by an established customer, which also acts as an entry barrier.
On account of increasing demand for shunt resistors, the management has started working on a capex plan to triple its capacity in both the bimetal and shunt resistor space.
After showing a strong growth in FY18, momentum has been maintained in Q1 FY19. Valuation too beckon investor attention.
With the carnage in the markets, especially in the mid- and smallcap space, investors should keep these better quality smaller companies on their radar for a phased accumulation for the long term.
For more research articles, visit our Moneycontrol Research page
First Published on Sep 24, 2018 01:20 pm