The undemanding valuation leaves room for upside should the strategy play out on expected lines
HCL Technologies' (HCLT) performance moderated in the first quarter of FY19. However, margin was stable and the management maintained its fiscal guidance. The key takeaway from the result was the record deal wins and the positive commentary on the road ahead.
While the company hasn't yet reached an inflection point to meaningfully see benefits of the virtuous cycle, whereby the legacy business is more than compensated by next generation offerings, it is directionally on the right track. We see little downside in the valuation of 12.2 times FY20e earnings. The stock should therefore form part of investors' long term portfolio.
Quarter at a glance

For the quarter-ended June, HCLT reported a revenue of $2,054.5 million, a sequential (quarter-on-quarter) growth of 0.8 percent in reported currency and 2.7 percent in constant currency. Of this, 2 percentage points came from the acquisition of C3i Solutions.
The same also propelled growth of life sciences and healthcare verticals. The newly carved out vertical from manufacturing, namely technology and services, also showed a strong growth followed by public services. Application and infrastructure services that still constitute close to 70 percent of total revenue grew at a slower pace. However, business services and engineering and R&D grew handsomely.
In terms of geographies, the largest market - US (close to 64.5 percent of revenue) grew well, aided by C3i acquisition. Rest of the world business declined and captured the impact of the conscious strategy of the company to reduce exposure to India system integration (SI) business.
In its quest to gain expertise in relevant technology/markets, the inorganic move continues. The company recently acquired IT and engineering services provider H&D International Group - one of the largest IT service providers in the German automotive industry. This investment strengthens HCLT's presence in the German and Central European automotive markets and gives it access to Germany's biggest car manufacturers.
The company reported stable margin in the quarter gone by. While gross margin was a tad weaker on account of C3i, which has a much lower margin, improved traction in Mode 3, strong utilisation and currency tailwind resulted in a 10 basis points sequential improvement in operating margin (earnings before interest and tax) to 19.7 percent.
Walking the right path

The key matrix to track is its progress in Mode 2 (which is essentially digital offerings) and Mode 3 services (software IP-led business). The share of Mode 2 and 3 in total revenue has increased from 23.4 percent in FY18-end to 26.6 percent in Q1 FY19, a sequential growth of 9.6 percent.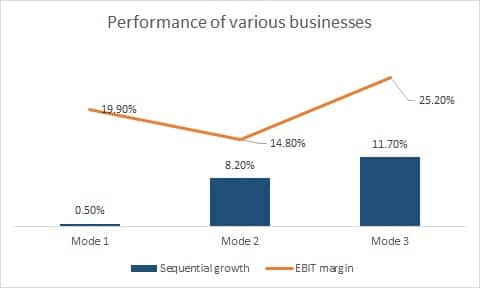 Source: Company
While Mode 1 (core services in areas of applications, infrastructure, engineering and R&D and business services) reported margin close to the company average, the same for Mode 2 was softer owing to investment to strengthen its offering. Margin for Mode 3 was significantly higher and so was the revenue traction.
The management highlighted that more than 40 percent of Mode 3 services are in the next-generation technology space. This 40 percent revenue bucket will clock over double-digit growth. It clarified that growth in intellectual property (IP) deals are likely to be volatile, in line with revenue of software companies, and that second and third quarter of the calendar year are expected to be soft.
The company specified that spends in infrastructure are just shifting to next-gen and technology modernisation. Rather than declining, enterprises are embracing cloud to drive innovation and not just for cost efficiencies.
The management said enterprises are moving from small tests and proof of concepts to digital transformation that should benefit a large sized player like HCLT. Unlike the past when digital adoption was limited to consumer facing businesses like retail, healthcare etc, it is now more broad-based with almost every sector like manufacturing, utility and oil and gas investing in digital transformation.
Strong quarter of deal wins
Positivity in the operating environment got translated to a deal wins that was comforting. The company announced its highest ever quarterly deal wins by announcing 27 transformational deals.
It bagged a deal with Nokia for a total contract value in excess of $500 million to be spread over a period of seven years. This deal involves modernisation of legacy IT management services for the Finnish telecommunications company and will start contributing to revenue from Q3 FY19.
The company has seen strong order momentum from telecom, financial services, retail and utilities. It has added one new client in the $100 million and four new clients in the $50 million bucket in the quarter under review.
Guidance unchanged?
Despite the strong deal wins, the unchanged guidance for FY19 is rather perplexing. The management maintained its full year revenue growth guidance at 9.5 percent to 11.5 percent in constant currency and operating margin in the 19.5 percent to 20.5 percent range.
It cited certain reduction in legacy business, transition and slower ramp up of newly acquired deals for the rather cautious stance. While the new deals are expected to be margin accretive and rupee depreciation to the dollar could provide a further opportunity, the management has decided to step up investments in talent and capability building to deliver high degree of transformation experience to clients.  This perhaps explains the subdued margin outlook.
The management outlook on future acceleration in revenue, on the back of a strong order booking and strength in the operating environment, is lot more comforting than Q4 FY18.
Despite stable attrition, the gross addition has been strong, pointing to acceleration in the growth momentum.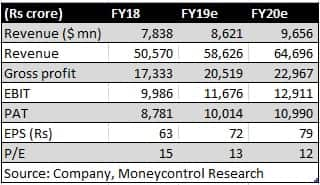 While the virtuous cycle will take a while to kick-start, the directionally positive commentary, coupled with healthy payout (pre-tax yield of close to 4 percent), limits the downside. The undemanding valuation leaves room for upside should the strategy play out on expected lines.
First Published on Jul 30, 2018 01:00 pm