Dhanuka Agritech's performance in Q1 remained largely muted. We believe there are numerous factors which support its long term growth story
Dhanuka Agritech reported a muted performance, with a 2.4 percent year-on-year (YoY) growth in revenue during the quarter under review, owing to a scattered onset of monsoon and deficit rains in key geographies. Volumes saw an around 5 percent uptick. With blockage on inventory channels, the management was unable to undertake price hikes, which resulted in a substantial 440 basis points contraction in earnings before interest, tax, depreciation and amortisation (EBITDA) margin. An unfavourable product mix also played a part in the margin contraction. Net profit remained more or less flat.
Other income saw an uptick on account of spurt in income from investments and a one-time key man policy inflow of around Rs 4 crore. Other expenses increased on account of higher spending on development of newly launched products.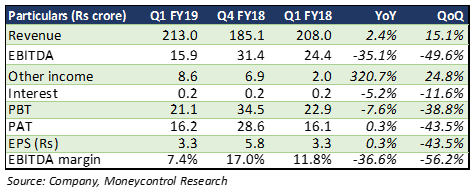 Scattered monsoon impacts topline

Q1 FY19 saw a scattered onset of monsoon in many key geographies of Dhanuka. This impacted topline growth during the quarter under review. This was due to compressed demand from the institutional segment, which forms its key customer base in the first quarter each year. With a substantial improvement in the monsoon coverage in July, the management expects overall growth to rise to double-digit again. Moreover, demand spillover from Q1 is expected to boost topline in Q2.
Blocked inventory channels eat into profitability

With a steep correction in the rupee-dollar, the company saw an increase in the input costs during Q1 as around 25 percent of its raw material requirement is imported. With inventory piled up in distribution channels, the management was unable to undertake price hikes. Also, the impact of increased cost could not be passed on to dealers and farmers, resulting in margin contraction. Lower tax refund under the Goods & Service Tax (GST) regime as compared with a refund in the excise regime also ate into a portion of the profits. The management said the impact under the new tax regime was Rs 2 crore for the Udhampur plant in the current quarter, while the annual impact could be in the Rs 6-7 crore range.
China situation expected to improve

Of the 25 percent imported raw material, around 33 percent is imported from China and supply from there played a part in the company's profitability. The management said prices of key technical imports from China have stabilised in the current quarter, however, it continues to remain at elevated levels. There is an expectation that there will not be any further increase in prices, thereby protecting Q2 margin. Moreover the management expects a slight relief on the cost front from the Rabi season owing to stabilisation in the supply situation.
New products to be developed
While there are no major new product launches till Q3 of this fiscal, the management plans to aggressively push the recently launched products in the market. About 11 new products were launched by the company in FY18. These are seeing good response and a pick up in volumes. The management now plans to capitalise on these and launch them countrywide. From Q4, it plans to launch one grape fungicide product.
Outlook

With forecast of a normal monsoon, the management expects 10-15 percent revenue growth for FY19. The annual tax rate is expected to be around 29-30 percent, eating away a portion of its current net margin. We expect margin to remain intact in coming quarters.The stock has corrected 30 percent in the last 12 months and is currently 32 percent below its 52-week high. After the correction, the stock is now trading at FY19e price-to-earnings of 17 times. With the growth story remaining intact, the stock appears attractive. We expect consistency in earnings as the company has a healthy product mix, with more than half of its sales accruing from specialty molecules, strong pick up in recently launched products, low penetration of herbicides and fungicides in India, expectation of a normal monsoon and favourable macro and policy environment for agriculture companies.
For more research articles, visit our Moneycontrol Research page
First Published on Aug 16, 2018 01:08 pm