While the app lets you delete your Aarogya Setu account, it is important to note that the data will be deleted from the government servers only after 30 days.

Aarogya Setu, the COVID-19 contact tracing tool developed by the Indian government, has released a new update allowing users to delete their account and all the associated data stored in the app. It has also introduced a couple of more new features like giving health data access to third-party apps and using Bluetooth contacts to assess risk levels associated with coronavirus.
To get these new features, users must update the Aarogya Setu app to iOS version 2.0.0 from the Apple App Store and version 1.3.1 on Android from the Google Play Store.
How to delete Aarogya Setu account and data
Users can simply tap on the Settings option that can be found in the hamburger menu (three horizontal lines) on the top-left corner of the Aarogya Setu app.
COVID-19 Vaccine
Frequently Asked Questions
View more
How does a vaccine work?
A vaccine works by mimicking a natural infection. A vaccine not only induces immune response to protect people from any future COVID-19 infection, but also helps quickly build herd immunity to put an end to the pandemic. Herd immunity occurs when a sufficient percentage of a population becomes immune to a disease, making the spread of disease from person to person unlikely. The good news is that SARS-CoV-2 virus has been fairly stable, which increases the viability of a vaccine.
How many types of vaccines are there?
There are broadly four types of vaccine — one, a vaccine based on the whole virus (this could be either inactivated, or an attenuated [weakened] virus vaccine); two, a non-replicating viral vector vaccine that uses a benign virus as vector that carries the antigen of SARS-CoV; three, nucleic-acid vaccines that have genetic material like DNA and RNA of antigens like spike protein given to a person, helping human cells decode genetic material and produce the vaccine; and four, protein subunit vaccine wherein the recombinant proteins of SARS-COV-2 along with an adjuvant (booster) is given as a vaccine.
What does it take to develop a vaccine of this kind?
Vaccine development is a long, complex process. Unlike drugs that are given to people with a diseased, vaccines are given to healthy people and also vulnerable sections such as children, pregnant women and the elderly. So rigorous tests are compulsory. History says that the fastest time it took to develop a vaccine is five years, but it usually takes double or sometimes triple that time.
View more
Show
Next, tap on 'delete_account_file' on your iOS device and enter your registered phone number to delete the account and erase all your data. On Android devices, the same option will read as 'Delete My Account'.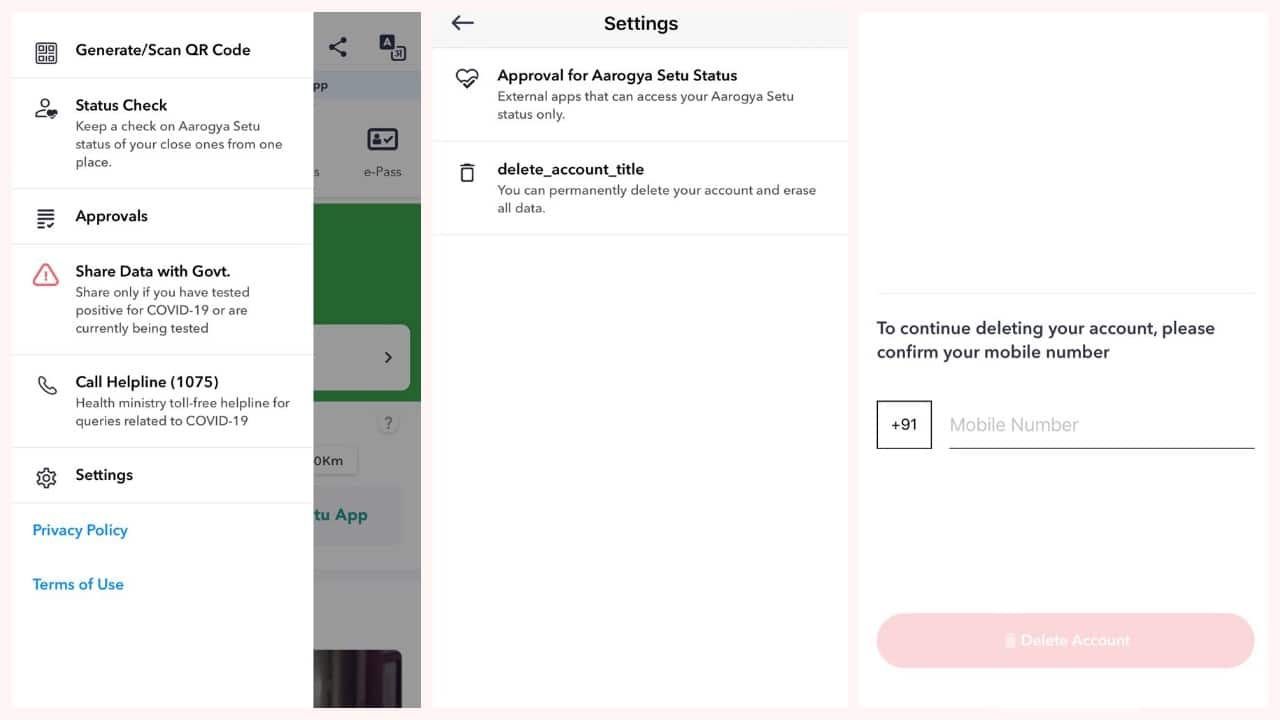 While the app lets you delete your Aarogya Setu account, it is important to note that the data will be deleted from the government servers only after 30 days. This is still a better option as the app previously did not provide any way to either delete the account or associated user data.
Also read: Aarogya Setu data safe, stored for limited period: IT Minister Ravi Shankar Prasad
Third-party access to Aarogya Setu health data
Users can give approval to third-party apps for accessing their health data on the Aarogya Setu app. To do so, go to Settings > Approval for Aarogya Setu status. The same option will give you a list view of apps and users that have been granted access to your health data. As of now, the feature is live only on the iOS version of the app.
Bluetooth contact assessment
The third new feature allows users to access the risk levels using their Bluetooth contacts. The feature lets you know the number of people with whom you have been in close proximity by using your smartphone's Bluetooth technology.
Also read: COVID-19 Exposure Notification API from Apple, Google may not work with Aarogya Setu - here is why
First Published on Jul 7, 2020 09:01 am