The health ministry also noted that standardised clinical management protocols have led to a downward trend in the case fatality rate – down to 2.35 percent in July, which is the among the lowest fatality rates in the world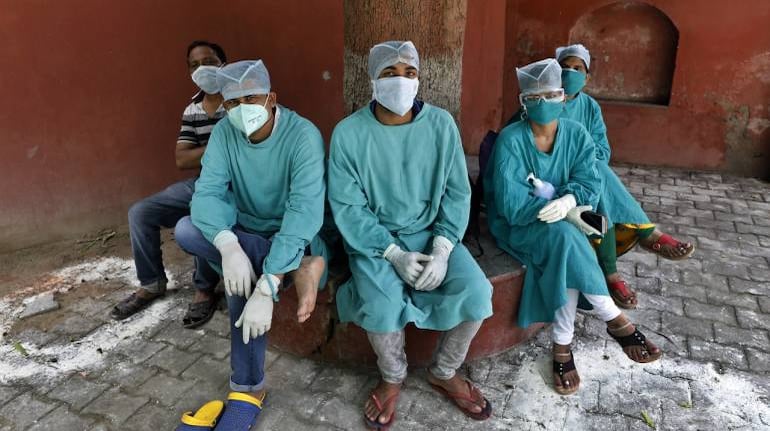 India has, for the first time, conducted 420,000 COVID-19 test on a single day on July 25, the Health Ministry said. This is against the 350,000 tests being conducted consistently over the last one week, they said.
"With 420,898 samples tested in the last 24 hours, the Tests per Million (TPM) has further increased to 11,485 and cumulative testing to 15,849,068. Both continue to maintain the upward trend," a statement from the ministry said.
It further noted that the "strong contributing factor" to the increase was due to the jump in number of testing laboratories – from merely one in January 2020 to 1,301 in July. This number is inclusive of 902 government labs and 399 in the private sector labs.
"Revised facilitative guidelines of testing by ICMR and all-round efforts by the governments have also aided in widespread testing," it added.
COVID-19 Vaccine
Frequently Asked Questions
View more
How does a vaccine work?
A vaccine works by mimicking a natural infection. A vaccine not only induces immune response to protect people from any future COVID-19 infection, but also helps quickly build herd immunity to put an end to the pandemic. Herd immunity occurs when a sufficient percentage of a population becomes immune to a disease, making the spread of disease from person to person unlikely. The good news is that SARS-CoV-2 virus has been fairly stable, which increases the viability of a vaccine.
How many types of vaccines are there?
There are broadly four types of vaccine — one, a vaccine based on the whole virus (this could be either inactivated, or an attenuated [weakened] virus vaccine); two, a non-replicating viral vector vaccine that uses a benign virus as vector that carries the antigen of SARS-CoV; three, nucleic-acid vaccines that have genetic material like DNA and RNA of antigens like spike protein given to a person, helping human cells decode genetic material and produce the vaccine; and four, protein subunit vaccine wherein the recombinant proteins of SARS-COV-2 along with an adjuvant (booster) is given as a vaccine.
What does it take to develop a vaccine of this kind?
Vaccine development is a long, complex process. Unlike drugs that are given to people with a diseased, vaccines are given to healthy people and also vulnerable sections such as children, pregnant women and the elderly. So rigorous tests are compulsory. History says that the fastest time it took to develop a vaccine is five years, but it usually takes double or sometimes triple that time.
View more
Show
Follow our LIVE Updates on the coronavirus pandemic here
The Centre advised all states and union territories (UTs) to keep up the strategy of "Test, Track and Treat" with aggressive testing, which might lead to a higher number of daily positive cases but eventually decline as the government's targeted efforts in the NCT of Delhi has shown.
It noted that the standardised clinical management protocols had led to a downward trend in the case fatality rate – down to 2.35 percent in July, which was the among the lowest fatality rates in the world.
"This means collective efforts of the Centre and states and UTs has kept a check on COVID-19 mortality," it said.
India has recorded more than 13.8 lakh cases of the novel coronavirus and 32,063 deaths, according to the Union Health Ministry's latest update. Of these, 4,67,882 are active cases while 8,85,576 have recovered. The data was updated at 8 am on July 26 on the Ministry of Health and Family Welfare's website.
With more than 3.66 lakh COVID-19 cases, Maharashtra has reported the highest number of infections, followed by Tamil Nadu (2.06 lakh), Delhi (1.29 lakh), Karnataka (90,942) and Andhra Pradesh (88,671). Globally, nearly 1.6 crore infections and over 6.4 lakh deaths have been reported due to the COVID-19 outbreak.
Follow our full COVID-19 coverage here
First Published on Jul 26, 2020 02:19 pm