Expense ratio is very important parameter an investor needs to consider because it affects your net returns. While they may appear small, over time say after 20 years, they can run into lakhs of rupees.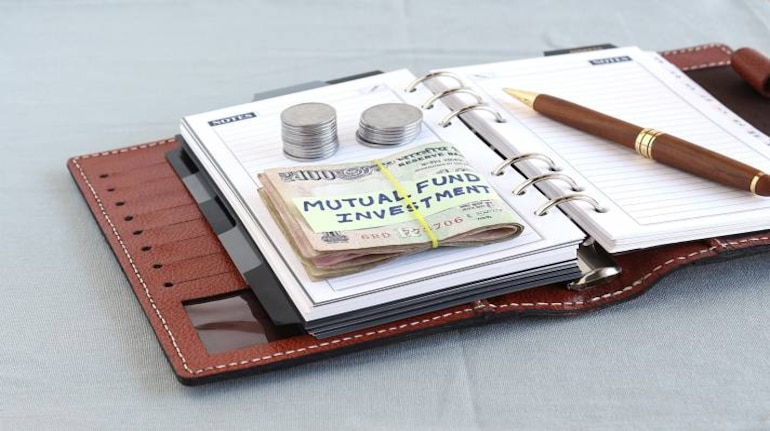 Have you been planning to invest in mutual funds, but confused about what an expense ratio is? Total expense ratio has been in the news off-late.
Recently, there was a debate going on between Morningstar and Foundation of Independent Financial Advisors (FIFA), which had completely conflicting views on total expense ratio (TER) commissioned by Asset Management Companies (AMCs).
The Morningstar study showed that India is the most expensive country among 25 nations in terms of TER, while the FIFA study suggested that India was the least expensive country.
Speaking about these studies in AMFI Mutual Fund Summit held on August 23, SEBI Chairman Ajay Tyagi, said that the market regulator does not want to get into a discussion between two parties. "However, we feel that there is a scope to rationalise TER. Currently, we are reviewing TER structure very closely."
In the midst of this discussion, fund houses are sending emails to investors with a hike in total expenses of schemes they have invested. So, several investors are clueless and wondering — what they should do with increasing total expenses deducted from their mutual fund schemes performance? Is there any link between total expense ratio and performance of the mutual fund scheme they are investing in?
Let's go deeper to understand how expense ratio is charged by AMCs, its components, and its impact on the corpus built.
What is expense ratio in mutual fund scheme?

Archit Gupta, Founder & CEO ClearTax explained, "Expense ratio relates to an annual fee that the fund houses charge for managing money on their behalf. It can have a substantial impact on the quantum of returns that you take home." A higher expense ratio translates into a lower returns for the investors.
It is charged as a percentage of the average asset under management (AUM) of a particular mutual fund scheme. Gupta said, "SEBI has specified that the upper limit, which the fund houses can charge from the investors, is 2.5% for the equity funds and 2.25% for the debt funds."
Components of expense ratio

The expense ratio involves various charges that are necessary for a seamless administration of a mutual fund scheme. The cost of this administration is recovered from the investors on a daily basis, however, it is revealed only once every month. There are 3 major components of an expense ratio:

i. Management Fees

Mutual Funds are a refined product that require forming critical investment strategies before allowing investors to put in money in the schemes.
Vijay Kuppa, CBO and COO, Orowealth said, "AMCs employ fund managers for efficiently managing these mutual fund schemes. The investment advisory fees or the management fees are used to compensate these managers. On an average, this fee comes about 0.5% to 1.5% of the overall fund assets."

ii. Cost of Administration

The costs of administration are the costs associated with running and managing the fund. This includes the customer support, communications, information emails, and record keeping, among others. These expenses can differ greatly and are represented as a percentage of assets of the mutual fund.
iii. Distribution Fees

Kuppa said, "Most of the mutual funds collect distribution fees for promoting and advertising the scheme. The funds charge their stakeholders to promote as well as market the fund to the potential investors."
How expense ratio impacts your corpus built?
Ram Medury, Founder, Jama.co.in said, "Expense ratio is a very important parameter an investor needs to consider because it affects their net returns. While they may appear small, over time, say after 20 years, they can run into lakhs of rupees."

For instance

A 2.5% expense ratio over 20 years means that your initial investment of Rs 10,000, earning 15% returns p.a., after deducting expenses comes to Rs 98,639 versus Rs 163,655. That's a whopping one-third of the corpus.
Let's take another example if there is a difference in the expense ratio of two identical mutual fund schemes in the same category, then how the expense ratio would have impacted the growth of investments after 20 years? Assume Rs 10,000 as SIP investment.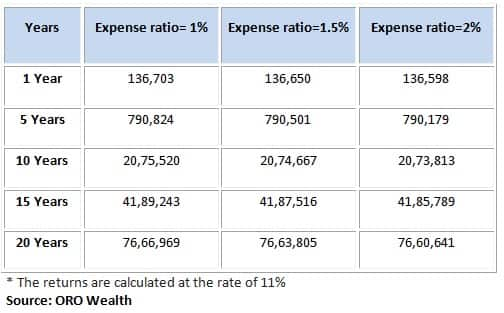 Expense ratio shouldn't be the only decision making factor
Investors shouldn't give utmost importance only to expense ratio while investing. Prateek Mehta, CEO and Co-Founder at Upwardly.in said, "Besides expense ratio of a fund, it is important to look at the ability of the fund to beat the market over the long term. Eventually, the cost is a much smaller factor as opposed to the potential upside that a good fund can deliver. There are funds which might be relatively cheaper by 10-20 bps in terms of expense ratio (for the same category/ theme) but might lag 300-500 bps when it comes to performance."
So, it is important for customers to go for the upside as opposed to small savings in expense ratios.
There are other more important factors which must be evaluated thoroughly, said Himanshu Srivastava, Senior Research Analyst, Morningstar.
"Parameters such as the fund manager and his experience, the investment team - its stability and competence, the robustness of the strategy and the fund house's stewardship – investor focus of asset focus, among others are the fundamental factors that hold the key to a fund's success."
Expense ratio is just one of the many components which investors should view while shortlisting a fund. It cannot be considered in isolation and cannot be the only factor for fund selection.
Invest in mutual funds through direct plans
During the AMFI summit, Tyagi said that it's time AMFI and financial advisors should promote direct plans to check mis-selling in mutual funds. According to him, more investment through direct plans has advantages such as lower transaction cost, more transparency and lower instances of mis-selling.
Srivastava explained, "Typically, the difference between the expense ratio of direct plan and distributor plan of an equity fund is approximately 80 bps. Taking that into account, let's consider an annualised return of 12.8% for direct plan and 12.0% for distributor plan of an equity fund." Assuming the investment amount is Rs 100 and considering all other aspects being consistent, then after 15 years, the total value of investment in direct plan would be Rs 609 whereas in distributor plan it would be Rs 547.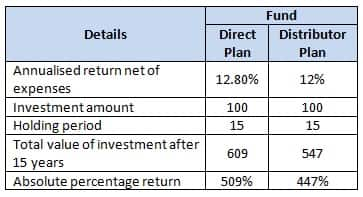 Follow @thanawala_hiral
First Published on Aug 30, 2018 01:30 pm