It is unlikely that CPSE ETFs will outperform Nifty in the long run because of the nature of public sector organisations where it invests.

In March 2014, the government used an innovative route to divest its holding in Central Public Sector Enterprises, and that was Exchange Traded Fund (CPSE ETF). The performance of this ETF scheme has been disappointing since inception.
Further, on new portfolio composition of the scheme, financial experts said existing portfolio is not good for long-term investing. Here, we will elaborate on its performance and portfolio, going ahead.
These units were listed in April 2014 first on National Stock Exchange (NSE) and Bombay Stock Exchange (BSE). Then in January 2017 and March 2017 further fund offer (FFO) and FFO 2 were launched, respectively. This NFO and both the FFOs were oversubscribed with good response from investors.
The current AUM of this fund is Rs 11,500 crore and is managed by Reliance Nippon Life Asset Management.
The third FFO will now open for subscription on November 28 and close on November 30. It will raise Rs 8,000 crore with a greenshoe option to retain Rs 4,000 to Rs 6,000 crore. This FFO is a part of a larger divestment program announced by the Department of Investment and Public Asset Management (DIPAM).
"The timing of the issue will help investors benefit from their exposure in a diversified basket like CPSE ETF that includes a list of distinguished PSUs who are leaders in their respective sectors," said Sundeep Sikka, Executive Director and Chief Executive Officer, Reliance Nippon Life Asset Management.
The FFO is open for all categories of investors like anchor investors, retail investors, retirement funds, qualified institutional buyers (QIBs), non-institutional and foreign portfolio investors (FPIs).
Sikka added, "It offers a compelling opportunity for investors, especially retail and retirement funds, to invest in the India growth story at an attractive valuation, low expense and embedded discounts."
Portfolio is highly concentrated
Recently, portfolio of this ETF fund has been changed. GAIL, Container Corporation of India and Engineers India were replaced with NTPC, NLC, NBCC and SJVN. Now, the fund has investments in 11 stocks, and out of them, exposure to top 4 stocks is 75%, which is risky.
The portfolio is also highly concentrated on the power, energy and petroleum sectors with over 60% exposure.
Tejas Khoday, Co-Founder and CEO of FYERS (Free Investment Zone) said, "These sectors are not attractive from a long-term perspective. Moreover, they don't have much upside left in them. By nature, public sector companies don't have a reputation for creating wealth for investors."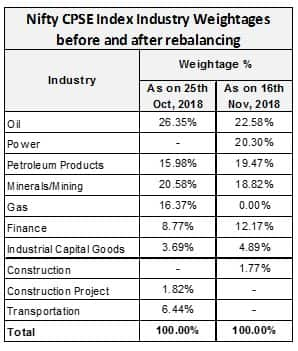 Source: NSE Indices
Poor performance of the scheme since inception and dull outlook in the long term
It is unlikely that CPSE ETFs will outperform Nifty because of the nature of public sector organisations and their approach to the business. Khoday said, "History has proven that they have failed to compete with their private sector peers on all levels and thus, I believe that it will continue to underperform private companies." Moreover, it has stocks from the coal, oil and infrastructure sector which are not the best-equipped sectors to compete with NIFTY which has maximum weights to banks, NBFCs, technology etc.

Inception Date: March 28, 2014
Returns are CAGR for more than 1 Year. For 1 year & less returns are absolute
Returns are based on TR Index
Source: MFI
Depressed valuations
At present, the ETF fund has a depressed valuation of about 9 times price to earnings (P/E). Vidya Bala, Head of Mutual Fund Research, FundsIndia.com said. "This valuation doesn't mean it has value. The beaten down valuations also speak of the uncertain outlook earnings growth of the companies in the portfolio."
Does an upfront discount and dividend yield offered makes an offer attractive?
As part of the FFO3, an upfront discount of 4.5 per cent is being offered to all categories of investors combined with the current high dividend yield of about 5.2% (primarily on account of depressed prices) to make the offer attractive. Bala said, "We are not optimistic about the long-term prospects of these ETF scheme. Instead, indices like the Next 50 can offer superior returns over the long term with a more diverse exposure to emerging blue chips stocks." So, investors can opt to invest in Next 50 ETF scheme for long term instead of CPSE ETF.
Government ownership is the biggest risk
Khoday said, "Government has a major stake in the stocks of this ETF portfolio and so performance will be directly affected by their policies time to time." As witnessed in the recent announcement by the finance ministry that the state-owned oil marketing companies must bear the burden of 1 rupee cut on oil prices. The news was perceived negatively and Oil Marketing Companies (OMCs) stock prices fell subsequently.
Key difference between Bharat 22 ETF and CPSE ETF
The government has launched two ETF schemes to invest recognised as CPSE ETF and Bharat 22 ETF. A key difference between the CPSE ETF and the Bharat 22 ETF is in the list of stocks. The Bharat 22 ETF has a greater diversity in its investments with 22 stocks in the portfolio against 11 stocks in CPSE ETFs. Financial advisors say, Bharat 22 ETF scheme is well diversified and invests in the PSU universe better than the CPSE ETF.
Further, Bharat 22 has a single company cap of 15% weightage in the fund, and a sectorial cap of 22%, ensuring that it is well diversified with investments in PSUs.
CPSE ETF invests only in state-run companies against Bharat 22 ETF which also invests in major government banks such Bank of Baroda, State Bank of India and Indian Bank, thus further reducing the risk that comes with a focused portfolio of CPSE ETF.
First Published on Nov 27, 2018 03:57 pm