Highlights:

- Leadership position in PV automotive sealing systems
- Sticky relationship with clients – a moat
- Multiple long-term growth drivers in place
- Attractive valuations

--------------------------------------------------
PPAP Automotive (PPAP) is a manufacturer and supplier of automotive sealing systems, interior and exterior automotive parts for passenger vehicles (PV). It caters to leaders in PV segment including Maruti and Honda. Its leadership position, product range indispensable to any car, robust client base, and strong financial performance coupled with reasonable valuations make it worth buy for long-term investment.
Leadership position

On the back of strong product portfolio and technology prowess, PPAP has got a dominant position in the segment it operates. It is evident from the fact that it supplies its products to 70 percent of cars manufactured in India.
Robust client base

PPAP has partnered with the who's who of passenger vehicle original equipment manufacturer (OEM) to supply its products. In Q2FY19, it generated 46 percent of part sales from Maruti Suzuki including Suzuki Motor Gujarat and 34 percent from Honda.
Sticky relationship – a moat

Automotive sealing systems are indispensable for any vehicle and being this makes it an economic moat for PPAP as they cannot be replaced. Due to the sticky nature, PPAP has long relationships with customers as is evident from a three-decade-long relationship with Maruti.
Focus on adding new clients

PPAP has been targeting new clients and new models from existing clients to grow its business. It started supplying to Honda Car's new Amaze and Toyota's Yaaris. Moreover, it is working to add Volkswagen as its client for sealing system growth. For injection growth, it is looking at opportunities in SMG (Samvardhana Motherson Group) and in Nissan.
Enough capacity is available

At the end of Q2FY19, the capacity utilisation was around 80-85 percent. So, the company has spare capacity to meet future demand. Further, the business nature makes its critical machines or lines fungible. Additionally, it has already done a capex of Rs 26 crore towards the new facility and maintenance of existing facilities.
New avenues – CV and 2W segments

In a quest to new growth avenues, PPAP has identified commercial vehicle (CV) and two-wheeler (2W) segment as its focus areas. In the CV segment, it has started supplying to LCV (light commercial vehicle) for SML Isuzu and Bharat Benz and in the 2W segment, it has started supplying Suzuki motorcycles and Honda motorcycles. These new segments would not only provide new business to the company but also de-risk client concentration.
Encouraging Q2 FY19 result

The company posted a strong set of numbers in the latest quarter gone by. On the year-on-year (YoY) basis, net sales grew 12.4 percent after adjusting for Rs 5.3 crore subsidy received from the Rajasthan government. This was much higher than the 3-4 percent production growth that cars witnessed during the same period.
Raw material (RM) prices continue to mount pressure on profitability. Its earnings before interest, tax, depreciation and amortisation (EBITDA) margin witnessed a contraction of 120 bps. Fall in the margin was arrested by lower operating and employee expenses.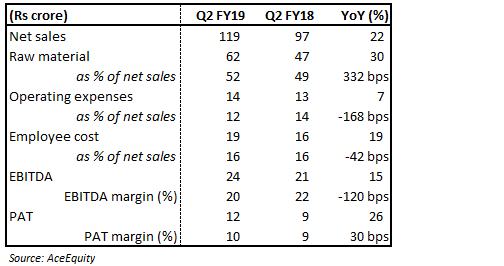 Very attractive valuation
Amid market volatility, the stock price has corrected 45 percent from its 52-week high, making valuation much attractive. It is currently trading at 14.0x and 12.2x its projected earnings for FY19 and FY20.

Moneycontrol Research page
.
First Published on Dec 19, 2018 03:15 pm