The business should remain unaffected by EV disruption. Also, the stock is trading at reasonable valuations that beckons investor's attention
FIEM Industries (FIEM) is a lighting solutions provider to automobiles catering to two-wheeler (2W) segment. With its market leadership, marquee clients, focus on developing in-house technologically advanced products and adoption of LED-based products, the company should witness decent earnings traction despite the drag from LED Luminaries business.
The business should remain unaffected by EV disruption. Also, the stock is trading at reasonable valuations that beckons investor's attention.
The business – provides end to end lightening solutions
FIEM is one of the leading manufacturers of automotive lighting solutions and has been the front-runner as it was the first one to introduce LED lights for two-wheelers. In addition to automotive lighting solutions, the company also manufactures rear view mirrors, sheet metals parts and plastic components. The company has also ventured into LED luminaries for indoor and outdoor applications and Integrated Passenger Information system (IPIS) for railways and buses.

Strong clientele
The company generates most of its business from two-wheeler segment of the automotive industry. FIEM boasts of having marquee clients in its kitty and services almost 90 percent of OEMs (original equipment manufacturers) in India. Apart from this, the company's products have been well accepted in foreign markets and it is the only Indian company supplying lighting products to Harley Davidson and Honda Japan.

The company also has formidable clients in LED luminaries and IPIS system. Indian Railways is the big customer for the company in IPIS systems. DTC Buses, Haryana Roadways, U.P. Roadways, Gujarat State Road Transport, Delhi Fire Service, CRPF, Hospitals & Public Places are other notable clients within IPIS space.
Well placed to ride on scooters – very high growth segment
In terms of percentage of automotive segment revenues, Honda Motorcycle is the largest client with 45 percent share followed by TVS Motors with 24 percent share. These two customers are the strongest players in fast-growing scooter segment within 2W space. This takes the company in sweet-spot to take the advantage of upcoming wave of growth in scooter segment.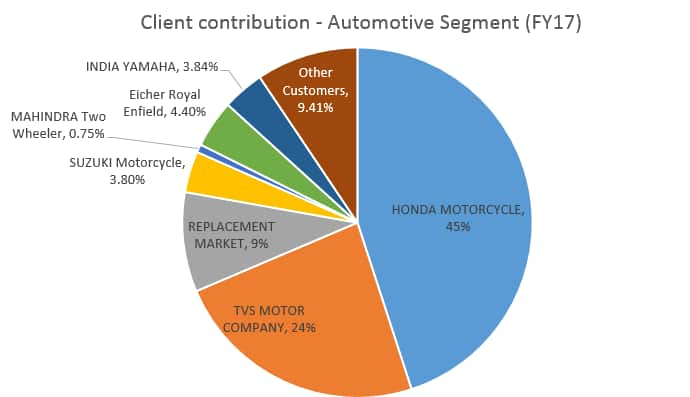 Ahead of competition –
in-house R&D
FIEM has strong in-house research and development (R&D) center and has become India's First NABL Accredited Lab for Testing of Automotive Lamps. Through the strong focus on R&D, the company was the first to supply LED-based lamps for a two-wheeler model.
In fact, unlike other players in the industry who have sourced technology from outside and pay the royalty, FIEM does not have that obligation, which positively impacts its financial performance.
LED – a game changer
The increasing adoption of LEDs by the original manufacturers would offer great opportunities for FIEM as LEDs require technical expertise and the company's in-house R&D supports it.
As per the management, LED products are expensive compared to the conventional products and earn better margin for the company. The wider adoption of LEDs unlocks huge potential for the company both in terms of sales growth and margin expansion. The management indicated that despite higher prices, the OEMs are willing to shift to these products as these are more efficient products and improve the styling appearance of vehicles.
While the government's decision to make 'Automatic Headlamp On (AHO)' in two-wheelers from 2017is not the energy efficient way, LED based DRLs (Day Running Lights) are more energy efficient. Consequently, this has been adopted by a few models. Increasing adoption of LED DRLs in other models would unlock huge potential for the company.
Also, BS VI norms to be implemented by 2020 would require vehicles to be more energy efficient which would lead to the adoption of LEDs as a lot of energy would be saved by those lighting products.
Unaffected by move towards EV
FIEM is likely to remain unaffected by the EV disruption, going forward, as LED lighting products, being more energy efficient, are going to be used in EVs.
The moot question for investors is to know about the pain point of the company – LED Luminaries business?
LED Luminaires – pain to continue
India is still in nascent stage in terms of LED adoption and the industry is characterized by fragmented competition and low entry barriers.
Energy Efficiency Services Limited (EESL), the nodal Indian agency actively propagating and implementing the replacement of conventional street lighting products with LED alternatives, provides a huge opportunity for the company. However, low entry barriers coupled with fragmented competition has resulted in a price war, thereby hurting the financial performance of the company.
Fiem's revenue from this segment has fallen by 51 percent in FY17 and EBITDA margin came in at around 5.2 percent. The management believes that it will take some time for the LED business to stabilize.
We feel that on the back of adoption of LED lighting for automobiles even if the pain continues in LED luminaries, the overall financials will start looking up.
Strong Financial performance except for FY17
The company's net sales witnessed a growth of 24.1 percent compounded annually over a period of FY12-17 and its EBITDA and PAT recorded a growth of 21.7 percent and 16.2 percent over the same period. In FY17, however, the company had margin contraction because of the low EBITDA margin of LED luminaries segment.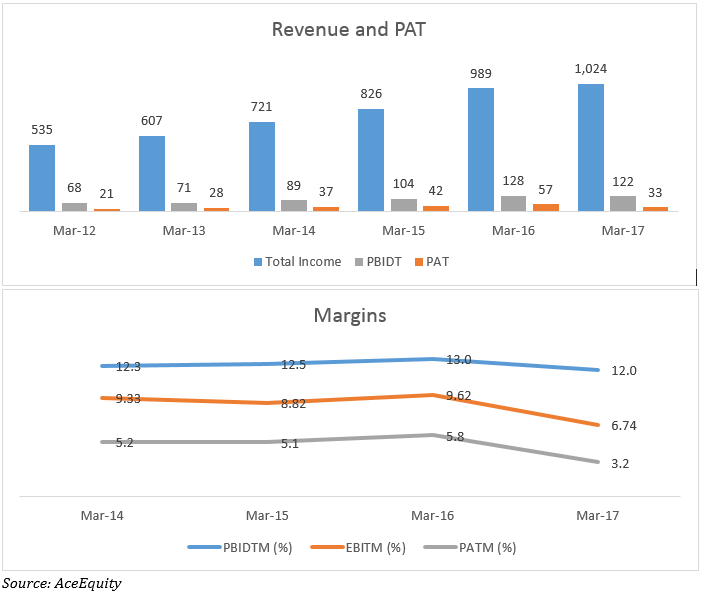 In terms of return ratios, RoE and RoCE average around 19.13 percent and 20.40 percent over FY12-17, respectively. In FY17, the company witnessed contraction in return ratios on the back of poor performance from LED luminaries business and higher liquidity in the Balance Sheet because of money raised through qualified institutional placement (QIP).
Going forward, we expect the return profile to improve on the back of high margin LED lighting business.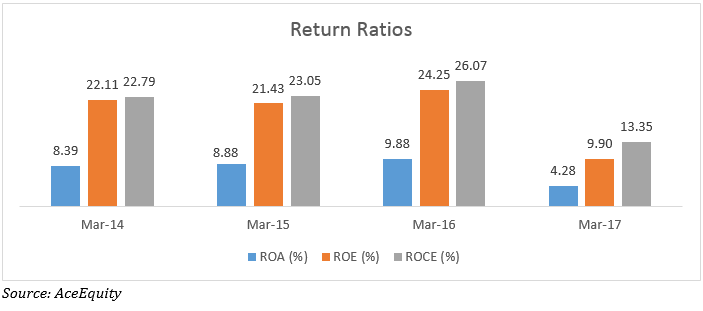 In terms of valuation, the company is trading at 21.3 and 16.0 times FY19 and FY20 projected earnings.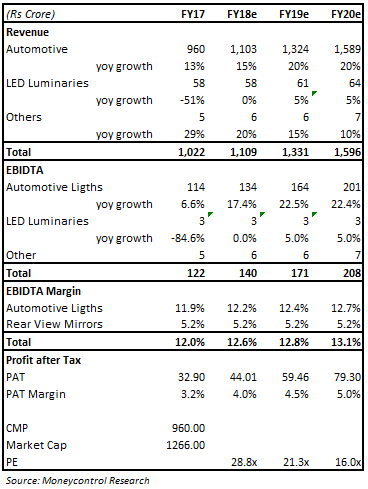 Peer analysis
Peer analysis suggests that the FIEM is currently trading at a discount compared to the average multiple of its peers.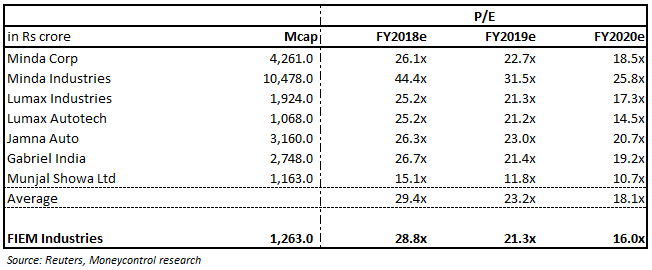 Moneycontrol Research Page
.
First Published on Jan 18, 2018 04:51 pm