Given its robust fundamentals and its management's strong execution capabilities, the company should be able to sustain its premium valuations
Avenue Supermarts, which operates one of India's leading supermarket chains D-Mart, has a total of 157 retail stores with a combined area of 5 million square feet.
The company's presence spans western, central, northern and southern states of India. Maharashtra, Karnataka, Gujarat, Andhra Pradesh and Telangana are its pivotal markets.
Lower and middle-class buyers are the company's target audience. Its product portfolio includes food items, home and personal care, bed and bath linen, luggage, footwear, apparel, kitchenware and toys.
Result snapshot
In Q1 FY19, despite a high base, Avenue Supermarts' revenue rose sharply on the back of additional sales from new stores and robust same-store sales growth. GST-induced reduction in selling prices across categories caused gross and operating margins to remain flat year on year.
Despite a sharp reduction in finance costs, the company's profit margin was impacted by a noticeable decline in other income, higher depreciation (in respect of new outlets added) and a marginal increase in tax rate.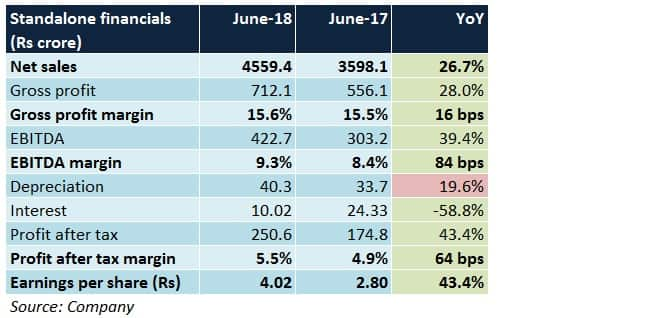 What will drive sales growth in future?
The company plans to add 25-30 stores a year over the next two fiscal years. This should compensate for the relatively slow pace of growth observed in the company's existing mature outlets.
In the food products segment, the company's tried and tested 'Everyday Low Cost' (EDLC)/'Everyday Low Price' (EDLP) strategy will ensure that volume growth offsets the disadvantage of low margins.
Avenue Supermarts is also planning to increase the reach of D-Mart Ready, which currently serves 58 locations. D-Mart Ready is a series of small 350-400 square feet outlets from where consumers can collect products that they ordered online.
How can margins improve?
Network expansion will be done in a cluster format, wherein new stores will be located 100-200 kilometres from the current ones. The consequent logistical benefits should reduce costs.
Although grocery is critical to D-Mart's success in terms of footfalls, impetus on deriving a bigger share of sales from the comparatively high-margin general merchandise and apparel is also on the agenda.
Of the Rs 1,870 crore Avenue Supermarts collected by way of its initial public offering back in March 2017, Rs 181 crore will be utilised to repay long-term debt. This should boost profitability.
By consolidating its supply chain, procuring consumables (fruits, vegetables, dairy) directly from the source and paying suppliers quickly, the company will continue to optimise its working capital cycle.
Any major roadblocks?
It typically takes about 24-30 months to set up a store (title acquisition – 2 to 3 months, regulatory permissions and licenses – 12 months,  construction – 12 months).
The long gestation period could be a challenge, given how aggressively Avenue Supermarts is augmenting D-Mart's coverage.
In the online grocery retailing space, competition for D-Mart Ready from Amazon Pantry and Big Basket persists, mainly in metros and tier-1 cities. This is particularly because these portals deliver products to the buyers' homes in a short span of time.
Plans to move from a 'company owned and operated store' model to the 'leased store' model at prime locations in different cities, albeit at a small level to start with, may involve steep rental/renewal costs.
Competitive threat from other equally big offline departmental store brands (especially Future Retail's Big Bazaar and Hypercity) looms large.
What does the valuation suggest?
Accelerated store additions (especially in the second half of the fiscal year), same-store sales growth of over 10 percent, efficient working capital practices, highly competitive prices, improving margins and robust fundamentals will give Avenue Supermarts an edge over its peers.
The moats are clearly reflected in the stock's steep valuation (at 80 times FY20 projected earnings) and a price chart that, barring some minimal downsides, has been on an upward trend consistently over the past year.
Going forward, given its robust fundamentals and its management's strong execution capabilities, the company should be able to sustain its premium valuations. At current levels, the upside potential appears limited.

Are there any good opportunities to invest?
As per SEBI regulations, in case of IPOs, promoters' and promoter group entities' shareholding has to be reduced to a maximum of 75 percent in tranches over a 3-year period after  listing on the exchanges. This can be done through sale of shares to retail investors in the secondary market or institutional placements.
In accordance with these norms, Radhakishan Damani, the founder of Avenue Supermarts, offloaded 1 percent of his stake in the open market to retail investors. Consequently, the company's promoter and promoter group shareholding now stands at 81.2 percent.
The additional stake sales may lead to minor price corrections for a short while. Investors could use these corrections, and volatility in the market over the next few months, to buy into India's most expensive retail stock for the long haul.
For more research articles, visit our
Moneycontrol Research Page.
First Published on Aug 3, 2018 02:50 pm